Sydney
StreetKind seeks volunteers to keep Sydney's young people safe at night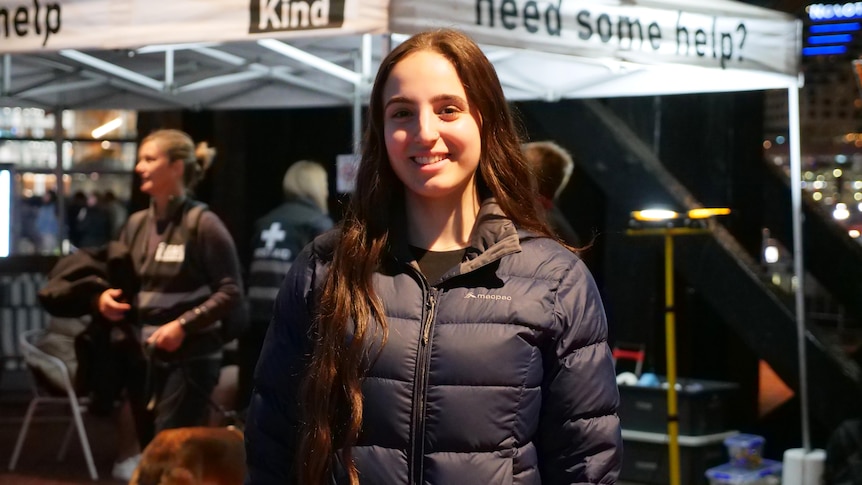 When Kristen Flex turned 18 six years ago, she could've been hitting Sydney's nightclubs and bars with friends. 
Instead, she spent some of her first nights out making sure other people got home safely.
Ms Flex describes herself as being shy. But just six months after starting volunteering on Sydney's streets with Take Kare she found herself helping a stranger ward off a stalker in the city centre.
"She actually came over, jumped into my arms, honestly, pretended to be like my long-lost best friend," Ms Flex said.
"[She was] pretending like she knew me because she was actually being followed by a male who wasn't known to her.
"We got her out of that sticky situation simply just by pretending to be friends."
Six years later, the now 24-year-old works every weekend as a coordinator with a similar program called StreetKind, which encourages positive social interactions.
It's simple actions like being a long-lost friend that can help save people on a night out from dangerous situations, Ms Flex says.
"Giving them a safe escort to places, especially if they're walking around by themselves, we can be that friendly face to walk around with," she said.
"It could be as simple as giving someone some water after they've left a nightclub."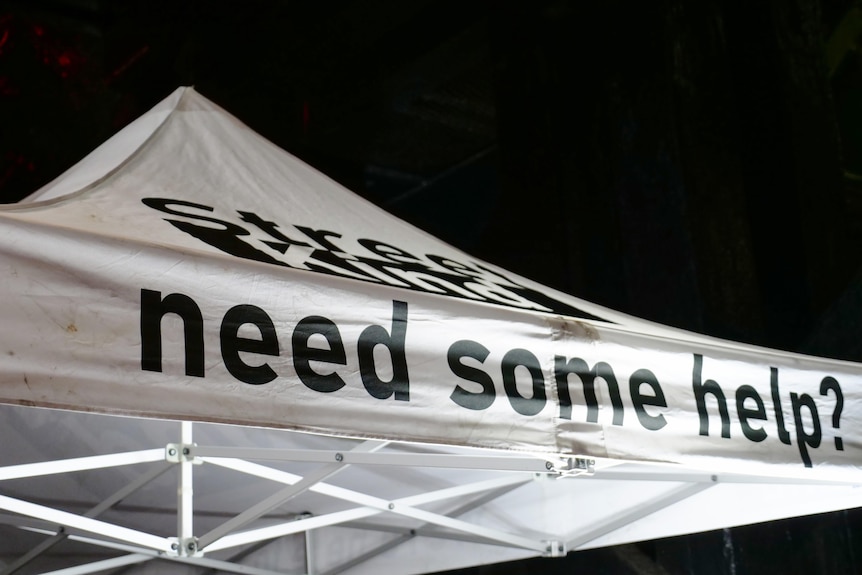 A gap in harm prevention
It's a busy Saturday night on the Darling Harbour boardwalks. As families and diners leave, young revellers arrive and fill lines to nightclubs.
A group of six StreetKind members, wearing black vests, have set up a pop-up gazebo tent, chairs and a first aid kit between two venues pumping out remixes.
They welcome conversations with passers-by, offering water, phone charging and the chance to pat their mascot for the night, Dex, the Belgian Malinois.
Loading…
They also provide first aid to people who are often alcohol and drug affected.
StreetKind was set up late last year and is made up of 15 volunteers who spread themselves between a pop-up base in Darling Harbour and in The Rocks on Friday and Saturday nights.
The organisation has no religious association and receives its funding through donations and a partnership with Placemaking NSW.
They also receive in-kind support from the University of Technology Sydney, which helps manage a staff-only app that assists their teams in keeping track of incidents on a Friday or Saturday night.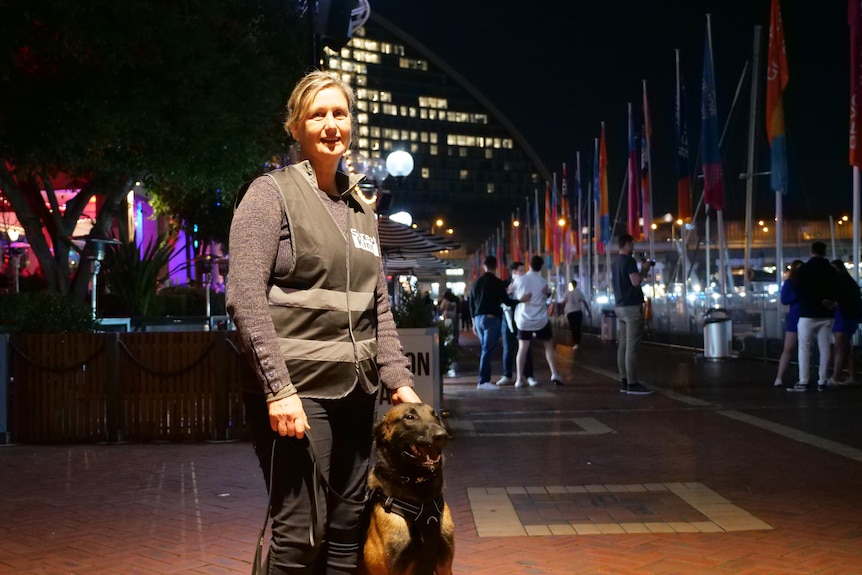 Holding Dex's lead is Natalie Zelinsky, the founder of StreetKind.
StreetKind has replaced the Take Kare program run by the Thomas Kelly Youth Foundation (re-branded to Stay Kind In 2019), which had a presence on the streets in Sydney's nightlife areas, offering similar services to help people on nights out to get home safely.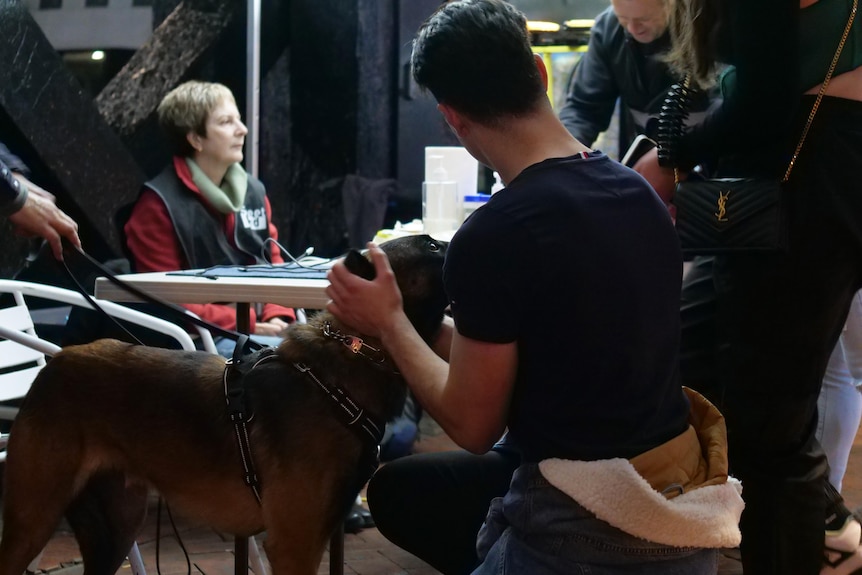 The foundation was set up by the parents of 18-year-old Thomas Kelly, who was killed after being punched in the back of the head in King's Cross in 2012.
The Take Kare program stopped last year.
The Kelly family are no longer involved, but Ms Zelinsky, who had oversight of the Take Kare program, said she felt there was a need for a harm-prevention service on the streets at night.
"That just left a big gap in harm prevention," Ms Zelinsky said.
"It reduces hospitalisation, ambulance call-outs, police injuries, lifelong care — all sorts of things.
"Sometimes things happen that are really outside of their control, and you just want to make sure your kids get home safely — as well as anyone else's kids."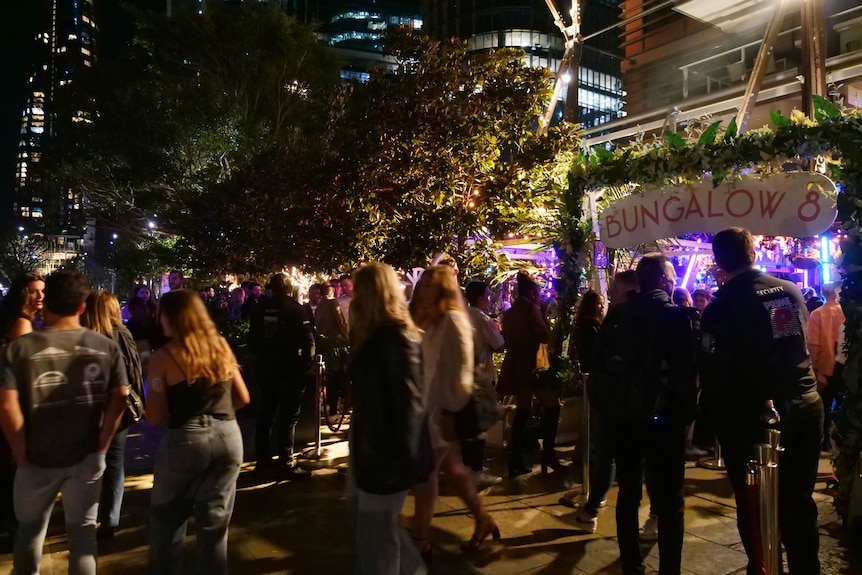 'They might have vomited on themselves'
StreetKind has some paid employees, including 62-year-old Martin Jones, whose own children are starting to have their own first nights out.
Mr Jones said being able to help people in distress on a night out was the leading reason why he got involved.
"I felt when they [my children] were able to go out what a great thing they were able to go to if they're in that … situation," Mr Jones said.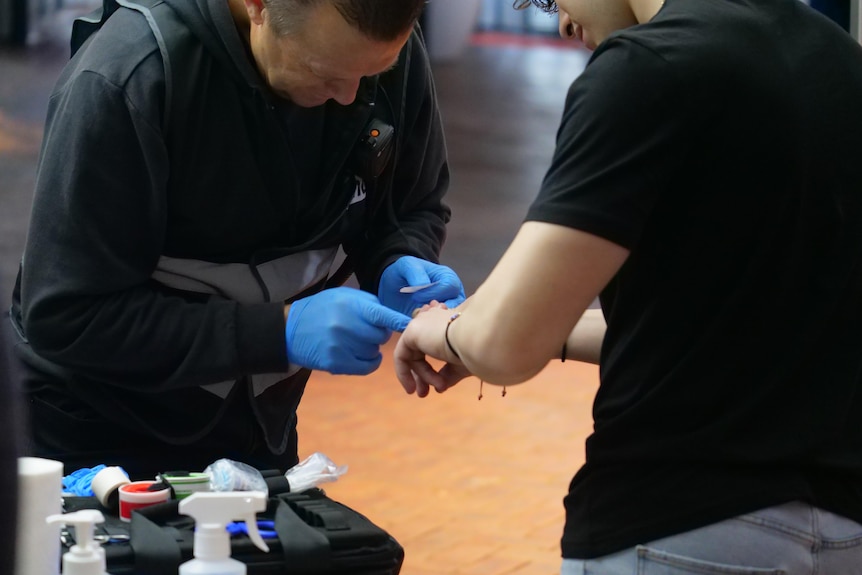 Being a part of the program for more than 11 years, he's noticed people who get separated from their groups or are intoxicated or drug-affected just need someone to talk to who might not necessarily be a police officer.
"A lot of times, these people are not in very safe areas. They're quite vulnerable," Mr Jones said.
"They might have vomited on themselves, so no one really wants to help them.
"We would help them, clean them up, get them back to our safe base, get them hydrated, rest up and reconnecting with family and get them home safely one way or another."
Call for more volunteers
The Saturday night that the ABC shadowed StreetKind, the organisation covered 21 incidents, some of which required first aid and safely escorting people to transport.
The night included two young women vomiting, who were provided with vomit bags and a space to rest up before catching a ride share home with extra vomit bags. 
It's big nights like this that have prompted Ms Zelinsky to look for more volunteers for the organisation.
She encourages people from all demographics, but particularly those who want to see Sydney have safe nightlife, to apply.
"We're particularly looking for a demographic of empty nesters or people whose kids might be busy, and they've got their own lives now," Ms Zelinksy told ABC Radio Sydney.
New volunteers are given a two-hour induction where they are taught what to expect on a night out, how to deal with incidents and manage their own safety. 
"Maybe we can't be there for our kids, but we can be there for someone else," she said.
Loading
https://www.abc.net.au/news/2023-08-05/streetkind-seeks-volunteers-to-keep-sydney-nightlife-safe-young/102670268 StreetKind seeks volunteers to keep Sydney's young people safe at night