Sydney
Richard Marles and Penny Wong send drones to Ukraine to impose sanctions on Russia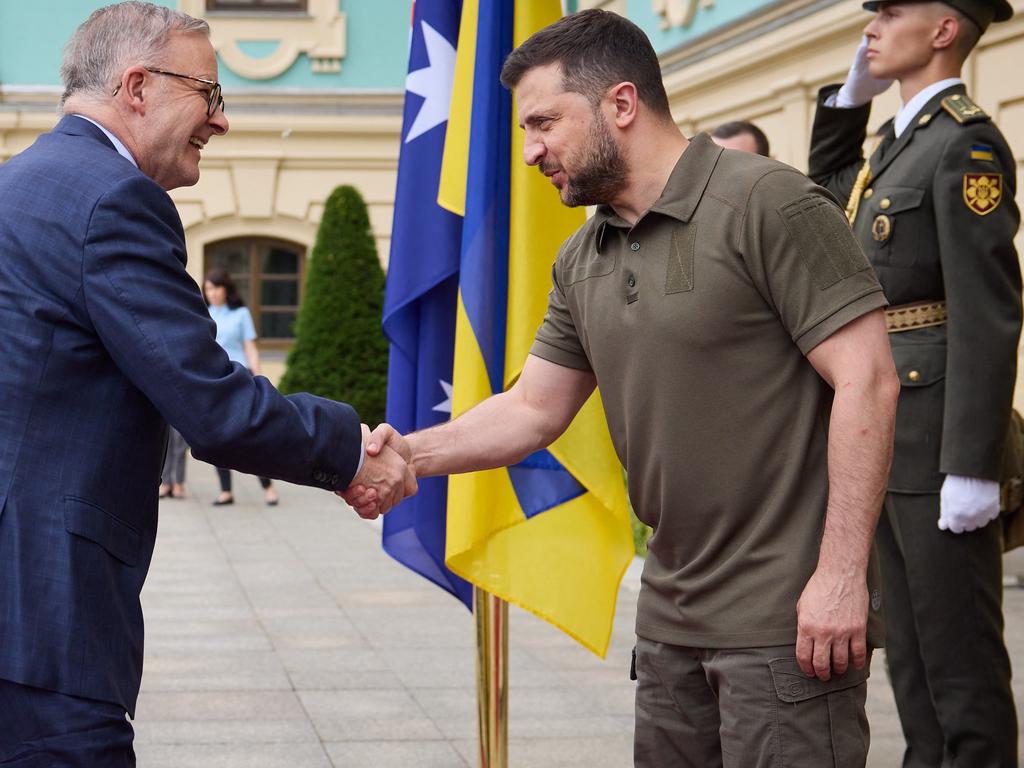 Anthony Albanese has reiterated his call to Russian President Vladimir Putin to stop the illegal and immoral invasion of Ukraine "today".
On Friday, marking the one-year anniversary of the conflict, the prime minister announced that the Ukrainian military would be bolstered with $33 million in drone deliveries.
"Unmanned Aerial Surveillance" has been sent to Ukraine, and another 90 Russians and 40 organizations have been sanctioned.
read next
There are now more than 1,000 Russians under Australian sanctions since the war began on this date last year.
Thousands of people have been killed and millions displaced from their homes in the past year. Ukrainian President Volodymyr Zelensky has warned Russia risks winning without further support from its Western allies.
Albanese said he believed Russia really thought the war would be over in "a few days" and said the ongoing conflict was not only an attack on Ukraine, but an attack on the international rules-based order. .
He said war crimes were committed in Ukraine and paid tribute to "the courage, resilience and determination of the Ukrainian people led by President Volodymyr Zelensky."
"They have made huge sacrifices: sacrifices in livelihoods, in infrastructure, in standards of living. They live under constant pressure … yet they stand tall," Albanese said. .
"Today, one year after this illegal aggression, we say to Vladimir Putin again – stop this war now. Withdraw your troops now.
"There is no need to continue this war … Vladimir Putin can stop this, and he can stop this today. He should stop this today."
So far Australia has pledged more than $500 million in military aid, including 90 Bushmaster vehicles, ammunition and artillery.
Some Australian soldiers have also been sent to Britain to train Ukrainian civilians to fight in the war.
Although the drones are unarmed, they can help Ukrainian forces monitor Russian military movements.
"This support will provide battlefield intelligence, surveillance and reconnaissance capabilities to the Ukrainian military as it continues to fight against Russia's unjustified aggression," said Defense Minister Richard Marles.
"The Ukrainian people have shown immense courage and determination to defend their homeland from unlawful Russian aggression. Australia will support Ukraine wherever possible."
Senator Wong said Australia will continue to "condemn Russia's illegal and immoral war".
"The government is showing it by what we're doing in addition to what it's been providing," she told ABC News.
"(On sanctions) a harsh regime of sanctions against governments that choose to engage in illegal and immoral warfare, in violation of their sovereignty and the UN Charter, and that is why we must oppose Russia."
Senator Wong said after NATO Secretary General Jens Stoltenberg said there were indications that China was considering supplying Russia with arms, Australia was urging China to ease and end the war. He said he kept urging them to do what they could.
"This war launched by Putin is an attack on sovereignty and an attack on the UN Charter. I urge China to do everything it can to end the conflict," Wong said.
In a joint statement, opposition leader Peter Dutton, foreign affairs spokesman Simon Birmingham and defense spokesman Andrew Hasty said they would "share the grief" of Ukrainians on the anniversary.
"Australia must never tire of helping Ukraine defend itself," he said.
It is imperative that the Albanian government provide additional humanitarian assistance and further military assistance. "
They also called for the Australian Embassy to be returned to Kiev.
"As the Ukrainian people have demonstrated their heroic ability to defend themselves, Australia must continue to stand united with international partners who support Ukraine," they said.
On Thursday night, Ukraine's ambassador to Australia, Vasyl Miroshnichenko, reflected on the aid provided by Australia.
"Each Australian Bushmaster is more than a durable and useful protective vehicle.
"This is what saves lives and contributes to the victory of Ukraine."
Myroshnychenko will speak at the National Press Club on Friday.
read next


https://www.theaustralian.com.au/breaking-news/australia-sending-drones-imposes-more-sanctions-on-anniversary-of-russian-invasion/news-story/6fcd9b9c47e34f134575801bcd0b7ac4 Richard Marles and Penny Wong send drones to Ukraine to impose sanctions on Russia