Sydney
Overnight dialysis a brighter solution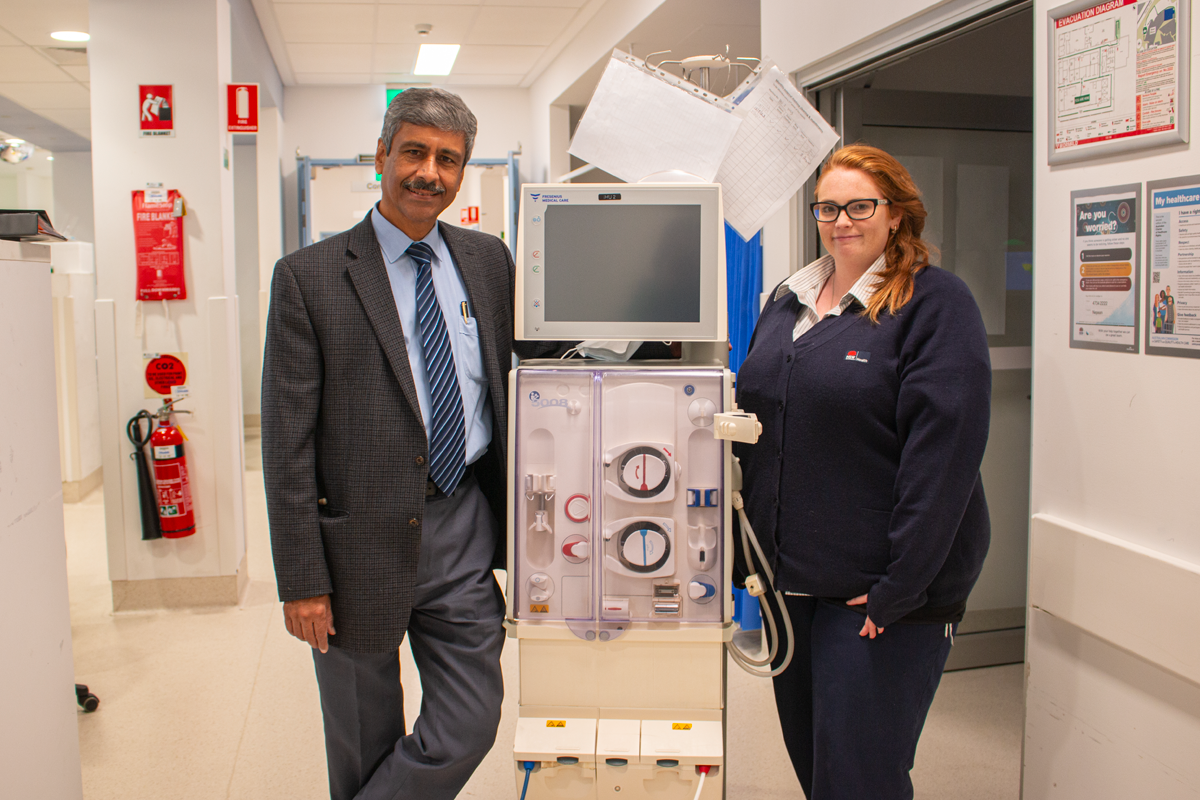 While haemodialysis is a life-sustaining treatment for people with kidney failures, the process of circulating blood through an artificial kidney for several hours a day, multiple times a week, can present significant challenges for patients.
Faced with a growing need for dialysis in the Penrith area, Associate Professor Kamal Sud and staff at Nepean Hospital's Renal Service have extended the service to operate overnight, offering new benefits for patients and staff alike.
"For some of our patients, providing haemodialysis treatments at night frees up their days for activities that matter most to them, improving their quality of life," explains Professor Sud.
Night-time haemodialysis also allows for longer treatment sessions that are known to improve clinical outcomes.
"Most patients can sleep during their treatment, and over the course of seven to eight hours dialysis can be a gentler procedure. This can help patients feel better following their treatment sessions," says Professor Sud.
Since the commencement of night shift, not only do patients have additional options for treatment times, but new patients can also be accommodated within the service at short notice.
"Nurses doing the night shift are liking it too," confirms the service's Nurse Manager Faren Rollo.
"It's a quieter environment which is great for staff as well as patients," explains Faren, "Having a night-time option is a great fit for some of our nurses' lifestyles and family routines."
In addition to improving the wellbeing of both patients and healthcare workers, the extended timetable also increases service capacity for no additional infrastructure costs, treating more patients around the clock.
"think this is a very scalable project which could go on to benefit other services in the state."Associate Professor Kamal Sud, Nepean Hospital
"We're able to use what's already here to provide more treatments, as well as improve the clinical benefit to patients," explains Professor Sud.
As the first overnight hospital-based dialysis service in any NSW public hospital, Professor Sud and his colleagues are undertaking research to better understand the effects of this model of care on the lives of patients and staff alike.
"We are gathering feedback from patients including about their sleep, as it's still an invasive procedure and we want to know exactly how overnight dialysis may be affecting them," says Professor Sud.
"I'm also discussing and promoting the model within professional networks across the state, so that other units might learn from our experience."
https://www.nsw.gov.au/health/nbmlhd/news/stories/overnight-dialysis-a-brighter-solution Overnight dialysis a brighter solution