Sydney
California lashed by flooding, earthquakes in wild weather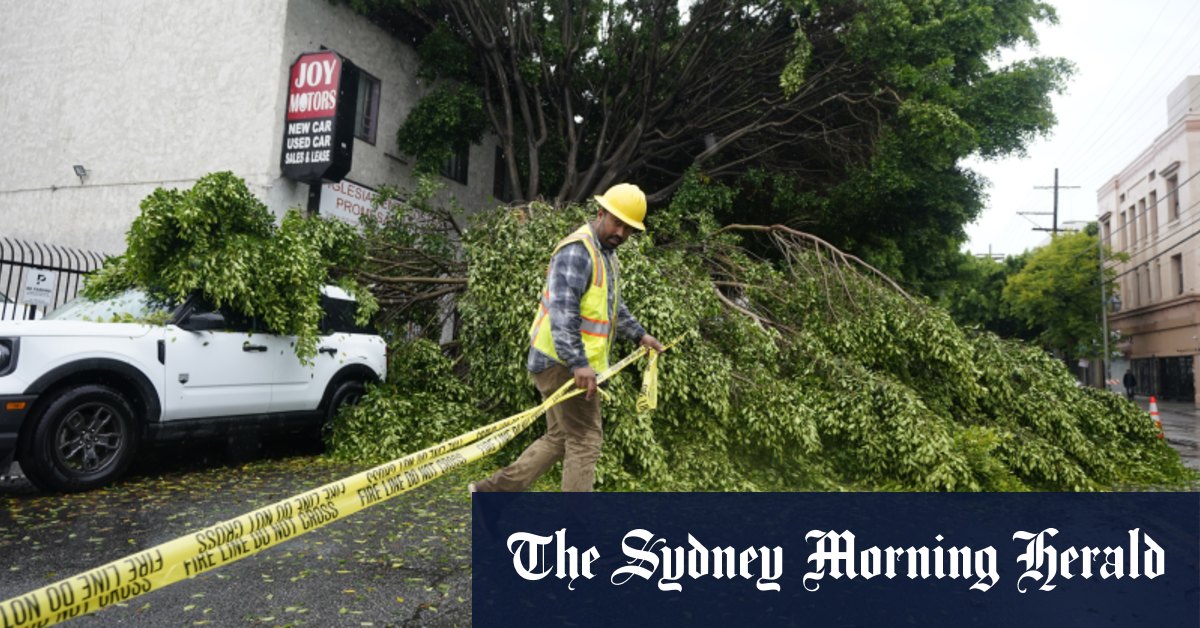 With regards to the storm, in many respects the media coverage runs well ahead of actual events; when TV news presenters were talking about the storm's impact on cities on Saturday (local time), it was still out at sea and, as they predicted its route through California, it was still yet to make landfall.
That will change on Sunday, as the hurricane – now downgraded to a tropical storm – starts to move along the route predicted by the National Weather Service, through the city of San Diego and into central California, cutting a line along the mountains that will take it between Los Angeles and Palm Springs towards the neighbouring state of Nevada.
At 8am on Monday (AEST), Hilary was about 160 kilometres south-south-east of San Diego, and moving north about 35km/h.
Heavy rain and high wind are expected in San Diego on Monday morning (AEST), with the damaging weather system to reach Los Angeles and Palm Springs about late on Monday afternoon and into Monday evening.
While the anticipated disaster is not likely to eventuate fully, authorities in California have warned the worst is still yet to come.
"[People] need to stay home," San Diego Sheriff Kelly Martinez said. "We need to really heed the warnings that the worst of the storm has yet to come."
Evacuation orders have been given to parts of Azusa and Riverside, both of which abut Los Angeles County.
Azusa is just 40 kilometres from downtown Los Angeles. Flash flooding has also been reported in Death Valley National Park, north-east of Los Angeles.
The system, which formed initially as a tropical storm in an area of low pressure off the southern coasts of Mexico, Guatemala, and El Salvador, reached hurricane strength last week.
By Sunday (local time) it had been downgraded to a category one tropical storm. When it made landfall at San Quintin, Baja California, it was still delivering winds of about 105km/h.
One person drowned in the Mexican town of Santa Rosalia, on the Baja California peninsula, when a vehicle was swept away by floodwater. Four people were rescued from the same incident.
More than 1000 flights have been cancelled as a result of the storm; just more than half of those are in or out of San Diego and Las Vegas.
Loading
Los Angeles International Airport has cancelled 79 flights, but is also reporting almost 200 flight delays. Those numbers are expected to increase.
Meanwhile, Nevada Governor Joe Lombardo has declared a state of emergency due to the "imminent impact" of the storm, as it crosses California and into Nevada.
The storm could cause "significant damage to state infrastructure and public and private property", Lombardo said.
https://www.smh.com.au/world/north-america/tropical-storm-hilary-flooding-mudslides-as-california-s-bad-weather-day-turns-biblical-20230821-p5dy2c.html?ref=rss&utm_medium=rss&utm_source=rss_world California lashed by flooding, earthquakes in wild weather