Sydney
Waverly student expelled for bullying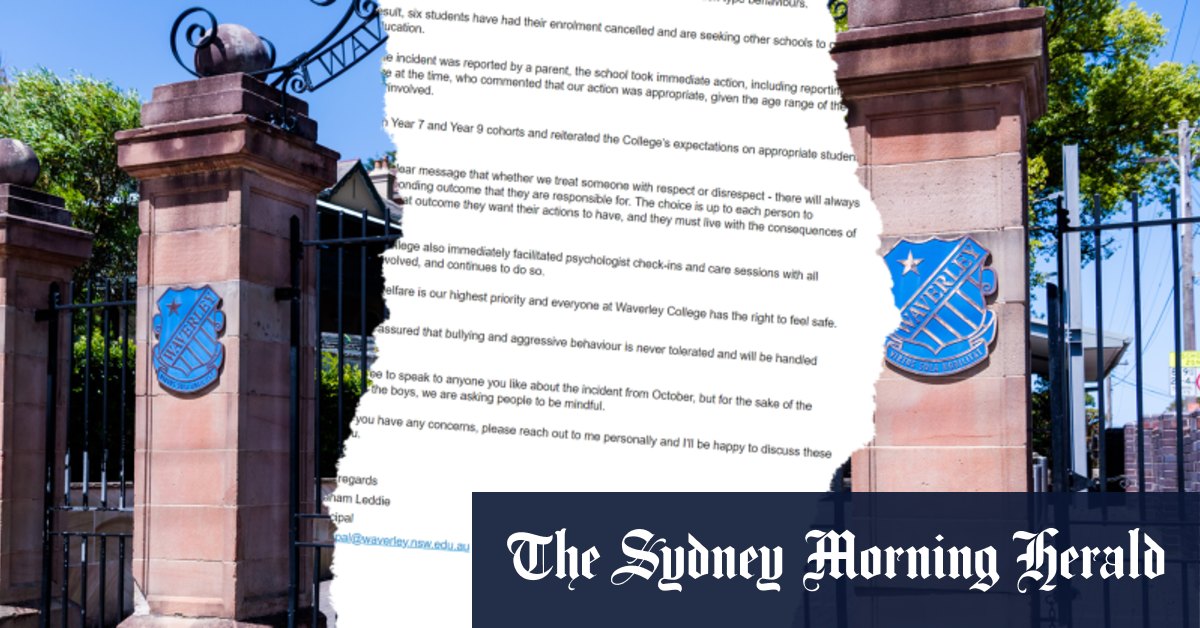 "This may not be the first time some of you have heard the news, given the discussion at the Parents Association meeting, advisory committee and alumni association in November," the letter said. ing. "Details of the incident were not shared with the wider school community at the time to respect the privacy of both victims and perpetrators."
One parent, who requested anonymity to speak freely, said he felt the school was not effectively dealing with behavior problems and not dealing with students who disrupted classes.
Parents claimed the bullying incident involved a younger student being beaten with a belt by an older student in the hallway.
"When there are issues with bullying, the response from school leaders is kind of poor and slow," they said.
daily telegraphwhich first reported the incidentSome parents claimed their children were trapped in fire hydrant cupboards, made to bark like dogs and lick other students' shoes. .
The students were between the ages of 12 and 14 at the time of the incident, and the school launched an investigation the next morning.
"Students found to be involved in misconduct have been suspended pending an investigation," the school said in a statement.
"By the next school day, a list of the students involved had been identified and the parents of those students had requested that their sons participate in meetings with the principal. The registration of the person who participated in has been revoked."
The school said it arranged psychologist check-ins and other care sessions for all students involved. The school also said it had notified the police.
"The university acted quickly and sent a clear message that whether we treat someone with respect or disrespect, there are always corresponding consequences for which they are responsible. It's up to each individual to decide if they want to have the desired outcome and they have to live with that outcome," the school said.
Police said they learned of the incident in October, but "no formal statement was made to the police and the matter was handled by the school."
The school will bill 11th and 12th graders $22,500 next year.
In a letter to families earlier this year, schools predicted they would lose $27 million in government funding over the decade to 2029, representing a 37% decline.
The Morning Edition newsletter is your guide to the day's most important and interesting articles, analysis and insights. SIGN UP HERE.
https://www.smh.com.au/national/nsw/unacceptable-on-every-level-waverley-college-students-expelled-for-bullying-20221208-p5c4mf.html?ref=rss&utm_medium=rss&utm_source=rss_national_nsw Waverly student expelled for bullying