Sydney
Turkey unblocks Sweden's NATO bid, gears up for summit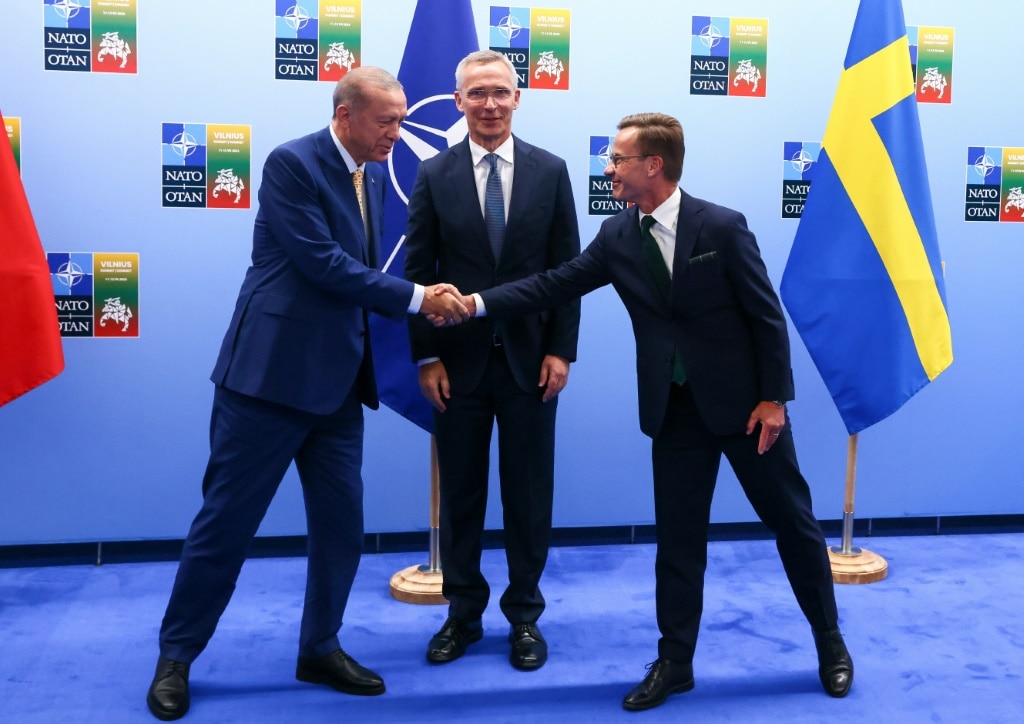 Turkey on Monday agreed to allow Sweden to join the NATO alliance, setting the stage for a united allies appeal at a summit focused on securing support for Ukraine's fight against Russian aggression.
Preparations for Tuesday's talks were clouded by President Recep Tayyip Erdogan's thwarting of Sweden's bid to join, but Sweden and Turkey resolved their differences in the 11-hour talks.
Following talks between President Erdogan and Swedish Prime Minister Ulf Christersson, NATO Secretary-General Jens Stoltenberg said the day was "a day after Turkey's leaders agreed to support Stockholm's application." It was a historic day," he declared.
read next
"Sweden's completion of NATO membership is a historic step that will benefit the security of all NATO allies at this critical time. It will make us all stronger and safer," Stoltenberg said. .
Sweden's bid requires Turkish parliamentary approval, but Erdogan has agreed to encourage ratification.
Hungary has not yet ratified it either, but Prime Minister Viktor Orban's government has made it clear that Hungary will not take the last step, suggesting a transition soon.
US President Joe Biden, who is also in Vilnius for the summit, thanked Stoltenberg and said he was "looking forward to welcoming Prime Minister Christerson and Sweden as the 32nd NATO ally."
Turkey has withheld Sweden's application to join the Atlantic Alliance, accusing Stockholm of harboring Kurdish activists whom the Turkish government considers terrorists.
And on Monday, Erdogan raised the stakes even higher, calling on the European Union to revive Turkey's stagnating EU membership gains as a prerequisite for Sweden's NATO membership.
But a statement issued after the tripartite talks said Turkey and Sweden would work closely together on "counter-terrorism cooperation" and strengthen bilateral trade ties.
– "Good Encounter" –
"Sweden will actively support efforts to revitalize Turkiye's EU accession process, including the modernization of the EU-Turkiye Customs Union and visa liberalization," the statement said.
The deal was announced after Erdogan suspended talks with Stoltenberg and Christersson and held a side-by-side meeting with European Council President Charles Michel, EU Prime Minister.
Michel praised the "good meeting", adding that he was "seeking opportunities to bring EU-Turkey cooperation back to the forefront and revitalize bilateral ties."
Turkey has been a full candidate for European Union membership since 2005 and a candidate long before that, but negotiations have long stalled and there are few bright spots.
But Monday's statement suggested Ankara and Brussels could move to boost trade, renew customs agreements and ease visa rules in the absence of formal accession talks.
EU member states remain skeptical of Turkey's commitment to democracy and rule of law reform, with Germany's Olaf Scholz arguing that Sweden's and Turkey's ambitions are unrelated.
"Sweden meets all the requirements for NATO membership," Scholz said in Berlin.
"The other question is an unrelated question, which is why I don't think it should be viewed as a related issue."
Separately, Ukraine welcomed advances in the fight for assurances that it would join the Western alliance as a full member of NATO if it won a Russian aggression.
~Long-awaited decision~
A Western official told AFP that the allies would lift the condition that Kiev complete a "Member States Action Plan", a kind of roadmap to military reforms that some allies had to follow.
Ukraine's foreign minister said the concession — which Russia warned would seriously affect European security — would narrow Kiev's path to NATO membership.
"We welcome this long-awaited decision to shorten the path to NATO," tweeted Dmitro Kuleba.
"It is also the best time to clarify the invitation to join Ukraine."
But NATO leaders remain divided over providing Ukraine with a clear route to an alliance in Vilnius.
Eastern allies have called on Kiev to get a clear commitment about when it can join, but the US and Germany are reluctant to go beyond previous promises that Ukraine will one day join.
Meanwhile, Ukraine's Deputy Defense Minister Ganna Maryar said the Kiev army had established fire control against "the entrances and exits of the city of Bakhmut and enemy movements around the city."
bar/dc/dell/imm
read next
https://www.theaustralian.com.au/news/latest-news/nato-leaders-gather-in-bid-to-boslter-support-for-ukraine/news-story/d27481e2a1256ce333b7e3a13d0aa359 Turkey unblocks Sweden's NATO bid, gears up for summit