Sydney
Trump pleads not guilty over attempt to overturn 2020 US election results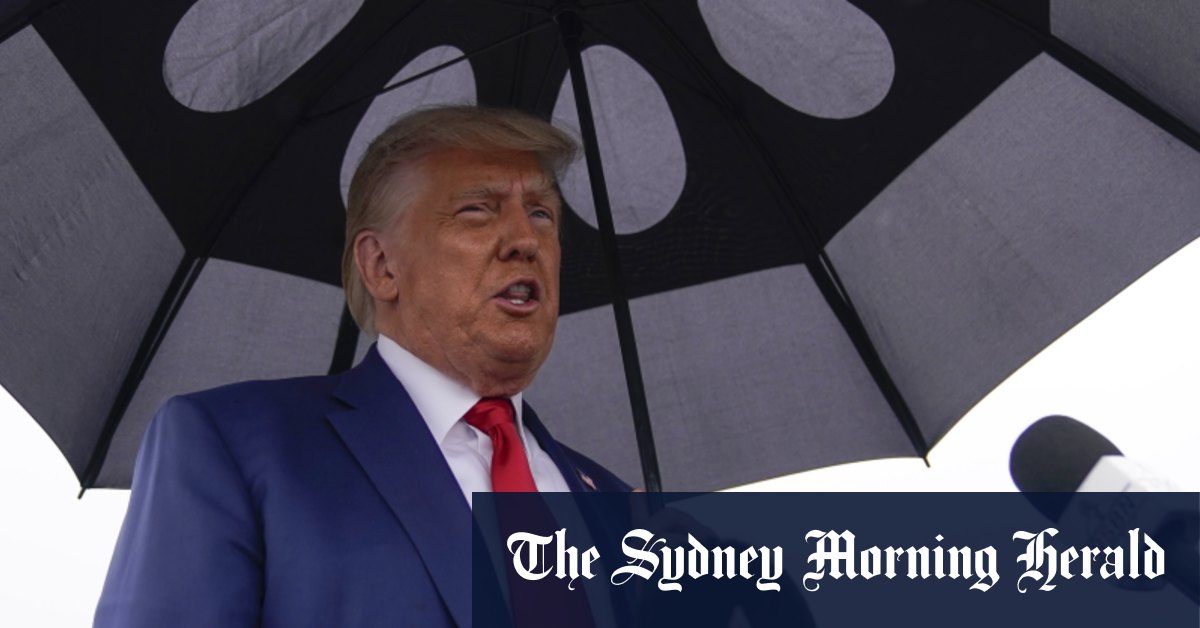 "It's a very straightforward defence – that he had every right to advocate for a position that he believed in, and that his supporters believed in," his lawyer John Lauro told NPR.
Loading
"What we will argue to the jury – and we'll win – is that the president was arguing for the truth to come out in that election cycle, rather than the truth to be denied."
The latest charges come a few weeks after Trump was indicted in a Miami court for his alleged mishandling of classified documents – a case that is scheduled to go to trial in May.
In April, he was also charged in a Manhattan court over hush money paid to porn star Stormy Daniels, in a trial that is expected to begin in March.
And in Georgia, a potential fourth indictment looms, with District Attorney Fani Willis set to decide this month whether to charge Trump over alleged electoral interference in that state.
Despite his legal woes, Trump remains defiant, posting on his Truth Social platform: "I NEED ONE MORE INDICTMENT TO ENSURE MY ELECTION!"
Outside the federal courthouse in Washington – the same courthouse where hundreds of January 6 rioters have been prosecuted – a security perimeter went up overnight ahead of Trump's appearance.
The building was surrounded by metal barricades and yellow tape from the US Marshall's office, and numerous roads around the DC judicial precinct had been blocked off.
A few blocks away, metal fencing had also been placed around the Capitol – the site where thousands of Trump supporters staged a violent insurrection in 2021 that left several people dead and about 150 police officers injured.
But by lunchtime on Thursday, only a few Trump supporters had gathered along Constitution Avenue – in stark contrast to the crowds that appeared in New York and Miami ahead of his earlier indictments.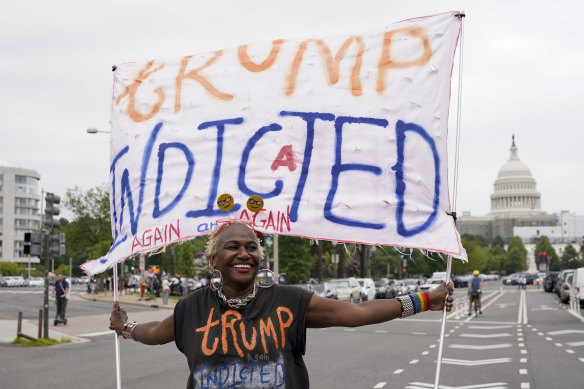 One man drove past in a limousine with the licence plate "TRUMP DC", his identity obscured by a cardboard cutout of the former president's face.
"We need to make America great again," he said, declining to give his name.
Another Trump supporter, Dion Cini, was wearing a red MAGA hat and waving a flag that said: "Trump or Death".
Cini said he had been in Washington on January 6, 2021 to do "what President Trump said: peacefully and patriotically make my way to the Capitol". Asked if he had entered the building that day, he replied: "I can't answer that".
However, the New York resident was adamant the latest charges would not hurt Trump's chances of winning the Republican nomination.
"I think he'll go up five points in the polls," he said. "The Democrats think they're a smart organisation, but they're too dumb for their own good."
The crowd gradually built throughout the afternoon, and by the time Trump's motorcade left the court to return to Washington's Ronald Reagan airport, hundreds of people – fans and opponents – had gathered in the judicial precinct to watch political history unfold.
Loading
The latest indictment was handed down on Thursday by Special Counsel Jack Smith – the same prosecutor who has charged Trump over the classified documents scandal. It is largely centred around Trump, but also lists six unnamed co-conspirators who allegedly assisted his attempt to overturn the election.
Five of them have so far been identified as former Trump lawyers Rudy Giuliani, John Eastman, Sidney Powell and Kenneth Chesboro, and former Justice Department official Jeffrey Clark. The sixth alleged co-conspirator is an unidentified political consultant.
With 15 months before the presidential election, many Republicans continue to rally around Trump, saying he is being unfairly targeted by a "two-tiered" justice system under the Biden administration.
Some point to classified documents being found in Biden's possession (a conclusion has not yet been reached by Special Counsel Robert Hur), while others highlight the alleged "sweetheart" plea deal his son Hunter received to avoid jail over tax evasion and unlawful gun possession.
Biden has been holidaying in Rehoboth Beach this week and has not commented on the matters involving Trump, or the troubles of Hunter Biden.
Get a note directly from our foreign correspondents on what's making headlines around the world. Sign up for the weekly What in the World newsletter here.
https://www.smh.com.au/world/north-america/trump-returns-to-washington-to-plead-not-guilty-for-trying-to-overturn-2020-election-results-20230804-p5dtu4.html?ref=rss&utm_medium=rss&utm_source=rss_world Trump pleads not guilty over attempt to overturn 2020 US election results