Sydney
Trump leading polls ahead of key nomination vote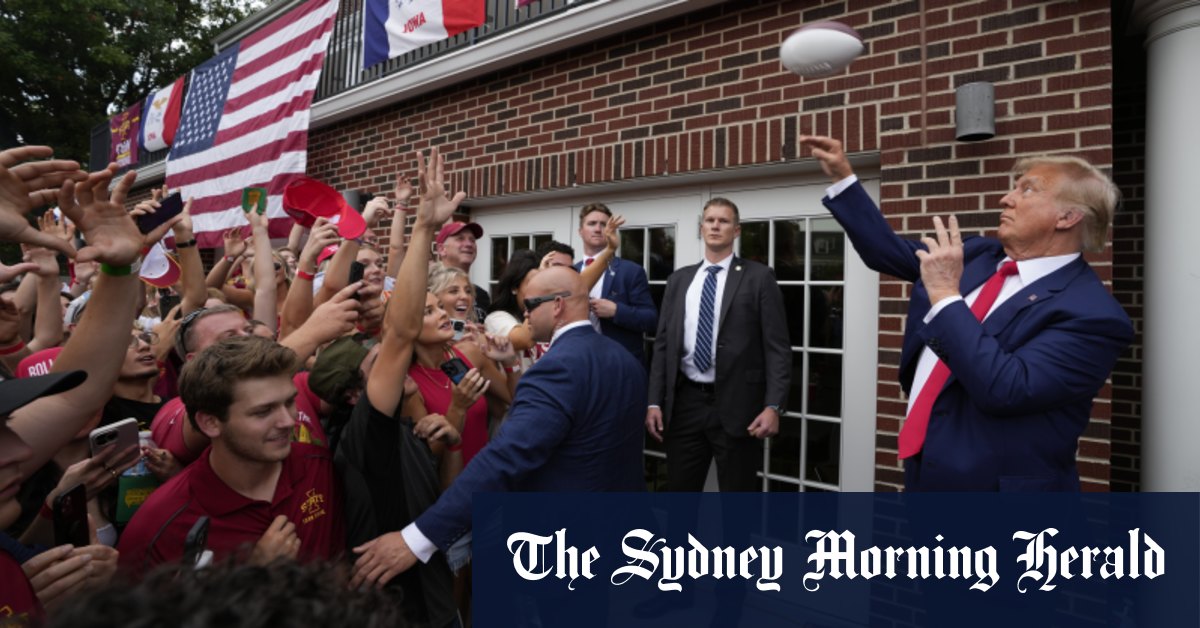 A super PAC supporting DeSantis, Never Back Down, ran an online ad – targeted to the area of Jack Trice Stadium – that hit Trump on social issues that matter to conservative voters, highlighting Trump's inclusion of transgender women in the beauty pageant he used to own. Steven Cheung, a spokesman for Trump, responded Sunday by dismissing "desperate attacks" from candidates polling far behind the former president.
Meanwhile, a plane flew overhead with a banner asking "Where's Melania?" – a reference to Trump's wife, who has not been with him on the trail. Fliers in the area also declared Melania "MISSING" and directed anyone who found her to call a number that went to Mar-a-Lago, Trump's Palm Beach estate.
DeSantis has leaned into a contrast with Trump on that front by campaigning constantly with his wife and young children in tow. But it wasn't immediately clear who made the fliers or paid for the plane. Never Back Down officials didn't take credit, and a DeSantis campaign spokesman denied involvement.
Trump campaign officials have acknowledged that the former president will need to spend more time in Iowa as the campaign heats up. DeSantis, meanwhile, is trying to regain momentum after losing ground since launching and repeatedly shaking up his campaign operation.
At the Cy-Hawk game – named for the Iowa State Cyclones and Iowa Hawkeyes, who won 20-13 – several Republican caucusgoers said they initially liked DeSantis, but are now less in. Standing in a gazebo outside the stadium's main entrance, 51-year-old Chris Schmitt from Des Moines said that six months ago he would have voted for DeSantis over Trump.
But "not now," Schmitt said. He said he was turned off by DeSantis's fights in Florida, including his feud with Disney, adding that he was "getting a little crazy".
Rod Brockett, 57, by contrast, said he liked DeSantis because he had similar ideas to Trump but was more "stable" than the "erratic" former president. He thought the Florida governor would have no problems beating Biden in a general election.
Loading
Other 2024 hopefuls were also in Ames on Sunday. Vivek Ramaswamy, the first-time candidate who grabbed attention at last month's GOP debate, greeted voters at a tailgate. North Dakota Governor Doug Burgum and former Arkansas governor Asa Hutchinson, who have struggled to gain traction with voters, visited as well.
Outside the stadium, DeSantis walked around with a posse of supporters who chanted "We want Ron" and carried a large blue banner bearing his name. Clad in jeans and a vest, the governor darted into a modest crowd and exchanged as many short pleasantries as he could in about five minutes. He then told reporters that his on-the-ground campaigning in Iowa was paying off.
Asked about the race and Trump's presence at the game, DeSantis said people wanted a Republican candidate who could "deliver on the needs and the issues affecting Iowans and Americans" and that "all the other stuff … people are sick of" because they don't "want any drama".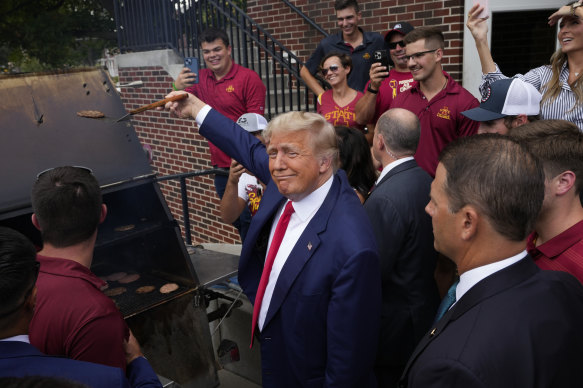 As DeSantis disappeared into the stadium, a growing presence of local police officers and sheriffs started attracting a crowd.
Soon Trump was tossing a football into the crowd and signing "Farmers for Trump" baseball caps to admiring screams.
One teenage girl was not impressed: "Wow, he's so old," she said.
Brandon Balbiani, 32, from Ames, said he believes Trump is "morally not a super great person." But he added that if Republicans eventually backed the former president, he would vote for him in November 2024.
Loading
Jo Green, 55, from Des Moines, said she usually votes in the Republican caucuses but doesn't know if she will this year because there "are no good candidates".
With President Biden and Trump likely to face off again, Green said, "the world is laughing at us".
https://www.smh.com.au/world/north-america/political-football-trump-leading-polls-ahead-of-key-nomination-vote-20230910-p5e3hk.html?ref=rss&utm_medium=rss&utm_source=rss_world Trump leading polls ahead of key nomination vote