Sydney
The builder of the partially collapsed Sydney home was reported for a safety breach at another location the day before the incident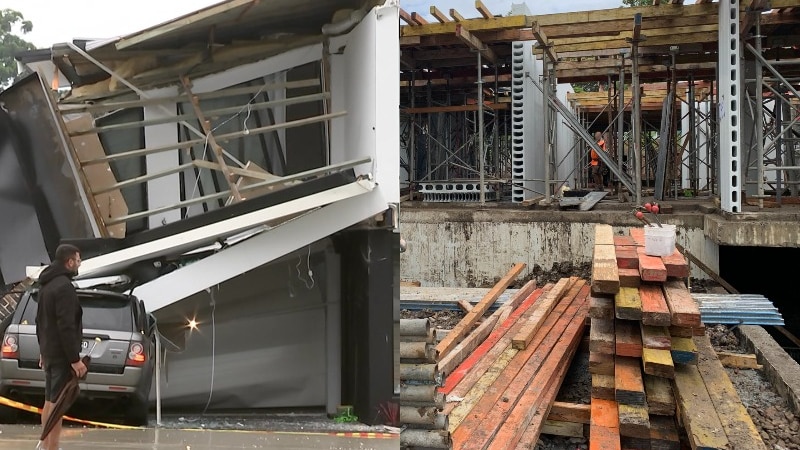 The New South Wales Building Commissioner had reported a building site over safety concerns just one day before part of a home completed by the same company partially collapsed.
Key Point:
Hemisphere Constructions, the builder behind the collapsed house, is cooperating with the ongoing investigation.
An inspection the day before another of the company's sites in Concord collapsed found "many unsafe work practices."
The company says it has modified the Concord site to meet SafeWork NSW standards.
Three "lucky escapes" from homes aged 6-12 months. Condell Park southwest of sydney Fire and Rescue NSW said early on Good Friday when a corner of the house above the garage collapsed.
A spokesman for New South Wales Fair Trading said an investigation into what happened was ongoing, and the builder Hemisphere Constructions said it "remained unable and willing to rectify the damage." There are," he said.
In a statement to ABC, the company said, "We have a strong track record in construction and this incident is extremely distressing to our staff, contractors and families.
"We are working with the relevant authorities to investigate what happened.
"We have been in contact with home owners and families to understand how we can support them during this difficult time and have provided temporary accommodation, car rentals and services for affected families. We provide storage facilities, movers and more."
But just one day before that collapse, the state's powerful building commissioner, David Chandler, made an unscheduled visit to another property under construction by the same company in Concord, Sydney's inner west.
After the inspection, Mr Chandler reported the site to both SafeWork NSW and Fair Trading for safety concerns.
"With no PPE on, no handrails on the scaffolding, and possibly a serious fall, the number of unsafe work practices exhibited there was pretty obvious," he told ABC.
"There is a strong correlation between an unsafe worksite and the likelihood that a project will incorporate critical defects.
"So the project will attract safety inspections and it will attract building compliance inspections, as those two are closely related."
Chandler said he expects the audit process will likely take about six to eight weeks, after which a draft report will be issued to builders and they will have an opportunity to submit the report.
The company could then be issued a work stoppage order, a prohibition order, or a building work correction order, the commissioner added.
In a statement, Hemisphere Constructions said it had sent all its merchants home after the commissioner's visit.
"The building commissioner saw the formworkers at work on the upper deck. Since then we have sent every transaction home, all the railings and the site was completed within SafeWork NSW standards. have been corrected."
A SafeWork NSW spokesperson said it notified Hemisphere Constructions last week.
"A request for service was received by SafeWork NSW regarding a fall hazard at their address, an inspector was present at the scene, and a notice of ban and improvement was issued to the developer on 11 April 2023." said the spokesperson.
"Follow-up visits will be conducted to monitor and ensure compliance with the notice."
Chandler said it's an example of a broader issue.
"We are seeing builders that have traditionally been involved in single-family homes and townhouses beginning to shift some of their business into multifamily development," he said.
"The Concord project is a multi-family building that is a Class 2 building under the law and has been a priority in my reform work for the last four years. I did. Before that, I."
https://www.abc.net.au/news/2023-04-20/hemisphere-constructions-put-on-notice-nsw-building-commissioner/102228990 The builder of the partially collapsed Sydney home was reported for a safety breach at another location the day before the incident