Sydney
T20 World Cup Super 12s: Ireland beat England by five runs (DLS) – as it happened | T20 World Cup 2022
Key events
…which means that is us. Thanks for your company and comments – ta-ra.
Here's Simon Burnton's match report…
So on Friday, it's Australia v England, at the MC expletive G, in what's almost a quarter-final. Of course we'll be bringing you that, and play starts at 6.30pm local, 8.30pm BST.
Why do the ICC make their commentators wear identical minging blazers? Is minging blazers tautology? Morgan talks about the job of a leader to steady things – how England must wish they still had him to do that – and Jos Buttler has a decision to make, I think, about whether to stick with Woakes or try Mills. Also, given the conditions – big boundaries, juicy pitches – I wonder if they wish Joe Root was knocking about.
"Lord Nelson, Sir Winston Churchill, Sir Anthony Eden, Clement Attlee, Henry Cooper. Maggie Thatcher, can you hear me?" wonders Niall Mullen. "Maggie Thatcher, your boys took a hell of an unsatisfying five-run defeat on the Duckworth-Lewis-Stern method!"
Ah, you're a harsh man. A proper finish and crescendo would've been nice, but England were well-beaten there; Ireland earned the arse out of it.
Balbirnie will get most of the plaudits and rightly so. But Lorcan Tucker's 34 off 27 was also crucial, because without it that electrifying start just doesn't happen – it was the assault from both batters that hurled Ireland into the match – and was cemented by the way Josh Little bowled first up.
Ah there, it's so moving to see stuff like this go down – people rising to the biggest occasion of their lives, then enjoying the times of their lives, for which they've been working for so long. We should all know that feeling, but given we won't, there's nothing better than glorying in the glory of others.
Andy Balbirnie is man of the match for his 62 off 47 – though he also captained superbly – and says he knew his side could compete. He's happy with how they batted and is emotional having never played at the G before, never mind in front of family, friends and a global audience. They had a great week in Hobart, some supporters have extended their stay, and he's delighted that the win can help grow the game in Ireland. His men are also back on Friday, to take on Afghanistan.
Stood under a brolly, Buttler tells Nasser he thinks England lost the match primarily in the first 10 overs. His men weren't consistent enough, allowing runs on both sides of the wicket armed with the advantage of winning the toss and knowing there was weather about. Ireland showed England how to bowl on that track, he reckons, though he also chastises himself for getting out in the first over and concludes that, ultimately, his team were outplayed. So, he's excited for the the Australia game on Friday which looks like being a straight knockout. Not bad.
Listening to Eoin Morgan stood in a blazer, you get the feeling England missed him today. Buttler has a great cricket brain and plenty of composure, but he doesn't quite have Morgan's authority or experience of authority plus, from behind the stumps, doesn't, perhaps, have quite the same scope to speak to his bowlers. Other hand, Ireland have missed Morgan for a decade and more, so.
As for England, they'll know they played poorly today – Mark Wood said as much at half-time. Their bowling up front wasn't good enough – though let's also congratulate the intention and intensity of Ireland's batting – then kept the heid when they ended up with a lower score than looked likely. They bowled really well too, and Andy Balbirnie did a great job deploying the right bowlers at the right time while his fielders, though they dropped chances, held the ones they really needed too under pressure – of their own making, but nevertheless.
It's a shame we didn't get a full match, but there was every sign that Ireland would close it out. Moeen was just opening up, it's true, but Ireland were bowling with great control and composure. They go to the boundary and celebrate with their fans in the ground, hugs and kisses all round, and this is beautiful to see.
IRELAND HAVE BEATEN ENGLAND BY FIVE RUNS (DLS)! WHAT A WIN FOR THE BOYS IN GREEN!
And you can't say they haven't deserved it! It's been a brilliant performance from them, again, and I'm already envious of the night they're going to have. But this is a serious cricket team, let's not pretend to the contrary, and they've made their own history, their own Bangalore! Glorious stuff, glorious, glorious cricket!
"A Dickens quote!" says John Starbuck. "Can you manage any more before the game ends?"
"The weather is dull and wet, and the long lines of street lamps are blurred, as if we saw them through tears" is the best I can do, though i can't pretend it was at my synapses' fingertips. BUT THE RAIN IS GETTING HEAVIER!
The rain isn't as heavy now, but the England playing are nervously patrolling the boundary, trying to see from where the rain is coming. They've got six minutes to save themselves; Ireland are six minutes from ecstasy.
This has been such a game of cricket. Ireland were fantastic at the start, England fought back well at the back end of the innings, Ireland have bowled well and England have batted poorly. It'll be a shame if we don't get the staggering denouement for which we looked set, but that's this thing of ours.
The players must be back on by 18.56 local, 8.56 BST
Oh my days, it's all going on here.If they can't restart in the next 11 minutes, by 56 past the hour, the game is over. And, given how heavy the rain is, my money is on that being the outcome!
England are five short of where they need to be and, for those who missed the start, we lost more or less our full half-hour of grace. If we don't get back on, Ireland win, and they'll have an even better shot than they do now if we play a shortened match.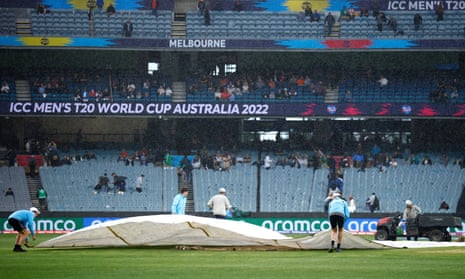 15th over England 105-5 (Ali 24, Livingstone 1) Target 158 Delaney continues and Moeen mows him back over his head and over the shortest boundary, for six! Is this the over in which England assert themselves? Well, two to point follows, then Moeen takes a big step down, heaves over mid off, and that's four. BUTTHE RAIN IS CANING DOWN, THE UMPIRES TAKE THE PLAYERS OFF, AND WE'RE SURELY GOING TO LOSE TIME AND OVERS! ENGLAND ARE MILES BEHIND THE RATE, AND MIGHT THIS SETTLE THE MATCH?
14th over England 93-5 (Ali 12, Livingstone 1) Target 158 This is the partnership, you'd think. Curran and Woakes can properly bat, but with the rate almost at 11, you'd not back them; you'd not the current pair either. Can Ireland embrace the pressure? well, after a single to set Livingstone away, bookended by dots, Moeen clatters four over mid off – he is so terrifyingly composed – and following a wide, the final ball of the over leaps off a length and kisses Moeen a painful hello on the shoulder. England need 65 runs from 36 balls.
WICKET! Malan c Hand b McCarthy 35 (England 86-5)
CLKNOBNKJABEKJABSE! Malan, who's had a painful time trying to force things he's not timing, flings hands at a cut, top-edges instead, and Hand hangs on low at deep third! WHAT ARE WE SEEING HERE!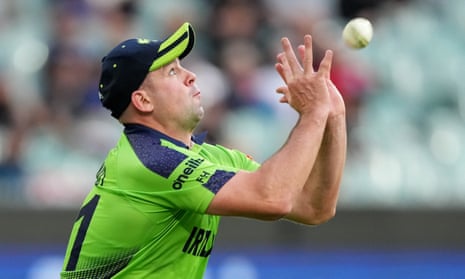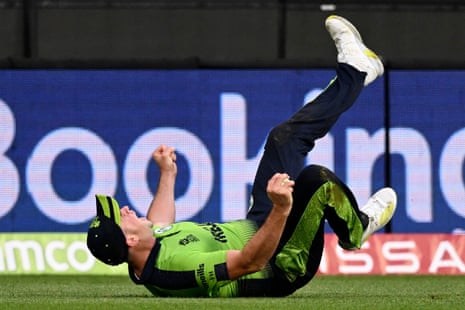 13th over England 86-4 (Malan 35, Ali 8) Target 158 You'd expect England's lefties to go at Delany and Malan tries a slog-sweep but only manages one to square leg; Moeen then does similar to long on. Three more singles follow, the batters just not timing it, and keeping on the leggie looks a great move from Balbirnie. But then the final delivery of the over, full on off, is in the slot for Moeen, who times a gorgeous drive down the ground for a painfully-needed four. England need 72 runs from 42 balls.
12th over England 77-4 (Malan 33, Ali 2) Target 158 Scenting the match, Balbirnie brings Little back and Moeen turns another single away behind square on the on side. This is so expletive expletive tense, what a thing this thing of ours is. Malan tries a pull and edges for four; the man picked partly for his expertise on true, bouncy tracks such as this one just can't get going. A single, a wide, a leg bye and a single complete the over, and if England lose this they'll have to beat Australia, New Zealand and Sri Lanka to progress. England need 81 runs from 48 balls.
11th over England 68-4 (Malan 26, Ali 1) Target 158 Moeen turns to backward square for one. What larks, dear old Pip, dear old chap! England need 90 runs from 54 balls.
Brook c Delany b Dockrell 187 (England 67-4)
Brook slashes to deep point, at Hobart it's six but this is the G, and Delany holds a real groin-swallower to send ireland into raptures! THIS IS ON!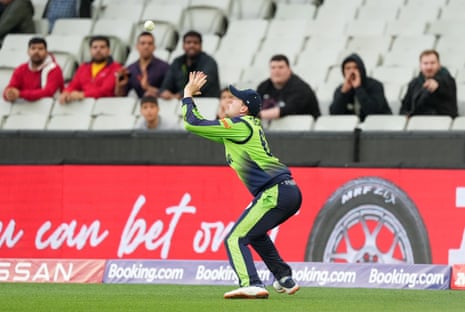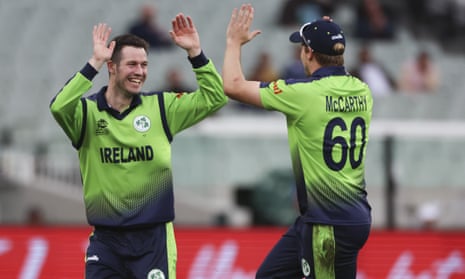 11th over England 67-3 (Malan 26, Brook 18) Target 158 Dockerell into the attack and Brook has seen enough, forcing a swipe to long on and Adair is there! But he gets a headrush, charges in, and has to grab over his shoulder a ball that would've plopped into his midriff! They run one, eventially – Brookdidn't bother to begin with because he thought he was gone – then Malan makes room and slices to deep point with Delany running in … but he drops it as well! That's two in two, three today, and and 10 in the tournament! They run two, then a single to deep square follows….
10th over England 63-3 (Malan 23, Brook 17) Target 158 Hand returns with a leg-side wide, but the way he reacts suggests he's not displeased with it; rather, just a little bit straighter and he reckons Malan was his. So next ball, Malan pulls … but mistimes it, relieved to see it loop up and drop into an unguarded midwicket. They run one, bringing Brook onto strike, and after missing with a forward defensive, he drives classily through cover for a first four in 17 deliveries. He and England needed that, likewise the wide that comes next then, when Brook twizzles to backward square, he has to really sprint the second run; a flatter return, and he was gawn. A single ends the over making 10 from it, England's most profitable of the innings, and it's like we've gone back in time. England need 95 runs from 60 balls.
9th over England 53-3 (Malan 22, Brook 10) Target 158 Delany returns, and dare Brook go at it? He's not done as well against leg spin as he has other styles, and three dots to open the over amp up the pressure. So he forces to mid on for one, and England need more of that: the score ticking to give the hitters scope at the end. But Ireland are bowling early doors as well as they batted early doors; can they hold it down more effectively? For now, the answer is yes, a wide followed by a single and a two, both to midwicket; the first for Malan, the second for Book.
8th over England 48-3 (Malan 21, Brook 7) Target 158 McCarthy returns and Brook turns a single to midwicket as the run-rate inches towards nine. I guess you'd back these two, then Moeen and Livingstone, to see England home, but another wicket or two for Ireland and the cat will be well and truly pigeoned. a wide and another single follow, then McCarthy follows Brook as he backs away to pull, and when the final ball of the over goes to deep point for one, that's just four off it and the required rate up to 9.16. This is boiling.
7th over England 44-3 (Malan 20, Brook 5) Target 158 I'm buzzing to see how Brook handles this, and right now, this is the spin of Delany, Balbirnie cleverly looking to fiddle a few overs when the batters don't really have scope to get after it.Ttwo dots to start, then, then a twizzle to fine leg for one before Malan edges a yorker through where slip isn't and to the third-man fence for the first boundary since the third over. a single to Brook completes the over.
6th over England 37-3 (Malan 15, Brook 3) Target 158 Harry Brook, what say you?! Not a lot when the first delivery he faces rips past his attempted cut … but he's s seriously solid character and cuts the second for three. A wide follows, then a leg bye, then a two into the on side, and Ireland have absolutely nailed this powerplay.
"It's squeaky-bum time already! " tweets Andrew Benton. "Gripping stuff…"
Believe. I'm half-stood at my non-standing desk (yes, I know you know I don't have one, could there be anything less OBO?)
WICKET! Stokes b Hand 6 (England 29-3)
FIONN HAND, THAT IS AN ABSOLUTE NUT! It's on a length, swinging late and seaming back in before lasering through the gate without leaving a mark, as Stokes flows into a delightful air-drive! We have got ourselves a ball-game and a half!
6th over England 29-2 (Malan 13, Stokes 6) Target 158 Eeesh, Hand come on and begins with a massive leg-side wide.
5th over England 28-2 (Malan 13, Stokes 6) Target 158 Adair returns at Little's end, moustache bristling as he charges in. His first two balls go for singles, but his third, to Malan from around, is exactly what he's seeking to deliver, just outside off, and his fourth is similar, inciting Malan to fence; he misses. A run-down to third for one follows, then an edge for one more into the on side, and the rate is up to 8.66.
4th over England 24-2 (Malan 11, Stokes 4) Target 158 McCarthy replaces Adair and Malan turns his first ball to deep square for one, then Stokes, bent almost double, controls two to backward square. In a way, this reminds me of the match England lost to Sri Lanka at the 50-over World Cup; they're chasing a total that sensible batting should see them get with something to spare, except to do that would be to change the approach that has served them so well. After that defeat, Morgan surmised that his team had deviated from their agreed method and played safe and he should know – at the time, I remember thinking they'd been unnecessarily wild. Anyhow, Malan presses three towards deep point, then a single, a wide and a single follow; England have stabilised somewhat.
3rd over England 14-2 (Malan 6, Stokes 0) Target 158 It's a real Ben Stokes situation, this: time to settle before chucking hands. If Ireland can get him, they're in serious business.
WICKET! Hales c Adair b Little 7 (England 14-2)
NO MORE CHANCES! Hales looks to pull a short one, toe-ends high, and Adair is solid as you like underneath a real stomach-swallower. England are under the pump, and you cannot look away from this match!
3rd over England 14-1 (Hales 7, Malan 6) Target 158 There's decent encouragement for the bowlers out there; Hales flicks four through midwicket, then plays and misses when one leaves him, before cutting hard to point! Delany flings up a hand … and the ball bursts through it as the batters run two.
2nd over England 8-1 (Hales 1, Malan 6) Target 158 Adair opens from the other end and Malan lifts his loosener over mid on for three, then Hales takes one. In comms, Morgan agrees with Wood that England were below-par with the ball, and we cut to Woakes shaking his head, perhaps because he's still thinking about his 0-41, perhaps because there's a fly in his eye. I wonder if he'll keep his spot in the side as the matches get more intense, but in the meantime there's plenty going on in this one, Malan pulling two to mid on before Adair sends down a beauty of an inswinger that beats the bat on the inside; Malan nods twice in approval.
1st over England 0-1 (Hales 0, Malan 0) Target 158 What a moment that must be for Josh Little! Twenty-two years old, and an all-time great batter back in the hutch, second ball! He might be a bit over-excited, though – I mean I am, and I'm definitely not him – following wicket with wide. Three dots follow, then a bit of extra bounce has Malan off his feet, gloving around the corner for one.
WICKET! Buttler c Tucker b Little 0 (England 0-1)
OH MY DAYS! Served a wide one, Buttler looks to hit over the top, but the left-arm over angle makes it a slightly different shot and he tickles a catch behind! Here we go!
1st over England 0-0 (Buttler 0, Hales 0) Target 158 Little has the ball….
Righto, off we go again!
"Good Morning Daniel, good morning everyone!" chirps Em Jackson. "Whether or not Ireland win this today, it's some achievement – still – to think that a country where more than a million live in & around Dublin/County Dublin (compared to say Leitrim or Longford), where the summer sports are mainly Gaelic Games – football, hurling, camogie – and where there's also "distractions" of Rugby Union, soccer (as distinct from "Gaelic football"), golf to name but three for kids growing up (and no kids coming through means no players coming through), are competing vs India, Pakistan, England (and England more than many have such distractions) etc. etc. in a World Cup.
At some point the ECB, the Irish Cricket Assoc., Cricket Scotland and a 'Wales Cricket Unit' need to have a Four-Nations Cup for T20 at least in the future. Witness the Nations Cup in soccer* – rather than merely tacked on T20s after Test's lets have something . . . . more meaningful? Indeed, are we close to needing a Six Nations T20 Cup? England, Wales, Ireland, Scotland, Netherlands + best other European Nation?
Back to the action today though: One or more Ireland player needs to accelerate to 75+ and/or 50+ you'd think to make their score competitive, but the weather . . . . it's going to be exciting."
And she returns: "Can I confirm, for the record, I'm not some sort of Irish mythological creature that curses cricketers by my comments and/or emails!"
Agree with all the gist of this. The more that can be done for emerging nations, the better.
Things happened so quickly at the end, there was no time for email, so let's do a few now. "I know that selecting Woakes has several benefits," says Tom van der Gucht, "such as his batting, reliability, early swing, a thoroughly nice chap etc. I just wonder if selecting Mills would have been a bolder option and would have provided more options with having two left-armers, him offering more pace and Curran more swing whilst Wood and Stokes would offer the same but with their right arms."
I keep saying this, but right-arm medium and Australia don't often mix. Like you, I see Woakes' virtues; problem is, if Ireland can get after him, you'd fancy others can too.
On which point, hold tight Ireland, Andy Balbirnie and Lorcan Tucker in particular. They came out with a plan – whack it off side if you can, go at Chris Woakes – and executed brilliantly. But from 92-1 at the halfway mark, they've finished shy of where the'd have hoped to be, and will have to bowl like demons to get a result from here.
Mark Wood says he doesn't think England bowled well in the first 10 overs – he's right – and wonders if the cavernously empty ground left them flat. Thing is, they've got so many weapons, and today it was Liam Livingstone with 3-17 and Sam Curran with 2-31 who rescued them. That said, Wood – though he says he didn't bowl well – still contributed 3-34, which tells you where his game's at, and the key moment came when Adil Rashid fluked a run out when Ireland were bang on top.
England need 158 to beat Ireland!
That was an absolute buzz. Ireland batted superbly first up, but five wickets in 18 deliveries make England strong favourites.
WICKET! Little c Buttler b Stokes 0 (Ireland 157 all out)
Regulation stuff, Little backing away to feather a catch behind.
20th over: Ireland 157-6 (Delany 12, Little 0) Stokes will finish off and Delany forces his first delivery away for one…
19th over: Ireland 156-9 (Delany 11, Little 0) How many can Ireland finagle from the final over?
WICKET! Hand b Curran 1 (Ireland 156-9)
Curran does it again! from wide, he slants one in and Hand makes room … but misses. England have come back superbly in this last few overs.
19th over: Ireland 156-8 (Delany 11, Hand 1) Curran has such bottle – his desire to bowl at the death, and guts to perform his skills, are very, very special. Hand takes one to cover, then a misfield from wood on the 45 allows Delany a three.
WICKET! McCarthy b Curran 3 (Ireland 152-8)
Timing and temperament! Yes, but also skill and variation! Curran's yorker has improved so much in recent times, and and when McCarthy comes down, he misses and the bowler hits!
19th over: Ireland 152-7 (Delany 8, McCarthy 3) McCarthy turns Curran's first ball away for two to midwicket…
18th over: Ireland 150-7 (Delany 8, McCarthy 1) McCarthy forces his first ball to point for one and that's another fine over from Livingstone.
https://www.theguardian.com/sport/live/2022/oct/26/t20-world-cup-cricket-england-v-ireland-live-updates T20 World Cup Super 12s: Ireland beat England by five runs (DLS) – as it happened | T20 World Cup 2022