Sydney
T20 World Cup 2022 Super 12s: Australia v Afghanistan – live | T20 World Cup 2022
Key events
14th over: Australia 121-4 (Stoinis 18, Maxwell 22) Back to Rashid, and he begins by deceiving Stoinis with a topspinner, the batter ending up in a very awkward position mid-reverse. The ball hits the pad, the appeal is confident, but declined on-field. Afghanistan review but it quickly shows the ball struck Stoinis outside the line of off stump. When he gets on strike Maxwell shows his Melbourne Stars teammate how it's done, going full switch-hit and larruping an agricultural thwack between the two fielders on the cover boundary. How does he do it? Maxy has raced to 22 off 13. Stoinis, 18 off 16, needs to pick up the pace.
13th over: Australia 110-4 (Stoinis 18, Maxwell 14) Maxwell continues his assault by flicking Mujeeb for four behind square leg. He's then fortunate to see a mistimed drive over cover land short of the sweeper, then see a mistimed baseball-style straight slog land in front of long-off, illustrating the risk-reward of Australia's desperation for quick runs.
12th over: Australia 102-4 (Stoinis 17, Maxwell 7) Time for Mohammad Nabi's slow off-breaks, which means it's time for Marcus Stoinis to clear his front leg and heave a mighty six over cow corner. Maxwell then gets in on the act, drilling a square drive with strong wrists through a tiny gap in the offside field and away to the cover boundary.
11th over: Australia 88-4 (Stoinis 8, Maxwell 2) Over to you Maxy.
WICKET! Marsh c Gurbaz b Mujeeb 45 (Australia 86-4)
Back to Mujeeb's spin after drinks and Australia deal in singles for three deliveries before Marsh sweeps, only to get a huge spiralling top edge that Gurbaz pouches with the gloves. Again Australia's charge is halted by a soft wicket.
10th over: Australia 83-3 (Marsh 44, Stoinis 6) Australia are more circumspect against Rashid, but perhaps more on reputation than execution. The leggie has failed to fire this tournament and is lucky to get away with a couple of drag downs this over.
9th over: Australia 78-3 (Marsh 41, Stoinis 4) Marsh gets the bandwagon rolling again with a clean straight drive for six backed up by a full swing of the bat for four over cover. Yet more poor Afghanistan fielding leads to a third boundary in a row with the legside sweeper failing to get anything behind a swivel pull. Marsh is such a powerful cricketer and he has moved to 41 off 25 in the blink of an eye.
8th over: Australia 64-3 (Marsh 28, Stoinis 3) Marsh begins with a sweep, Stoinis a reverse, against Rashid, which will encourage the leg-spinner on one of his home grounds. The Australian right-handers revert to the V to keep the scoreboard ticking over in singles as they consolidate following those three early wickets.
7th over: Australia 57-3 (Marsh 23, Stoinis 1) Gulbadin comes on and immediately Marsh is dropped at point! A loose drive to a length delivery and Najibullah turns his hands and body into spaghetti as the ball ricochets to the ground. That could have been a hammer blow. It's another good over for Afghanistan though with neither Marsh nor Stoinis demonstrating timing to Gulbadin's changes of pace. After that bright start Australia's charge is waning.
Now it's time for Rashid.
WICKET! Smith LBW Naveen 4 (Australia 54-3)
Steve Smith now has an important role to play and he demonstrates his intent with a beautiful wristy cut behind square for four. Naveen follows up by pinning the right-hander on the pads and umpire Rusere raises the finger! Smith reviews, of course. There's no inside edge with the batter shuffling across too far to the off-side, and DRS shows the ball tracking into the pegs. Two huge wickets in the over for Afghanistan (and England)!
6th over: Australia 54-3 (Marsh 21, Stoinis 0)
WICKET! Warner b Naveen 25 (Australia 50-2)
That's the risk of an attack-only approach. Warner alters his stance at the crease from left to right-hander to take advantage of the short boundary and field placings, but then misses a straight one and looks pretty silly. That is enormously disappointing for Australia because Warner looked in the mood tonight.
5th over: Australia 49-1 (Warner 25, Marsh 20) Mujeeb gets a second over soon after his first went for 16, and he's immediately looking over into the cheap seats behind square leg as Marsh drops onto one knee and times him sweetly into the sunset. Australia make do with singles thereafter as they lay the foundation for a massive total.
4th over: Australia 38-1 (Warner 23, Marsh 11) Naveenulhaq Murid replaces Mujeed with his skiddy right-arm seamers and after a couple of singles he watches Marsh slog an edge for a one-bounce four to the unguarded third region. He then looks on in dismay as Afghanistan concede more overthrows with poor fielding and intimidating running turning one into three.
Australia are giving it their all. England will be watching on nervously.
3rd over: Australia 27-1 (Warner 22, Marsh 1) Australia are desperately trying to force the issue but Mitchell Marsh takes three balls to get off the mark, perhaps rushing his strokes. Warner shows him how it's done, paddling an audacious four in front of midwicket with a deft bunt.
WICKET! Green c Gulbadin b Fazal 3 (Australia 22-1)
Brilliant catch at slip from Gulbadin and Green trudges off after facing just two deliveries. Fazal angled the ball across the big right-hander, who tried to cut, but the ball was too close to his body and all he could manage was a thick edge. The ball flew high to the left of the solitary slip but he showed swift and sure hands to pouch a very good catch.
2nd over: Australia 22-0 (Warner 18, Green 3) David Warner is a man on a mission. He showed plenty of intent in the opening over without much timing, but in the second he made a mockery of Australia's supposed weakness against spin, taking Mujeeb Ur Rahman for plenty all around Adelaide Oval. Green is fortunate to get off the market with a thick edge for a hard-run three, but after that Warner reverse slogged for four before two more boundaries through the on-side.
1st over: Australia 6-0 (Warner 6, Green 0) Fazal begins with some nice shape away from Warner with his left-arm seamers. The first couple are mistimed for dots but Warner waits on the third and delivers a trademark punchy cut for four. He tips and runs to rotate the strike next ball but an overthrow brings him back to the business end. Fazal responds well, hurrying Warner up with a shorter ball then beating the outside edge with length.
Australia's new opening partnership stride to the crease: David Warner the stocky veteran lefty, Cameron Green the giant right-handed newcomer.
Fazalhaq Farooqi has the ball…
As the teams line up for the anthems, there's just time to read about Travis Basevi, a man you might never have heard of but whose influence you've probably felt.
Rashid Khan has been declared fit despite concerns over his fitness following the defeat to Sri Lanka in Brisbane.
A revamped Australian XI for their final match of the Super 12s. Cameron Green replaces the injured Aaron finch at the top of the order, Steve Smith comes in for Tim David in the middle-order, and Kane Richardson dislodges Mitchell Starc in the attack.
1 David Warner, 2 Cameron Green, 3 Mitch Marsh, 4 Steve Smith, 5 Glenn Maxwell, 6 Marcus Stoinis, 7 Matthew Wade (c/wk), 8 Pat Cummins, 9 Kane Richardson, 10 Adam Zampa, 11 Josh Hazlewood
Afghanistan won the toss and will field first
We should be in for plenty of fireworks from Australia's top order.
Stand-in skipper Matthew Wade said he wanted to bowl first to be in better control of the net run rate calculations.
It's dry tonight in Adelaide but Australian rain has put cricket politics in the spotlight. Here's Geoff Lemon again.
Most sports don't have to worry about being cancelled if things get wet. Cricket remains a special flower in the deluge. Tournament rain produces instant meteorologists, scoffing at the idiocy of playing a certain match in a certain place at a certain time. The same happened during the early weeks of the 2019 World Cup, the ending of which was deemed satisfactory. Rain happens wherever cricket does – that's how the grass grows. October may be slightly wetter than other Melbourne months, but it's drier than any cricket months in Sydney or Brisbane. The rainfall tends to be brief and scattered. This year it anomalously isn't. So be it.
Have we already seen the last of Aaron Finch in an Australian uniform? He deserves his place among the greats of white ball cricket.
Confirmation that Aaron Finch and Tim David will miss out through injury. Not only that but Mitchell Starc has been omitted (not sure why). In come Steve Smith, Cameron Green and Kane Richardson.
Geoff's piece there condenses the net run rate issue as neatly as possible.
Australia need to beat Afghanistan

Victory by about 60 runs or within 13 overs would take Australia ahead of England on net run rate.

England then play Sri Lanka tomorrow in Sydney knowing what margin of victory is required for them to reach the semi-finals.
Geoff Lemon sets the scene from inside the Australian camp ahead of a match full of complex equations in selection strategy, injury management, and net run rate.
Net run rate makes sense as a cricketing concept – how fast did you score compared with how well you defended? But it's not a calculation that most people can do in their heads while sitting in the stands, and the results are not intuitive at a glance in the way that something like goal difference in football is.
New Zealand beat Ireland by 35 runs
The equation just became even more difficult for Australia and England with New Zealand completing their Super 12s campaign with a solid victory over Ireland. The Black Caps will occupy one of Group 1's spots in the semi-finals.
Finn Allen continued his good form smashing 32 from 18 to start New Zealand's innings, after which skipper Kane Williamson found some form of his own with 61 from 35. A total much bigger than 185 was on offer but Ireland's Josh Little wrote his name into history with a fabulous hat-trick.
The run-chase started brightly with Paul Stirling and Andy Balbirnie putting on 68 in eight overs but spinners Santner and Sodhi turned the game by dismissing Ireland's top four in quick succession.
Simon Doull is covering the New Zealand v Ireland match at Adelaide Oval and he has hinted strongly that Steve Smith and Cameron Green are both likely to feature for Australia with Aaron Finch and Tim David both injury doubts.
It's dry and we're set fair in the city of churches.
The pitch is already 40-overs old after being used by New Zealand and Ireland, and it looks a typically true Adelaide Oval strip. Afghanistan's spinners will have been encouraged by the turn and bounce on offer to Mitch Santner and Ish Sodhi.
It's now or never for teams looking to progress from the Super 12s, and as Geoff Lemon reports the state of play is far from straightforward for some of the tournament favourites.
Arriving at this tournament, England and Australia would have been worldly enough to know that they couldn't expect to walk out of this group. They were diplomatic enough to cite every opponent as a tough competitor who could beat them on a given day. They were seasoned enough to know that this was true. And in their hearts, they would still have known that they should be the two to progress. The two biggest and best-resourced teams, one the host, the other the pace-setter in short form cricket for the last seven years.
Hello everybody and welcome to live coverage of the 2022 ICC Men's T20 World Cup. Australia vs Afghanistan in Group 1 of the Super 12s begins at Adelaide Oval at 6.30pm local time (7pm AEDT/8am GMT).
This may be the final time we see the hosts and defending champions this tournament with Australia's fate almost out of their hands. To reach the semi-finals they must defeat Afghanistan tonight and then hope England fail against Sri Lanka tomorrow. If both old enemies prevail progress comes down to net run rate, which is firmly in England's favour, and moreover, they will know exactly the task facing them when they complete their Super 12s assignment in Sydney.
The first part of the home side's equation should be straightforward enough. Afghanistan are the only one of the dozen sides in this stage of the world cup yet to register a win. Australia, while not firing on all cylinders, should have the artillery to blow through a fragile batting order.
The second part may not be so straightforward. It has become cliché to question Australia's abilities against deliveries that move sideways, and techniques will surely be tested against Afghanistan's trio of spinners, a list that includes Rashid Khan, who has dominated the Big Bash League for Adelaide Strikers on this ground.
In a demonstration of cricket's miserable scheduling, this is just the fourth time these teams have met in international competition, and the first in T20 internationals.
There's plenty more to get through before play gets underway, during which feel free to drop me an email or, if Twitter hasn't burned to the ground, send a tweet or two to @JPHowcroft.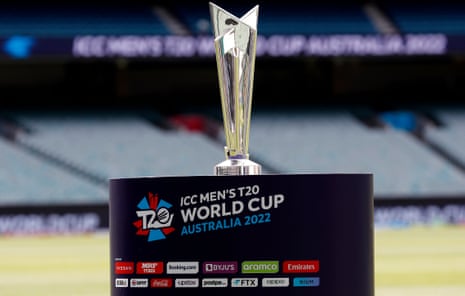 https://www.theguardian.com/sport/live/2022/nov/04/t20-world-cup-cricket-australia-vs-afghanistan-live-scores-updates-2022-super-12-12s-scorecard-aus-v-afg-latest-score T20 World Cup 2022 Super 12s: Australia v Afghanistan – live | T20 World Cup 2022