Sydney
Sydney Trains blames vandalism for delays in getting Matildas fans home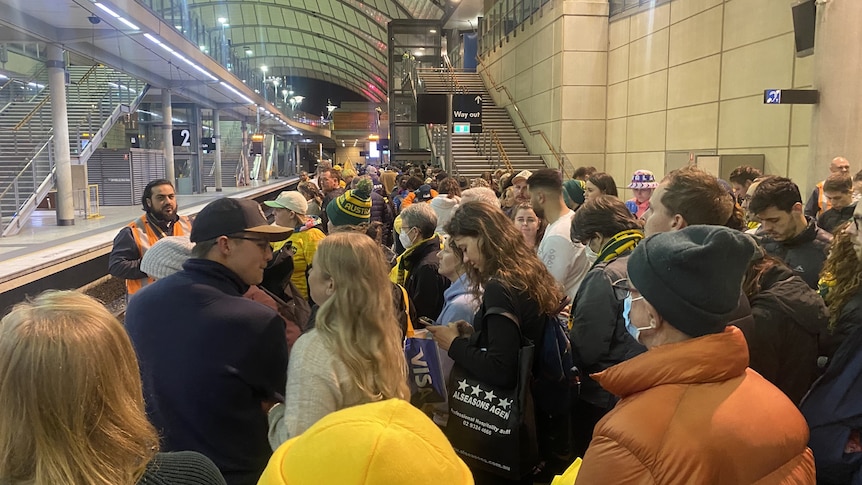 Police are investigating after a power problem transport authorities say was the result of vandalism, caused chaos and frustration for people heading home after Australia's heartbreaking 3-1 Women's World Cup semifinal loss to England.
Key points:
Sydney soccer fans were left stranded waiting for trains home from Olympic Park Stadium  
Sydney Trains said the delayed trains were due to vandalism 
Police confirmed they are investigating the suspected act of vandalism
Sydney Trains suspected equipment at Ashfield was vandalised, and that affected signalling equipment across the network.
The result was tens of thousands of commuters being stranded, mostly at Sydney Olympic Park, where it was estimates 100,000 people had gathered for both the football at Stadium Australia and country singer Luke Combs's concert at Qudos Arena. 
The ABC understands that the issue was resolved around midnight with trains back to running on time, after delays of over an hour.
Passengers were alerted to the power supply issue by social media, and at railway stations, where city-bound services on the T1, T2, T7, T8 and T9 lines suffered major delays.
"Allow extra travel time due to vandalism of equipment at Ashfield," Sydney Trains said.
"Trains may be stopping at different platforms and may be delayed while the incident is ongoing.
"Work crews are on site and we anticipate delays to continue throughout the evening.
"Please consider using alternate transport methods for your journey home."
Furious commuters vented their frustrations on social media after having earlier been encouraged to use public transport to attend the events on Wednesday night.
"Sydney Trains get your s$#! together. Yet another fail on a big sport night. Utterly useless transport network. Catch the train they say. Have a shite experience is guaranteed."
Another described it as an "absolute shambles".
"Surely this will go down in history as one of the most monumental failures of public transport in Sydney, on a night when over 100 thousand people were all encouraged to use it to get around the city and suburbs. Absolutely embarrassing and beyond chaos."
Sydney Trains had earlier posted its encouragement for people to sue public transport on the night.
One commuter stuck at Sydney Olympic Park posted " 2hrs after the game finished and we are at Olympic Park. This isn't your 1st game here. Total shitshow#sydneytrains.
Sydney Trains reported the suspected vandalism incident to NSW Police and investigations are underway.
https://www.abc.net.au/news/2023-08-17/sydney-trains-vandalism-delays-matildas-luke-combs/102739450 Sydney Trains blames vandalism for delays in getting Matildas fans home