Sydney
Small theater owners want more flexibility from distributors to survive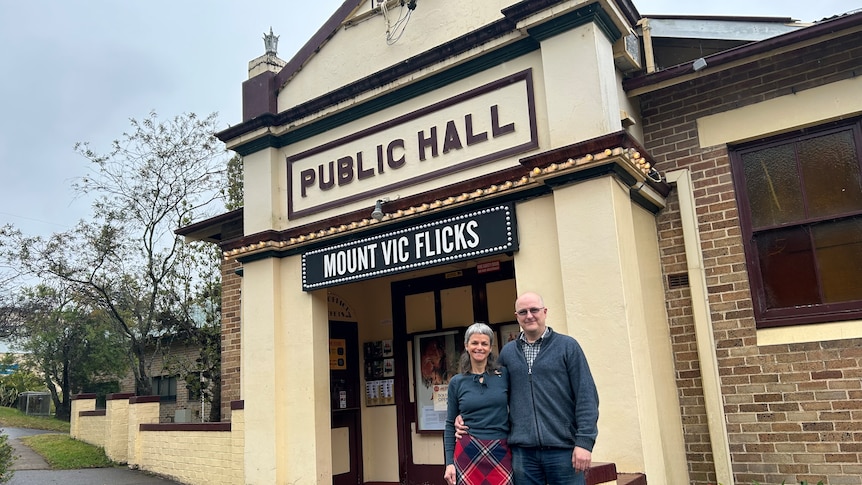 Ben Curran was born the same year his father, Ron, opened Glenbrook Cinema in the lower Blue Mountains in 1968.
"I grew up with movies," Curran says.
"I was a projectionist at 13 and worked in a candy bar when I was little, so it's part of the family and a passion we've had all our lives."
Since taking over the family business with his wife Fiona three years ago, he has begun to see the ugly side of running a one-screen movie theater.
Faced with the realistic prospect of closing, Curran decided to speak candidly to the community about how rigid film distribution deals are pushing it to the brink.
Curran explained in a newsletter titled "Closed or Not Closed?" that movie reservations aren't as easy as predicting which movies viewers want to see.
Strict conditions are in place
Film distributors impose conditions on films, such as a minimum number of showings per day or per week. The larger the movie, the higher the requirements.
Movie theaters with only one screen can severely limit the movie choices available to the community.
"If you're stuck with a big movie and have two or three sessions in a day, one screen will get in the way," Curran says.
"The film could have the same number of participants in one session per day, but instead it would be split into three."
If you wait two to three weeks after the release date for a movie to start showing and conditions are low, moviegoers know they won't have to wait long to be able to watch the movie at home via streaming services. I'm here.
'Prolonged' battle
Further up the mountain, Mount Vic Flix owners Kirsten Mulholland and Adam Cousins ​​share the same complaint.
"Any movie with a big distributor is a long game," said Cousins.
"We're trying to make more money for them and us. Putting us out of business is not the way to go."
Huskisson Pictures' Peter Cotter says the advent of feature films has compounded the scheduling woes of single-screen cinemas.
"I was showing a movie here a while back, and it was one of the very long movies, and it had to show three times a day, but it only shows two or three times. It was," Cotter says.
there is some progress
Smaller theaters are asking movie distributors to be more flexible and allow movies to show at times when people know they want to come.
Brett Rosengarten, former director of sales for Roadshow Films at the independent film association, acknowledges the challenges of small theaters, but film distributors also have staffing costs and millions of dollars in advertising and marketing costs. It is said that there is cost pressure such as.
Cinemas want to maximize their profits by showing a wider variety of movies, but distributors see other movies as competitors, so it's up to them to get as many slots as possible. will benefit, he says.
"It's always a challenge because both sides are negotiating from a unique perspective of 'how can we maximize the profitability of our business?'"
Some distributors are at the negotiating table, but changes that save Glenbrook Cinema may not happen anytime soon.
"Despite some of the most difficult distributors, we're seeing industry change, but not fast enough given the state of the film industry," Curran said.
"Change is needed now."
no regrets
Fewer than 20 single cinemas remain in rural New South Wales. Some are run by volunteers, while others only show a few films on weekends.
People like Mt. Vic Frick survive by buying bread, making soup, and cleaning up after the last movie.
"I always leave the house by 9 o'clock in the morning. [and] I want to be home by midnight if possible," Cousins ​​said.
"We were blown away by this, and 10 years later we still really love it," says Mulholland.
unstable future
Rosengarten says small cinemas are often "the heart of the city," but warns that "not all businesses will survive."
"We definitely think there is a market … there is a market for single screens to survive, especially in rural areas, but it's not easy," he says.
The key, he said, is to bring attendance back to pre-coronavirus levels.
Loading…
That will be helped by strong upcoming movies such as Barbie, Oppenheimer and the Australian film Forces of Nature.
Glenbrook Cinema's Curran said he would give the company another year to make a final decision on its future.
Since we published our plight newsletter, the theater remains crowded, but the Blue Mountains Council, which owns the building, is considering how it can help.
"Customers are what keep us going," Curran said.
"They love the movie, they love the experience, and making our customers happy is what drives us."
So do the companies that operate Mount Vic Flix and Huskisson Pictures.
"It's like visiting a friend's house," says Cousins.
"They come in, they converse with us, they feed them soups and snacks…they prefer personal service and heartfelt service that they can't get at a cold multiplexer."
"We're not doing it to build wealth," Cotter added.
"We're just saying we're here to serve our community."
Loading
https://www.abc.net.au/news/2023-07-06/small-cinema-owners-need-more-flexibility-film-distributors/102565052 Small theater owners want more flexibility from distributors to survive