Sydney
Russia-Ukraine war live: Zelenskiy says Moscow a threat to 'European values'; warning over major Russian offensive | Ukraine
Only a victory for Ukraine can protect European values, Zelenskiy tells MEPs
Only our victory will guarantee our European values, Zelenskiy says.
He thanks the support give to Ukrainians by the people of towns and cities across Europe in this "historic battle".
This prompts a standing ovation from the MEPs.
Key events
The Pink Floyd founder Roger Waters called for an immediate ceasefire in an address to the UN security council on Wednesday.
Speaking upon the invitation of the Russian ambassador to the council, Waters called on world leaders to "change course", saying:
From the 4 billion or so brothers and sisters in this voiceless majority who together with the millions in the international anti-war movement represent a huge constituency, enough is enough.
The US deputy ambassador to the UN, Richard Mills, responded by questioning Water's credentials to address the council on the conflict and then deferred to the Ukrainian representative, Sergiy Kyslytsya, who accused the musician of unwittingly becoming a tool for Russian propaganda.
Kyslytsya said:
How sad for his former fans to see him accepting the role of just a brick in the wall – the wall of Russian disinformation and propaganda.
UK will not send fighter jets to Ukraine if there is risk to British safety, government says
The UK has an eye on "potential escalatory risks" as it considers sending warplanes to Ukraine, Downing Street has told PA news.
When asked about some western allies' concerns that supplying jets could risk dragging Nato into the conflict, the prime minister's spokesperson said:
Firstly we haven't made a decision in terms of UK provision of jets, we are training currently. The UK is in the process of providing Challenger tanks and we have provided longer-range capabilities as well. We take these decisions carefully and we do it thoughtfully. We are aware of potential escalatory risks.
The spokesperson added:
But throughout we have been confident the approach we are taking is the best and quickest way to help Ukraine end this war, which is obviously in everyone's interests. And it is Russia that continues to take escalatory action with their bombardment of civilians and continue their illegal war in Ukraine.
No 10 told PA news the government would not send fighter jets to Ukraine if it put the UK's safety at risk.
"The UK has significant numbers of Typhoons and F-35s," Rishi Sunak's spokesman said. "Of course we would never do anything that would put UK safety at risk."
He added that the UK would be working with international partners to "work out how we could supply (Ukraine) with Nato-standard capabilities".
Sending Typhoons would require permission from Italy, Spain and Germany, while F-35s would need US agreement, the official said.
Russia's defence ministry said on Thursday that its forces were continuing offensive operations in Ukraine's Donetsk region and had destroyed four artillery depots, Reuters reports.
In its daily briefing, the ministry said it had also destroyed a US-made radiolocation system and an M109 Paladin artillery system.
The president of the European Council, Charles Michel, has tweeted a photo of himself and Ukrainian president Zelenskiy saying: "Welcome home, welcome to the EU."
The Ukrainian president, Volodymyr Zelenskiy, is speaking at the European Council.
"You cannot have a free Europe without a free Ukraine," said Zelenskiy, later adding that further steps need to be taken including sanctions against Russia's drone, missile and IT sectors.
"In Europe you have to make this decisive step," he added.
Italy's prime minister, Giorgia Meloni, has described Volodymyr Zelenskiy's invitation to Paris, where he met the French president, Emmanuel Macron, and the German chancellor, Olaf Scholz, as "inappropriate".
The Italian press speculated that Meloni's exclusion from the meeting and dinner held on Wednesday night at the Elysée Palace was a sign of Italy's isolation in Europe and internal government divisions over its support of war-torn Ukraine.
"I believe our strength is community and unity," Meloni said in Brussels, where she will meet Zelenskiy on the sidelines of a European Council meeting on Thursday. "But there are times when favouring internal public opinion risks being to the detriment of the cause, and this seems to me to be one of those cases."
While Meloni repeatedly voices full political and military support to Ukraine, her coalition partners have been more ambivalent. Italy's deputy prime minister, Matteo Salvini, who in the past was among the most vocal admirers of the Russian president, Vladimir Putin, and other Italian politicians recently criticised a plan for Zelenskiy to appear via video link on the closing night of the popular Sanremo song festival, saying his input was "out of place" for an entertainment event. Zelenskiy will now instead provide a speech that will be read out by the show's host.
Relations between Italy and France have been frosty since Meloni came to power in October, particularly over issues such as immigration.
Ukraine fighter pilot: I could learn to fly western jet within three months
A Ukrainian fighter pilot who shot down five Iranian drones in one day has said he could learn how to fly a western jet within a few months – and help his country act as "a safe shield for the world" against Russian aggression.
Maj Vadym Voroshylov, a well known figure in his homeland, said he believed it would take "up to three months to learn all the combat tasks" given his years of experience of flying in a Soviet-era MiG-29.
Engineers could learn how to repair a jet like an F-16 in a similar time, the Ukrainian pilot added, because "ground crews can be trained simultaneously", in an interview as part of Ukraine's latest lobbying campaign for military aid.
Read more here:
Here are some images from the European parliament: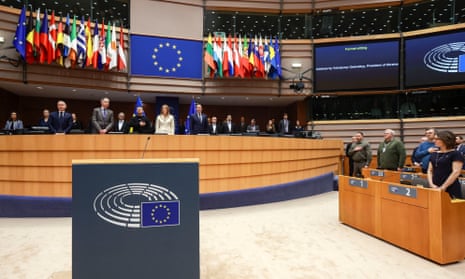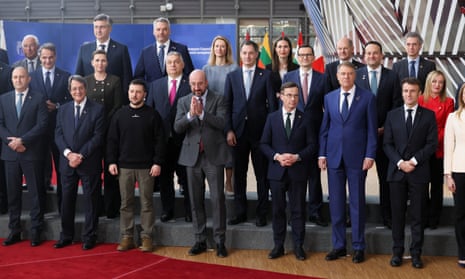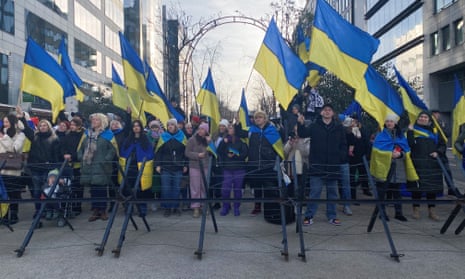 The Ukrainian president, Volodymyr Zelenskiy, thanked the European Union and its citizens on Thursday for the help Ukraine has been receiving to defend itself against the Russian invasion, before joining a summit of the bloc's leaders to ask for more weapons, Reuters reports.
Having won promises of western battle tanks in recent weeks, Ukrainian officials are now focused on trying to secure the supply of longer-range rockets and fighter jets.
But Zelenskiy did not mention Ukraine's demand for jets in his speech in the European parliament, which seemed less aimed at pressing politicians than ensuring support from ordinary EU citizens.
In his speech to EU lawmakers, Zelenskiy said:
I would like to thank you, all of you, who have been helping our people, our ordinary citizens, our resettled people here who called on their leaders to increase and enhance their support.
"We are defending ourselves in the battlefield, we Ukrainians, together with you," he said, adding that his country was fighting the "biggest anti-European force of the modern world".
It is 1pm in Kyiv. Here is a summary of the latest developments in the war in Ukraine.
Volodymyr Zelenskiy addressed the European parliament on Thursday morning, proclaiming Ukraine "will join the European Union" and thanking the bloc's members for their support during Russia's invasion.

French president, Emmanuel Macron, said Paris would "continue the efforts" to deliver arms to Kyiv, adding that France was determined to help Ukraine towards "victory, peace and Europe". "Russia cannot and must not win," he said, adding that "the future of Europe" was at stake in Ukraine. The German chancellor, Olaf Scholz, said it was clear that Moscow would not win, and assured Ukraine its future was in the EU, saying Ukraine was part of the "European family". "Putin will not achieve his goals – not on the battlefield and not through a dictated peace."

Zelenskiy also made an emotional appeal to the UK to supply Ukraine with fighter jets on a surprise visit to the UK on Wednesday. "I appeal to you and the world with simple and yet most important words: combat aircrafts – for Ukraine! Wings – for freedom!" he said. Rishi Sunak, previously opposed to handing over UK jets, has ordered a defence ministry review into whether Zelenskiy's request can be met, saying "nothing was off the table".

Pledges of support by Sunak, the UK prime minister, included training Ukrainian pilots on advanced Nato fighter jets "to ensure Ukraine can defend its skies well into the future". Sunak added: "The first step in being able to provide advanced aircraft is to have soldiers or aviators that are capable of using them. That is a process. It takes some time, we've started that process today."

The Nato secretary general, Jens Stoltenberg, said there was no sign of Russia preparing for peace. "On the contrary, Moscow is preparing for new military offensives," he said during a joint press conference with the US secretary of state, Antony Blinken.
Here are some images from the European parliament of Zelenskiy's address.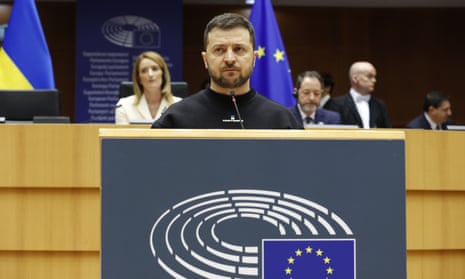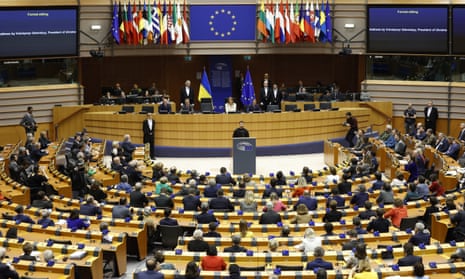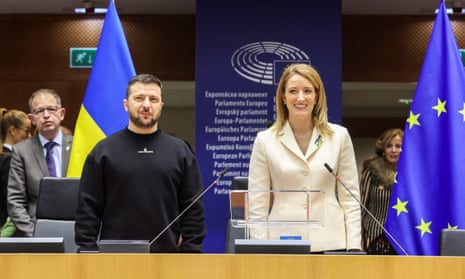 Zelenskiy is presented with the flag of the European Union after he concludes his speech.
The audience of MEPs cheers and applauds as he holds it up alongside Metsola.
Ukraine applied for membership of the bloc shortly after Russia's invasion and in June was formally granted candidate status.
Ukraine and EU countries have made their strength obvious, by combining a principled and energetic approach, Zelenskiy says.
Europe will always be Europe as long as we are together and take care of the European way of life, he says.
I invite all of you to Ukraine, and glory to the Ukraine, he says as he concludes his speech.
Zelenskiy says a vision of joining the EU motivates them to stay strong and stay the course.
Europe is defending itself from infiltration of Russian secret services, relieving itself of dependence on Russian gas, he says.
Ukraine will be a member of a European Union that is winning, he says.
Only a victory for Ukraine can protect European values, Zelenskiy tells MEPs
Only our victory will guarantee our European values, Zelenskiy says.
He thanks the support give to Ukrainians by the people of towns and cities across Europe in this "historic battle".
This prompts a standing ovation from the MEPs.
Zelenskiy is hitting out at the Russian state.
The value of lives in Russia has been destroyed, only those in the Kremlin have value, he says.
Russia views its people as vessels for carrying weapons, he says.
The Russian regime hates any social justice and diversity, they invest in xenophobia, they are trying to make the inhumane realities of the 1930s and 1940s a reality today, Zelenskiy adds.
Thank you for your principled and energetic approach, two qualities we have seen unchanged during this struggle for Europe, Zelenskiy says.
He celebrates European standards of life, the rule of law, open societies and the values of European people.
This is our Europe, these are our rules, this is our way of life. And for Ukraine it's a way home.


https://www.theguardian.com/world/live/2023/feb/09/russia-ukraine-war-zelenskiy-to-lobby-eu-leaders-in-brussels-nato-chief-warns-moscow-is-preparing-new-offensive-live Russia-Ukraine war live: Zelenskiy says Moscow a threat to 'European values'; warning over major Russian offensive | Ukraine