Sydney
Russia-Ukraine war latest: Yevgeny Prigozhin's death confirmed by Russian investigators | Ukraine
Russian investigators confirm death of Prigozhin, citing genetic tests
Russia's investigation committee have said that the results of genetic tests confirmed the identities of the 10 people who died in a plane crash on Wednesday and that they included the founder of the Wagner mercenary group, Yevgeny Prigozhin, Associated Press reports.
Committee spokesperson Svetlana Petrenko said that after forensic testing, all 10 bodies recovered at the site of the crash were identified, and their identities "conform to the manifest". Her statement didn't offer any details as to what might have caused the crash.
"Molecular-genetic examinations have been completed as part of the investigation into the plane crash in the Tver region," she said. "According to their results, the identities of all 10 victims were established, they correspond to the list stated in the flight list."
Among the other nine people listed onboard the Embraer private jet was Dmitry Utkin, a shadowy figure who managed Wagner's operations and allegedly served in Russian military intelligence.
Russia's civil aviation authority earlier this week said Prigozhin, along with some of his top lieutenants, were on the list of those on board the plane that crashed.
Prigozhin, 62, was killed two months after he mounted a day long mutiny against Russia's military that president Vladimir Putin decried as "treason". The Kremlin cut a deal with Prigozhin to end the armed revolt that allowed him to walk free without any charges levied against him. The brief uprising posed the biggest challenge to Putin's authority of his 23-year rule.
Key events
Yurii Ihnat, a spokesperson for Ukraine's air force, has paid further tribute to Andrii Pilshchykov, aka Juice, in a statement on his Facebook page.
A year ago in the USA, Andrii met with American government officials, brought up the urgent needs of the air force, was in constant contact with Californian pilots, and was the main driver of an advocacy group promoting many decisions on the F-16s [supply].

During the war, he gave dozens of interviews to western media because he knew English well, and the most important was the topic of conversation: what can and should be talked about for Ukraine!

You can't even imagine how he wanted to fly on an F-16 … but now that American planes are actually on the horizon, he will not fly them. Andrii Pilshchykov was not just a pilot, he was a young officer with great knowledge and great talent.

He was an excellent communicator, the driver of reforms in air force aircraft, a participant in many projects. I often supported his crazy ideas, which gave incredible results!
Pilshchykov, whose lifelong "dream" was to join the Ukrainian air force, told the BBC towards the end of last year about the pressure he felt as a MiG-29 fighter pilot responsible for intercepting missiles en route towards targets in his country.
Intercepting the cruise missiles, your mission is to save the lives on the ground, to save the city. If you are not able, it's a terrible feeling that somebody will die. Somebody will die in minutes and you didn't prevent that.
Here's the daily UK military intelligence briefing on Ukraine.
The form of the attacks has varied, from underwear daubed with the nerve agent novichok and polonium-laced tea to more straightforward assassinations by bullet, but throughout Vladimir Putin's 23 -year rule, Kremlin critics, journalists and defected spies have met with similarly ruthless treatment for opposing his rule.
The fatal crash of a private jet carrying the Wagner chief Yevgeny Prigozhin two months after he spearheaded a mutiny against Russia's top army brass two months ago appeared to have added a new method to the Kremlin's extensive assassination menu.
While the Kremlin on Friday insisted it was "a complete lie" that it had anything to do with the jet crash, Prigozhin's longstanding feud with the military and the armed uprising he led in June would have given the Russian state ample motive for revenge.
His death, along with the deaths of other members of the mercenary group who were onboard, including Dmitry Utkin, described as its founder or co-founder, also follows a pattern of action by the Russian state against its critics, including journalists, human rights activists and former allies who fell out of line.
Ukraine launches investigation into midair collision that killed three pilots
Ukrainian authorities have launched an investigation after a midair collision between two warplanes in the west of the country killed three pilots.
Ukraine's air force spokesperson Yuri Ihnat told Ukrainian television that he could not foresee how long the probe into the fatal midair collision between two warplanes in the west of the country would take.
According to the air force's Telegram page, two L-39 training military aircraft collided on Friday during a mission over Ukraine's western Zhytomyr region.
The Ukrainian air force's 40th Tactical Aviation Brigade has paid tribute to the three pilots killed in the crash that marked a significant blow to Kiev's ambitions of challenging Russia's supremacy in the air.
The 40th Tactical Aviation Brigade has officially named the three dead as Maj Vyacheslav Minka, Maj Sergiy Prokazin and Capt Andrii Pilshchykov – better known by his call-sign "Juice".
His brigade said:
[Pilshchykov] was courageous, principled, uncompromising, actively spoke in the western media, in particular on the issue of providing Ukraine with modern F-16 aircraft.

Each of them was involved in air operations for the defence of Ukraine since the start of Russia's full-scale aggression, including tactical tasks in the east and in Zaporizhzhia region.
President Volodymyr Zelensky led tributes to the crash victims in an address yesterday, praising them as defenders of "Ukraine's free sky" and promising an investigation into what happened.
On the International Space Station (ISS), astronauts from Russia and the west share a craft the size of a large family home. So what happened when Moscow started a conflict 250 miles below on Earth?
Stephen Walker reports that while the US and its allies are imposing the biggest sanctions package in history on Russia, the space station remains immune, a sanctions-free zone.
By marrying exclusive areas of US and Russian knowhow, the two biggest partners effectively created one interdependent system – even while the Russians and non-Russians have separate living quarters on the craft. "It's all one integrated spacecraft," says Jay Chladek, the ISS's biographer. "Think of it like two people building houses and hooking them together into one duplex."
But there have been tensions since the Russian invasion. In one spacewalk, two Russian cosmonauts unfurled a victory banner supposedly to mark the defeat of nazism in 1945, a nakedly inflammatory gesture given the running Russian narrative about denazifying Ukraine.
Then, in July, all three Russian cosmonauts on the station took selfies with the flags of the "people's republics" of Donetsk and Luhansk. Roscosmos described the Russians' capture of the Luhansk region as "a liberation day to celebrate both on Earth and in space".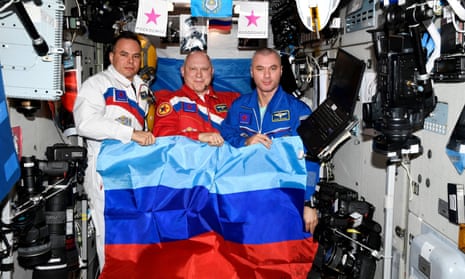 The names of the two other Ukrainian pilots who died when two combat aircraft collided over a region west of Kyiv have reportedly been released.
Major Vyacheslav Minka and Major Serhiy Prokazin are said to have died alongside Capt Andriy Pilshchikov, also known as "Juice", just a day after the US announced it would later this year begin flight training for Ukrainian pilots on F-16 fighter jets.
Last Sunday, Denmark and the Netherlands pledged to donate F-16s to Ukraine, fulfilling a longstanding wish by Ukraine that it says will help strengthen air defences and aid its counteroffensive against Russia. Norway's prime minister, Jonas Gahr Støre, then also said his country would also give Ukraine F-16s.
Ukraine has been forced to deliver its airborne defence using ageing Soviet-era fighter jets such as the Mig-29, which Pilshchykov flew. He told CNN in June that Ukrainian pilots were already trying to master the basics of F-16 flying in advance, using improvised flight simulators and whatever unclassified manuals they could find.
"I believe that in four to six months we can learn to fly it, it's realistic," he said. "Our transition training will be pretty freakin' easy."
Photos have emerged of at least 95 Swiss tanks that have been parked outside in Italy after Switzerland refused to sanction their sale and transfer to Ukraine.
The Swiss public broadcaster RSI reported that despite a deal being made in June by RUAG, the company that owns the tanks, the move was blocked due to Switzerland's neutrality policy.
Less than 10% of Russian believe their president, Vladimir Putin, was behind the death of the Wagner mercenary group leader, Yevgeny Prigozhin, an online survey by a thinktank for the Sunday Times suggests.
The poll, conducted by the Open Minds Institute in the hours after the plane crash that killed him, indicates that 28.4% believe the crash was staged, while 28.3% put it down to technical difficulties or an error by the pilot. Two per cent of Putin supporters believe he was responsible. The number of respondents to the poll was unclear.
Sviatoslav Hnizdovskyi, the Ukrainian chief executive of the thinktank, told the newspaper:
Two per cent of regime supporters blaming Putin for Prigozhin's death seems like a very low number. I think they do not dare to imagine Putin doing this because it will just completely destroy their picture of reality.
On Friday night, Putin signed a decree which demanded all Wagner troops and other Russian mercenaries make an oath of allegiance to the Russian state.
My colleague Andrew Roth has explored how a battle has already begun over the Wagner mercenary group chief Yevgeny Prigozhin's legacy.
A source close to the defence ministry said Prigozhin's continued survival could have presented even greater dangers for the Kremlin. "They have eliminated the leader of a potential military or armed opposition in the future," the person said, adding that it would reinforce trust within the military.
Alexei Dyumin, a former Putin bodyguard and now a regional governor, called Prigozhin a "true patriot".
We mourn for all those who died in the catastrophe, for all the fighters of Wagner, who have died during the [war]. One can forgive mistakes and even cowardice, but never betrayal. They were not traitors.
Andrei Soldatov, a journalist and expert on the Russian security services, said: "I did not believe all this language about black vengeance and treason."
If you look at the whole situation more carefully, Prigozhin didn't betray Putin, he was not a real traitor because he didn't go to the Ukrainians and Nato. He was not a real traitor, he was a [political] problem.

I thought Prigozhin and Putin might have made a new deal and that Prigozhin might last for some time because he found some new usefulness for Putin. But what it seems to me is that Putin was taking his time to assess the damage and assess everything.
In case you missed it earlier, here is our report about the three Ukrainian military pilots who were killed when two aircraft collided over a region west of Kyiv.
One Ukrainian pilot, Andriy "Juice" Pilshchykov, had campaigned for the supply of F-16s. It's a blow for Volodymyr Zelenskiy, who is counting on swift training of crews to fly F-16 fighter jets promised by western allies.
The Ukrainian president said in his nightly video address that the three men included Pilshchykov, "a Ukrainian officer, one of those who greatly helped our state".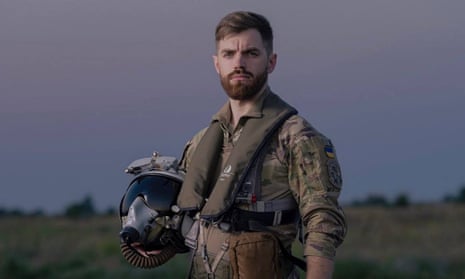 Kyiv destroys four missiles over northern and southern Ukraine, says Ukrainian air force
The Ukrainian military destroyed four cruise missiles over northern and central Ukraine during an overnight Russian air strike, Kyiv's air force reported early on Sunday.
It said Ukrainian forces had detected up to eight airborne targets but that there were no immediate reports of strikes, adding that the rest of the targets were "probably false".
The air force also said the attack involved five Russian strategic bombers.
Earlier, Russia's defence ministry says its forces shot down two drones overnight on Sunday in two regions bordering Ukraine.
One drone was shot down over the Bryansk region in Russia's west and another in the Kursk region, just south of it, the defence ministry said on the Telegram messaging channel.
Below are some of the images emerging out of Ukraine today: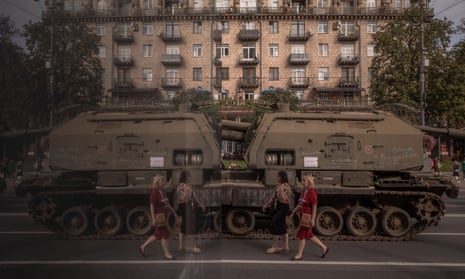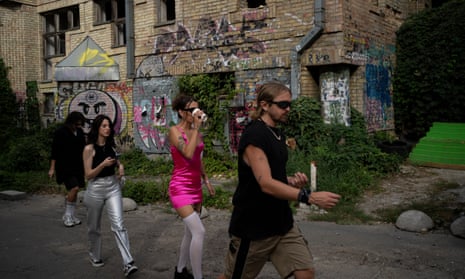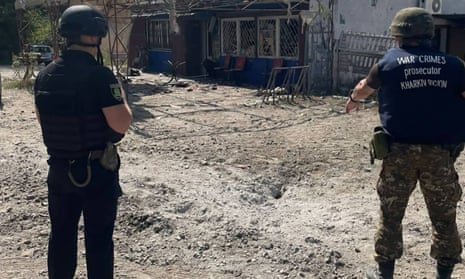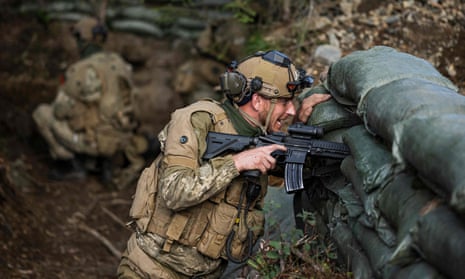 The Wagner group is likely moving toward a downsizing and there is a realistic possibility the Kremlin no longer funds the group, the latest UK defence ministry update says.
If it's correct the Russian state no longer pays Wagner, then analysts say it follows that "the second most plausible paymasters are the Belurusian authorities", the update says.
As reported earlier, this follows Vladimir Putin ordering Wagner fighters to sign an oath of allegiance to the Russian state after the plane crash that the Kremlin said killed Yevgeny Prigozhin, chief of the mercenary group.
And in case you missed it, don't miss our Moscow correspondent Andrew Roth's story about how the battle has begun over the Wagner's chief's legacy.
Welcome back to our live coverage of Russia's invasion of Ukraine. I'm Christine Kearney and here's a look at the latest key developments.
Russia has reported another series of drone attacks on its territory that officials said killed at least one person in a region bordering Ukraine and again forced the temporary closure of three major airports serving the capital Moscow.
One person was killed by shrapnel from a drone over the region of Belgorod that borders Ukraine in Russia's southwest, regional governor Vyacheslav Gladkov said on the Telegram messaging app.
The Russian defence ministry also reported drone attacks in Bryansk region in Russia's west and another in the Kursk region, just south of it.
There was no comment from Ukraine on the reported attacks.
Meanwhile, Ukraine's air force reports that three Ukrainian military pilots, including one nicknamed Juice who campaigned for the supply of F-16s, were killed on Friday when two combat training aircraft collided over a region west of Kyiv.
President Volodymyr Zelenskiy, who is counting on swift training of crews to fly F-16 fighter jets promised by western allies, said in his nightly video address that the three men included Andriy Pilshchykov, callsign Juice, "a Ukrainian officer, one of those who greatly helped our state".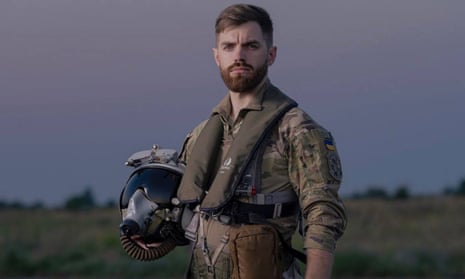 More on both those stories shortly. In other news:
Vladimir Putin has ordered Wagner fighters to sign an oath of allegiance to the Russian state after the plane crash that the Kremlin said killed Yevgeny Prigozhin, chief of the mercenary group.

Joe Biden said US officials were trying to determine how Prigozhin's plane was brought down, leaving no survivors. Russia criticised Biden for expressing his lack of surprise that Prigozhin had been killed and said it was not appropriate for Washington to make such remarks.

Ukraine's air defence systems reported an overnight Russian air attack on Kyiv's outskirts and other parts of Ukraine, Kyiv's military administration said on the Telegram messaging app. There was no immediate information about the scale of the attack, possible damage or casualties.

Pope Francis urged young Russians to be "sowers of seeds of reconciliation" in a virtual address to a congregation of 400 in St Petersburg that gathered for the annual Catholic youth day.

Russian forces struck a cafe in a key frontline area in north-eastern Ukraine, killing two civilians and wounding a third, regional officials said. The shelling near the city of Kupiansk took place amid warnings from UK officials that Russia may try to retake the area.

US reporter Evan Gershkovich appealed against a Russian court's decision to extend his pre-trial detention by three months after his detention under spying charges which he denies, according to documents published by a Moscow court. Unlike many western reporters, he had continued to report from Russia during Moscow's offensive in Ukraine.

German magazine Der Spiegel published a lengthy and detailed investigation into the attack on the Nord Stream pipeline. It cites German investigators – who are undertaking "the most important investigation of Germany's postwar history because of its potential political implications" – and reported that "a striking number of clues point to Ukraine".


https://www.theguardian.com/world/live/2023/aug/27/russia-ukraine-war-live-russia-reports-drone-attacks-near-moscow-and-ukrainian-border Russia-Ukraine war latest: Yevgeny Prigozhin's death confirmed by Russian investigators | Ukraine