Sydney
Police remove Greta Thunberg from protest hours after fine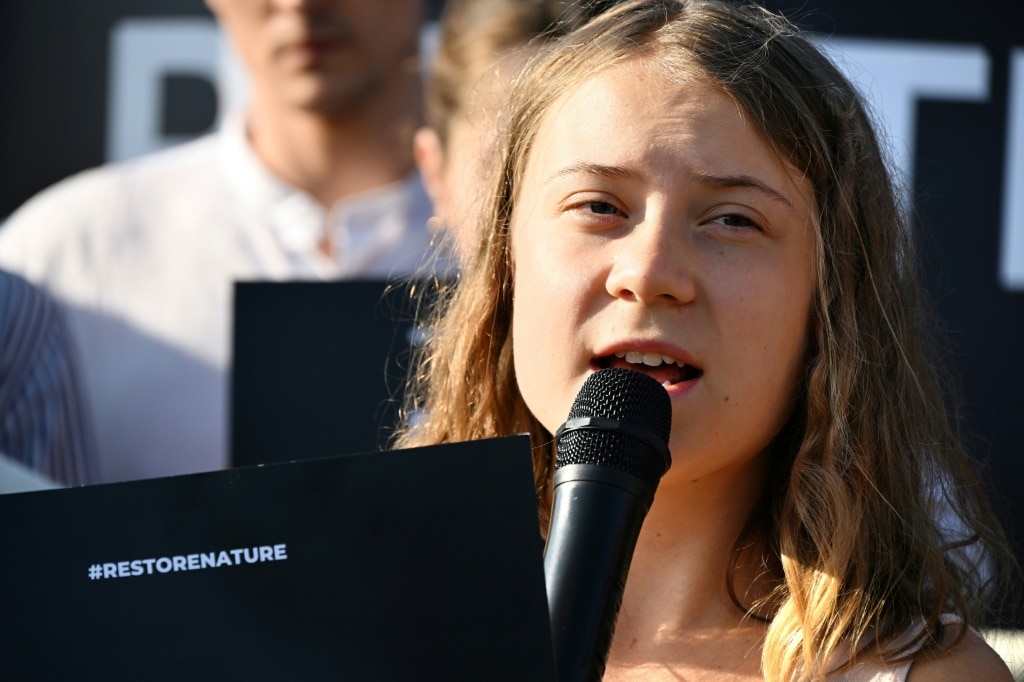 Swedish police on Monday removed climate change activist Greta Thunberg from a protest, hours after a court fined Greta Thunberg for failing to comply with law enforcement at a rally last month, AFP photographers reported.
The 20-year-old activist, who has become a key face of the movement to fight climate change, appeared in court earlier in the day on charges of obstructing traffic and refusing to leave June protests in the port city of Malmö.
"I was right there that day and I was right not to listen to orders, but I want to deny the crime," Thunberg said in court when asked about the charges against her.
read next
Thunberg said she acted out of necessity, citing the urgency created by the "climate crisis".
The rally, organized by the environmental activist group Reclaim the Future, sought to block the entrance to the port of Malmö in protest against the use of fossil fuels.
"According to my story, we are in a state of emergency, so my actions were justified," she told reporters after the trial.
~I won't back down~
After a short trial, the court found her guilty and fined her 1,500 kronor (about $144), plus an additional 1,000 kronor to the Swedish Crime Victims Fund.
The crimes she was convicted of could carry a maximum sentence of six months in prison, but fines are usually imposed for these types of crimes.
Asked if the fine would make him more cautious in the future, Thunberg said: "I will definitely not withdraw."
"We know that we can't save the world by just following the rules because we need to change the laws," the activist said.
"It is absurd that those who follow science, who block the fossil fuel industry, have to pay the price," she added.
Hours later, Thunberg took part in protests similar to the June protests for which she was fined.
She sat down on the road to Malmö harbor and held up a placard that read, "Stop tank trucks."
– Same guilt –
About an hour later, Thunberg and five others were forcibly taken away by police, an AFP photographer at the port reported.
"Six people have been removed from the scene," police said in a statement, adding that they would be called for "violating police orders," the crime for which Thunberg was just fined.
Thunberg rose to global fame when she was 15 years old when she launched a "school strike for climate change" outside the Swedish parliament in Stockholm.
She and a small group of young people founded the "Fridays for Future" movement, which quickly became a global phenomenon.
In addition to his climate strikes, the young activist regularly denounces governments and politicians for not adequately addressing climate issues.
Reclaim the Future insists it will not yield to its resolve to stand up to the fossil fuel industry despite legal pressure.
"If a court finds our actions criminal, we may, but we know we have a right to live and the fossil fuel industry is preventing that," the group's spokeswoman Irma Schelström told AFP.
Six people who took part in the June protests have been, or will be, charged in a court in Malmö.
"We young people are not going to wait and will do everything we can to stop this industry that is burning our lives," she said, explaining the group's plans to continue civil disobedience.
Bajur/Im
read next
https://www.theaustralian.com.au/news/latest-news/greta-thunberg-fined-for-disobeying-sweden-police-denies-crime/news-story/6dea2c455b43815afa65530ac948cda7 Police remove Greta Thunberg from protest hours after fine