Sydney
Peter Dutton reveals daughter is 'best mistake I ever made'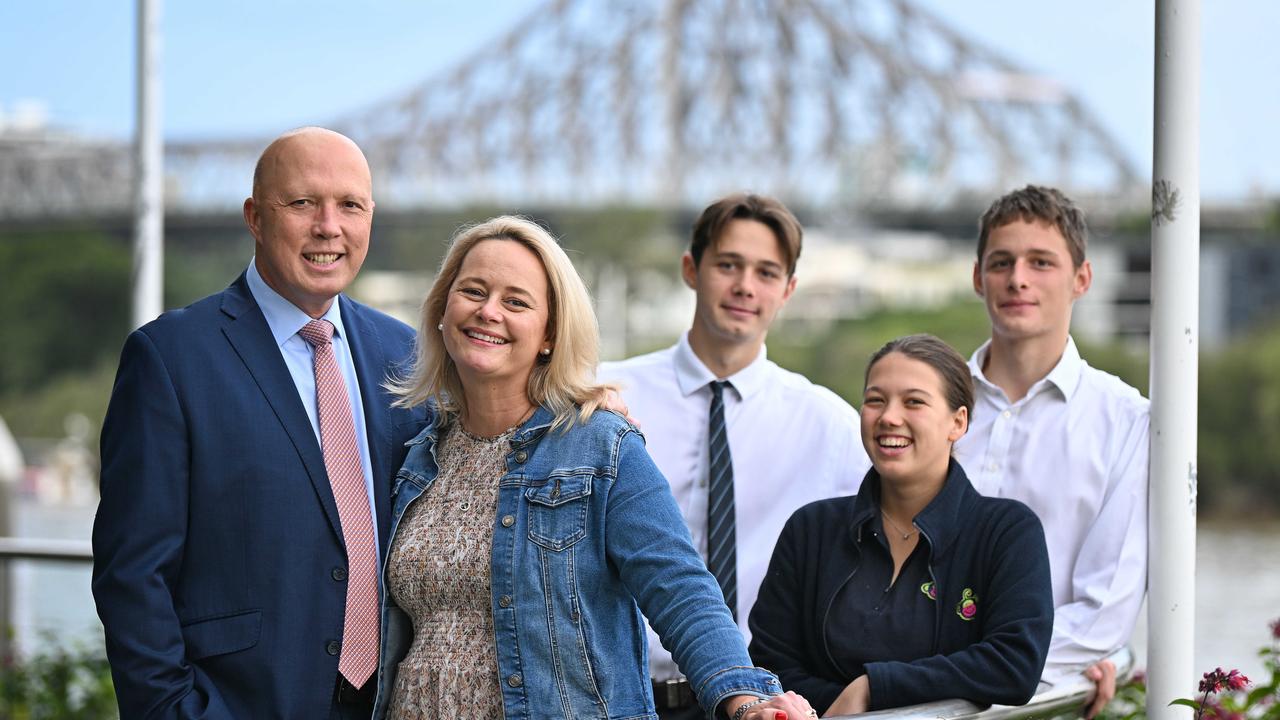 Liberal leader Peter Dutton has broken his silence over the "best mistake I ever made" — the secret conception of his daughter Rebecca, 21.
His daughter was born just weeks after his maiden speech in 2002, but she was never mentioned for years in Parliament.
In his most expansive interview to date over the birth of his first child, the conservative MP has told the ABC's Kitchen Cabinet that while the original circumstances were "difficult" he was very proud of his daughter.
"So Rebecca's mum, Rachel, she, and I, weren't together at the time of her birth,'' Mr Dutton said.
"And so that was, that was a difficult period. But Rebecca is 21 now and yeah. Just turned into the most beautiful young lady. You describe it as a mistake at the time, but the best mistake I ever made. She's just a gorgeous girl."
Journalist Annabel Crabb then added that his wife Kirilly, who he married a year after the birth, was "obviously hugely accepting of your one-year-old that you had." The couple celebrated their 20th wedding anniversary this year.
"And yeah, she's an amazing wife and an incredible mother and, you know, to the boys and to Rebecca as well,'' he replied.
Mr Dutton was first elected to Parliament in November, 2001. He delivered his maiden speech to Parliament in mid February 2002.
His daughter Rebecca was born just weeks later but he makes no mention of her imminent birth in his first speech or her mother.
Instead, he played tribute to his own grandmother, mother and siblings.
"My grandmother, who worked hard on the farm all her life, joins me today in the gallery,'' he said.
"It makes me very pleased to see her well and enjoying this very proud moment for all of us. My parents, who have been my lifelong inspiration, are also with me today, as are my brother, sisters, family and close friends-the people who have stood with me through the ups and the downs, the highs and lows that life has to offer."
Mr Dutton married Kirilly (nee Brumby) in July 2003, just over a year after the birth of his first child.
A successful businesswoman, she made a rare foray into public life in 2019 as his seat was in peril to declare he was "no monster".
"He is a really good man. He is a really good father and he's not a monster,'' Mrs Dutton said.
"He's got a great sense of humour. When he and his mother get together, they can have tears running down their faces. It can take him about 20 minutes to tell a story because he's laughing so much."
Daughter Rebecca began appearing in family photos used on Mr Dutton's official Facebook pages with her brothers Harry and Tom around a decade ago, in her early teens.
Mr Dutton told the ABC that he was "disappointed and angry" when his own parents got divorced when he was a teenager.
"I think in hindsight they waited until I'd finish school and then. And yeah, they separated shortly thereafter,'' he said.
"I think I felt sort of disappointed and angry at the time that they weren't able to work things out. But you know there's always money pressure growing up. We were very lucky in terms of the environment that we grew up in. There was a lot of love and support. And we were all treated very well."
Just a few years after his parents divorce, Mr Dutton married at the age of 22. It was short-lived.
"We just got married too young,'' he said.
"So I just came home one day and that was, you know, not love anymore. And that was sort of the end of it. But you know, at the time, you deal with all of that emotion and then and, you know, you've got to deal with it.
"I'd always been upset by (my parents) marriage breakdown. And thought, you know, that I wouldn't. We'd have kids and, you know, live happily ever after."
Kitchen Cabinet airs tonight on the ABC at 8pm or on iview.
Originally published as Peter Dutton reveals daughter is 'best mistake I ever made'
https://www.dailytelegraph.com.au/news/nsw/peter-dutton-reveals-daughter-is-best-mistake-i-ever-made/news-story/dad2a178b61495bef7f608a16891d2e2 Peter Dutton reveals daughter is 'best mistake I ever made'