Sydney
Passenger, 45, arrested after allegedly making threats on Malaysia Airlines flight MH122 out of Sydney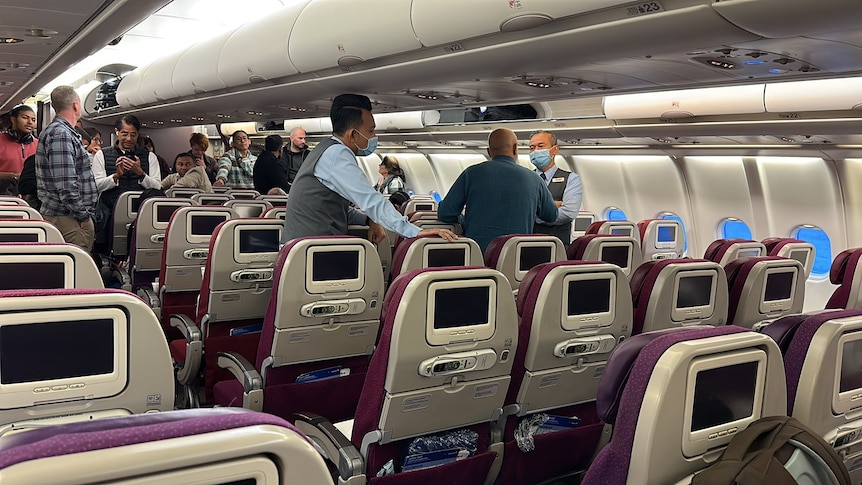 Federal police officers have arrested a man who allegedly made threats while onboard a flight to Kuala Lumpur that was forced to return to Sydney International Airport.
Key points:
Police said the man was arrested without incident
He is expected to be charged
Sydney Airport said 32 domestic flights had been cancelled
Malaysian Airlines flight MH122 had left Sydney about 1:06pm on Monday afternoon and was flying over far western NSW when it turned back to the airport at approximately 3:41pm, in what police described as an "emergency".
Passengers posted videos on social media of an apparently agitated and "unruly" fellow passenger.
The incident caused major delays for domestic travel out of Sydney Airport.
In a statement, the AFP said the 45-year-old man was arrested without incident and passengers have disembarked.
"There is no impending threat to the community," the statement said.
"The AFP will not divulge operational matters, however an emergency response plan was enacted and an evacuation was initiated once it was deemed safe for passengers and crew."
The man is expected to be charged.
The ABC understands the man who has been arrested allegedly made threats while onboard the plane.
But it's unclear exactly what those alleged threats were or who they were directed at.
Passengers have posted on social media that as of a couple of hours ago, "everyone is off the plane safely and in a lounge" at the airport.
"Police will interview everyone before further instructions," one passenger said.
He also said before leaving the aircraft they were told by police to leave all their belongings behind.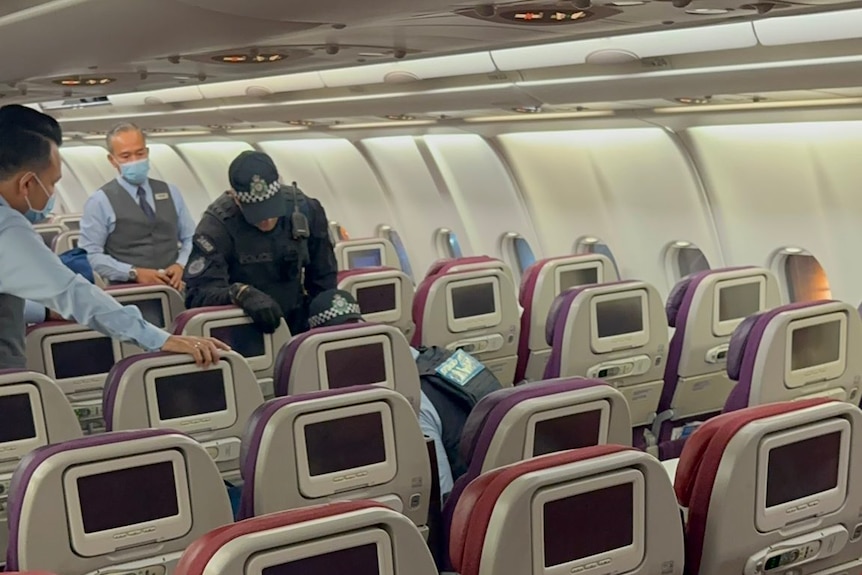 Another passenger said they were being put up in a hotel overnight, with their flight hopefully rescheduled for Tuesday.
The flight was on its way to Kuala Lumpur, but after being turned around, remained on the tarmac at the airport for about three hours before passengers were allowed to leave.
Sydney Airport said there have been domestic flights cancelled, with delays of up to 90 minutes for other domestic flights.
"As a result of this afternoon's incident, there have been 32 domestic flights cancelled with 16 inbound and 16 outbound, and delays of up to 90 minutes for other domestic flights."
No international flights have been cancelled.
https://www.abc.net.au/news/2023-08-14/man-arrested-after-malaysia-flight-mh-122-out-of-sydney/102729030 Passenger, 45, arrested after allegedly making threats on Malaysia Airlines flight MH122 out of Sydney