Sydney
Pain, anger as Hawaii fire death toll climbs to 80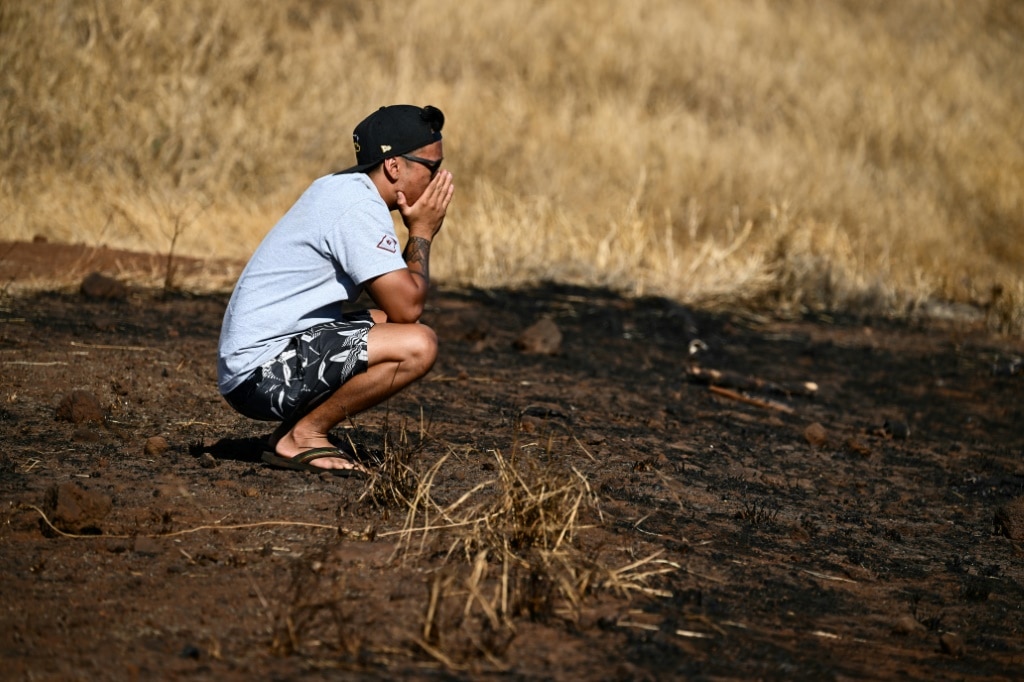 Anger was growing Saturday over the official response to a horrific wildfire that levelled a Hawaiian town, killing at least 80 people as it consumed everything in its path.
Over 2,200 structures were damaged or destroyed as the fire tore through Lahaina, the Federal Emergency Management Agency (FEMA) said, wreaking $5.5 billion in damage and leaving thousands homeless.
Hawaiian authorities said they were opening a probe into the handling of the inferno as a congresswoman from the state acknowledged that officials had underestimated the danger, and as residents said there had been no warnings. 
Read Next
"The mountain behind us caught on fire and nobody told us jack," Vilma Reed told AFP.
"You know when we found that there was a fire? When it was across the street from us."
Reed, whose house was destroyed by the blaze, said they had fled the flames with what they had in their car, and were now dependent on handouts and the kindness of strangers.
"This is my home now," the 63-year-old said, gesturing to the car she has been sleeping in with her daughter, her grandson and two pet cats.
In the ashy ruins of Lahaina, Anthony Garcia told AFP how the fire had gutted his apartment.
"It took everything, everything! It's heartbreaking," the 80-year-old said. "It's a lot to take in."
The town of more than 12,000, once the proud home of the Hawaiian royal family, has been reduced to ruins, its lively hotels and restaurants turned to ashes.
A majestic banyan tree that has been the center of the community for 150 years has been scarred by the flames, but still stands upright, its branches denuded of green and its sooty trunk transformed into an awkward skeleton.
– 'Underestimated the lethality' –
Hawaii Attorney General Anne Lopez said her office would examine "critical decision-making and standing policies leading up to, during and after the wildfires on Maui and Hawaii islands this week." 
Maui County officials have now revised the death toll to 80 and Governor Josh Green warned that the number of fatalities was sure to rise further. Over 1,400 people were in emergency shelters.
"We underestimated the lethality, the quickness of fire," Hawaii congresswoman Jill Tokuda told CNN.
Jeremy Greenberg, FEMA's director of operations and for years a volunteer fireman, said the recent blaze was of a type "extraordinarily difficult" to control. 
"We talk about these types of fires moving as quickly as the length of a football field in 20 seconds or less," he said on MSNBC.
Maui suffered numerous power outages during the crisis, preventing many residents from receiving emergency alerts on their cell phones — something, Tokuda said, officials should have prepared for.
"We have got to make sure that we do better," she added.
Greenberg said FEMA and its allied agencies were "bringing every resource that the state of Hawaii needs," including water for areas where the public sources are contaminated. 
He said FEMA, which has a permanent distribution center in Hawaii, was sending more than 150 employees to the affected area.
The fires follow other extreme weather events in North America this summer, with record-breaking wildfires still burning across Canada and a major heat wave baking the US southwest.
Europe and parts of Asia have also endured soaring temperatures, with major fires and floods wreaking havoc. Scientists have said global warming caused by carbon emissions is contributing to the extreme weather.
– Jail –
For many who fled the flames, the misery was compounded Saturday as they were prevented from returning to their homes.
Maui police said members of the public would not be allowed into Lahaina — even some of those who could prove they lived there.
"If your home or former home is in the affected area, you will not be allowed to (enter) until the affected area has been declared safe," a press release said.
"Anyone entering the disaster area… is subject to a misdemeanor crime punishable by up to one year in jail and a $2,000 fine."
Some residents waited at a roadblock for hours hoping to be allowed in to comb through the ashes or to look for missing pets or loved ones.
Then abruptly, the way was blocked, NBC News reported, sparking fury.
"How are people supposed to get there? The damn roads are closed," fumed Lahaina resident Daniel Rice.
"Get some authority out there. Figure it out. This is nonsense."
pr-hg/acb
Read Next
https://www.theaustralian.com.au/news/latest-news/hawaii-fire-death-toll-expected-to-rise-very-significantly-governor/news-story/1a50a286ff8c22de11fca0e00670cf03 Pain, anger as Hawaii fire death toll climbs to 80