Sydney
NSW Art Gallery to return 800-year-old sculpture stolen from Nepal temple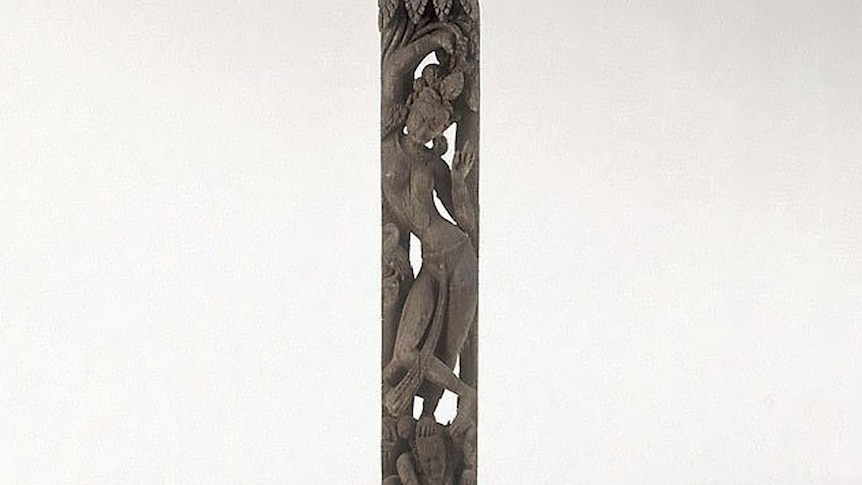 The Art Gallery of New South Wales (AGNSW) is preparing to return a sacred medieval wood carving almost two years after it was identified on social media as stolen from the Kathmandu Valley.
Key Point:
1.3-meter carved wooden pillars once helped support the roof of a Nepalese temple
The work was donated to the gallery in 2000, but the director admitted it was illegally removed decades ago.
Gallery director Michael Brand said the museum is currently reviewing acquisition protocols
In 2021, Concerns have been raised that 800-year-old temple pillars from the AGNSW collection have been looted from the Kathmandu suburb of Patan city.
It was allegedly stolen along with several others in the 1980s and sold on the black market to art collectors and museums in Asia.
The 1.3-meter-high carved wooden pillars that once helped support the roof of the Ratneshwar temple in Patan's Srima Square were donated to AGNSW in 2000.
After an enquiry, AGNSW director Michael Brand admitted the sculpture was "illegally removed" decades ago and said it would be officially returned to the Himalayan state next Tuesday.
Dr Brand said AGNSW had returned the sculpture to Nepal "voluntarily" and it was officially removed from the gallery's collection.
Dr Brand said, "Working closely with the Nepalese government and cultural heritage organizations, we are delighted to know that this intricate 13th-century sculpture will be exhibited at a new location in Nepal."
Architectural historian Mary Shepherd Slusser first brought the Srima Temple to international attention in 1982. At this time, she documented the intricately carved woodwork that supports her two-tiered roof of the tower.
She photographed many of the ornate temple pillars known as 'Tunara', which feature the willow-like appearance of a demigod of nature, the Yakshi.
Carbon dating confirms that the temple was built around 1200 AD, making it probably the oldest pagoda of its kind in Nepal.
Within months of Dr. Slusser's visit, looters had stripped all but two of the sixteen pillars, leaving the temple in a state of disrepair.
Her photographs later served as blueprints for the temple's major restoration, in which the stolen architectural features were faithfully recreated by local artisans.
AGNSW confirmed that the temple pillars will not be returned to where they were stolen and will instead be stored at the Patan Museum in Nepal.
How the medieval pillars were smuggled out of the country remains a mystery, but thousands of stone, metal and wooden artifacts have been illegally removed from the Kathmandu Valley since the 1980s. It has been known.
It was finally donated to AGNSW in 2000 by the legacy of Alex Biancardi, a prominent collector of Asian art.
There is no suggestion that Biancardi knew the work had been looted, as stolen artifacts are often accompanied by fraudulent documents.
Gallery Acquisition Protocol Review
AGNSW Director Michael Brand said AGNSW is currently reviewing the acquisition protocol.
Dr Brand said, "Over the past decade, the Art Gallery of New South Wales has put in place the necessary processes for provenance and due diligence research on all proposed art purchases, and adheres to current international best practice standards. I have followed," he said.
"These procedures ensure that our decisions are legally and ethically sound, accountable and transparent."
AGNSW is the latest Australian cultural institution to be involved in illegal art trafficking.
Australia's most high-profile case involved the US$5 million ($7.46 million) 'Dancing Shiva Statue' at the National Gallery of Australia (NGA), which was actually stolen and sold to the NGA along with forged documents. .
The statue was then returned to India by then-Prime Minister Tony Abbott in 2014.
Assistant Secretary of State for Foreign Affairs Tim Watts said he was "humbled" to visit Nepal next week to ensure the sculpture's return.
"This is an important move in line with Australia's commitment to the highest standards of ethical practice and international obligations," Watts said.
"Our relationship with Nepal is stronger than ever and the Nepalese-Australian community is Australia's fastest growing immigrant community.
"Returning this tunara to Nepal will further strengthen our bilateral relationship."
https://www.abc.net.au/news/2023-05-12/looted-800-year-old-carving-to-be-handed-back-to-nepal/102340762 NSW Art Gallery to return 800-year-old sculpture stolen from Nepal temple