Sydney
New South Wales Health Department warns young people hospitalized for seizures, vomiting after smoking e-cigarettes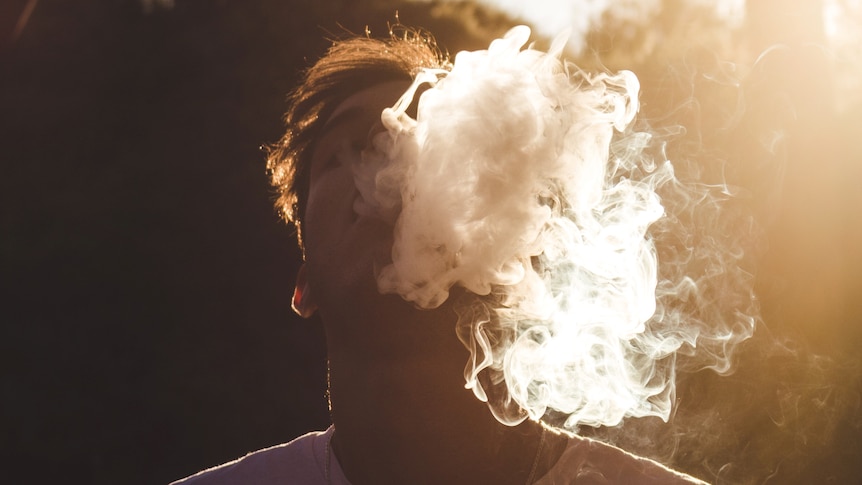 Health officials in New South Wales are urging parents to be vigilant after several young people were hospitalized with acute vaping-related illnesses caused by products purchased on social media.
Key Point:
It is illegal to sell vaping to anyone under the age of 18
Between January and March this year, 92,574 products containing nicotine were seized.
NSW AMA says e-cigarettes will make the next generation addicted to nicotine
Six young people visited hospital in the last week of June complaining of seizures, collapse and vomiting, according to the NSW Health Department.
The majority of cases were from the South West Sydney Rural Health District.
Some of the products they used were purchased on the social media app Snapchat and contained nicotine.
Australia's director of drug and alcohol research training, Paul Dillon, said Snapchat has become a "preferred option" for young people looking to buy e-cigarettes.
"Snapchat is seen as difficult [platform] for the police to follow," he said.
"It literally takes minutes to pay someone via the app and have it delivered to your home.
"This 'monopoly' of drug sales is of great concern, especially to parents."
"E-cigarettes put young people at risk of serious lifelong health problems," said a spokesperson for the New South Wales Department of Health.
"The New South Wales Department of Health advises parents to be aware of e-cigarette smoking among young people and to engage in early conversations to discourage it.
"VAPE may contain dangerous chemicals that can cause irreversible damage, such as those found in herbicides and nail polish removers."
Parents who are concerned that someone has become addicted to liquid nicotine are encouraged to contact the Poison Control Center.
'not regulated'
In Australia, nicotine e-cigarettes can only be sold with a prescription and it is illegal to sell e-cigarettes to people under the age of 18.
However, New South Wales AMA chairman Michael Bonning said e-cigarettes are being seized in large numbers all the time by health authorities.
"That number has grown about 45-fold over the past three years. We were woefully inadequate to stem the tide," he said.
"This is completely unregulated and essentially companies are poisoning young people and engaging them through clever marketing.
"This will leave the next generation addicted to nicotine."
NSW Health data show that 92,574 nicotine-containing e-cigarettes and e-liquid products were seized between January and March this year, but no charges were filed during the same period.
He warned that many e-cigarettes have been found to contain high levels of nicotine, even if they are not labeled as such.
"Many of these products are unregulated and untested," Dillon said.
"The nicotine levels that very young people are exposed to are pretty significant."
Dillon said enforcement was the problem.
"While one of them initiates enforcement, it's going to be incredibly difficult because the genie is out of the bottle," he said.
"Or amend the law so that it can actually be enforced or regulated."
More than 3.5 million Australians aged 14 and over smoke or use e-cigarettes, according to a study developed by Cancer Victoria for the Australian Department of Health.
in May, Federal government announces tougher regulations on e-cigarettesincluding bans on imports of non-prescription e-cigarette products and single-use e-cigarettes.
The change would allow e-cigarettes to be sold only in pharmacies and "pharmaceutical-like" packaging, ban some flavors, colors and other ingredients, and reduce nicotine levels and amounts.
Health Minister Mark Butler said e-cigarettes were the number one behavioral problem in high schools when he announced the changes.
https://www.abc.net.au/news/2023-07-09/teens-hospitalised-vaping-illness-bought-on-social-media-apps/102580550 New South Wales Health Department warns young people hospitalized for seizures, vomiting after smoking e-cigarettes