Sydney
How Dolly Parton is helping baby Dolly read on the other side of the world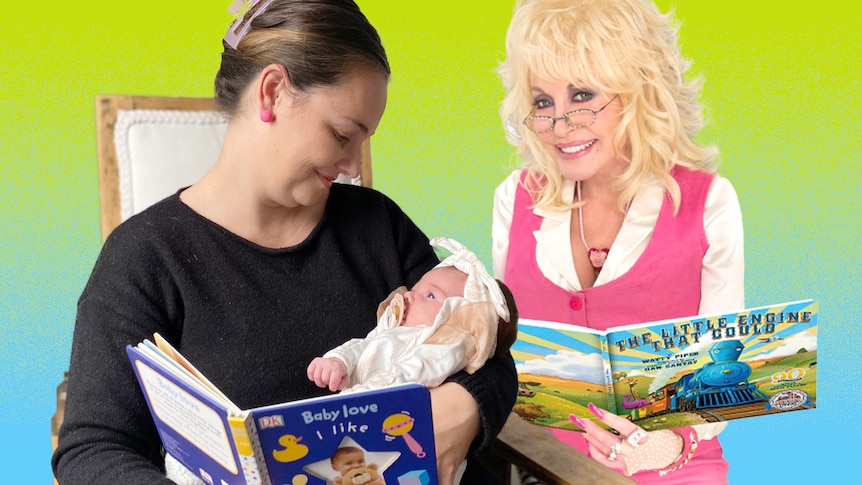 When Tegan Goldman attended her first postpartum meeting with a local midwife, she never expected her daughter, Dolly, to receive a gift from award-winning artist Dolly Parton.
"It was a very nice surprise," she said.
"I never thought I would name my daughter Dolly, much less that I would receive a book from Dolly Parton."
The books are part of Dolly Parton's Imagination Library, and children will receive one each month until their fifth birthday.
"In the first five years of Dolly's life, she will receive 60 books," Goldman said.
"I appreciate it very much."
"Words cannot express how important reading is.
"It is very sad that there are so many children in Australia who struggle with reading and writing.Programs like this give everyone the chance to have the best start in life."
Improving Literacy in Western New South Wales
In late 2021, the New South Wales government announced it would fund programs in 25 of the state's most vulnerable local government areas, targeting 15,000 children over five years at a cost of $8 million. made a plan to
From Gilgandra to Tamworth, Brewarina to Cowra, the program is run by the charity United Way Australia in partnership with governments, local authorities, businesses and community organizations.
Gilgandra library manager Elizabeth McCutcheon said the program has enrolled 71 babies since joining.
"At Gilgandra, we are working with the New South Wales Department of Health and the child and family health nurses at the hospital who enroll each child," she said.
"At first contact they receive their first book, and then one book each month after that until they are 5 years old in the mail.
"This is a small library for all children.
"Since the beginning of the program, more people have joined the library, older siblings have become more interested in reading, and we have been introduced to nursery rhymes for babies for the first time."
McCutcheon said the local Gilgandra Shire Council recently agreed to continue the program for the long term.
"It's great that our local council recently voted to continue the program even when state government funding has expired," she said.
Maximum profit at minimum cost
United Way Australia national program manager Leo Crickman said he expects more than 40,000 children across the country to be enrolled in the program by the end of the year.
"There are currently more than 530 children enrolled in the program in the western region," he said.
"My role now is to encourage local councils and community groups to fund the program for the long term, as we have seen in Gilgandola.
"The cost of delivered books is $9 per child, or $108 per year.
"Less than two cups of coffee a month."
200 million books worldwide
The initiative began in 1995 in Sevier County, Tennessee, where Dolly Parton was born.
Her father was illiterate, so the singer embarked on a mission to use her fame to help improve literacy around the world.
"Before he passed away, my father said the Imagination Library was probably the most important thing I'd ever done," she wrote in a letter posted on the charity's website.
"I created the Imagination Library in honor of my father, so you don't know how much it meant to me.
"He was the smartest man I've ever known, but I know in my heart that perhaps his illiteracy prevented him from realizing all his dreams.
"It has become my mission to inspire children to love reading.
"Originally, my hope was simply to inspire children back home, but today we have a global program that gives well over a million children a book a month. ."
Earlier this year, Dolly Parton gifted her 200 millionth book.
Loading
https://www.abc.net.au/news/2023-07-01/how-dolly-parton-is-helping-kids-to-read-in-the-bush/102536330 How Dolly Parton is helping baby Dolly read on the other side of the world