Sydney
Extreme heatwaves continue to grip US as millions under heat and air quality alerts – live | Extreme weather
Key events
With Canada's wildfires continuing the rage uncontrollably, the Guardian's Gabrielle Canon and Leyland Cecco writes about how the fires have forced American crews to shift their firefighting strategies.
Canon and Cecco reports:
US, Australian, New Zealand, South African, French, Spanish, Portuguese, Mexican, Chilean and Costa Rican firefighters have joined the struggle in Canada, highlighting how countries around the world are contending with shared and intensifying catastrophes fueled by the climate crisis.
But key differences in approach have prompted new questions about best practices in the face of a global challenge. Along with new types of terrain, US firefighters in Canada have encountered different techniques in the early stages of a burn, a new set of safety protocols, and contrasting requirements for protective equipment.
For the full story, click here:
The Alabama department of public health has issued a heat advisory, urging resident to take extra precaution due to a heat dome currently enveloping the state.
"Temperatures may reach 100 degrees Thursday and Friday across Alabama," the department wrote.
Tell us: have you been affected by extreme weather in the US?
We would like to hear from people in the US about how they have been affected by recent extreme weather and smoke from Canadian wildfires.
You can tell us how you have been affected by extreme weather in the US and Canadian wildfires by messaging us or using this form in the link below:
Actor Mark Ruffalo has chimed in on the sustainability discussion, as he tweeted a Guardian article on solar powers helping Texas carry energy loads as a record-breaking heatwave strains the state's power grids.
"Thank God they have solar and renewables in Texas. We can harvest the energy all around us without having to dig and poison the water and land—and have reliable energy always—wind, water, and sun," he wrote.
Here are images of the north-east as states including New York, Illinois and New Jersey remain covered in varying layers of smoke and haze: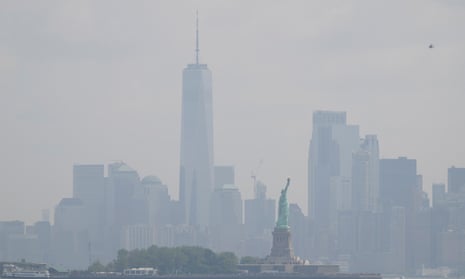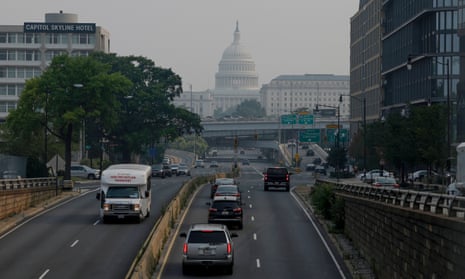 The Pittsburgh Pirates baseball team have rescheduled their series finale game with the San Diego Padres due to current weather conditions.
The Pennsylvania department for environmental protection has issued a code red alert for Pittsburgh, with the alert covering multiple areas including Mercer, Lawrence, Butler, Armstrong, Indiana, Beaver, Allegheny, Westmoreland, Washington, Greene, Fayette and Somerset counties, CBS reports.
Survey: 53% of Americans report that extreme weather events adversely affected their health
A new survey by the Society of Actuaries (SOA) Research Institute has found that 53% of Americans reported that extreme weather events – including hurricanes, tornadoes, heatwaves, wildfires and flooding – have adversely affected their health.
In survey results reviewed by the Guardian, the institute found:
42% have experienced short-term injury or illness

23% report complications to an existing chronic condition

15% have suffered a long-term injury or a new chronic condition
Moreover, more than half of the respondents reported negative impacts on their property (51%), communities (58%) and feelings of general safety (65%) from extreme weather events.
Here are some pictures coming across the newswires of the heatwave in Texas: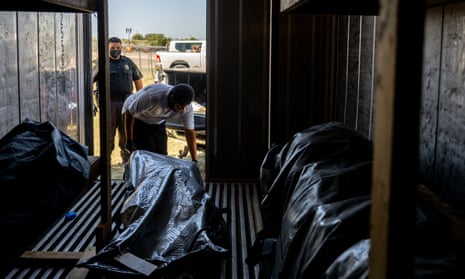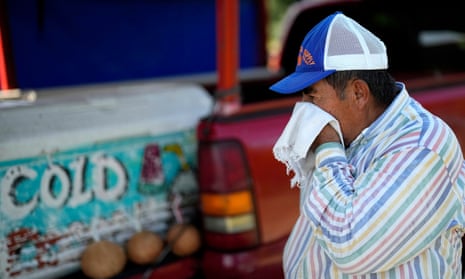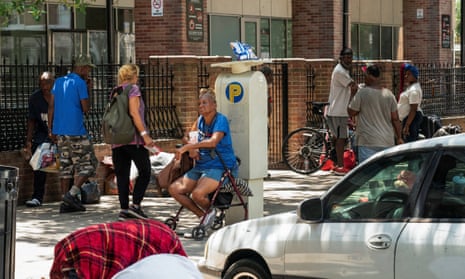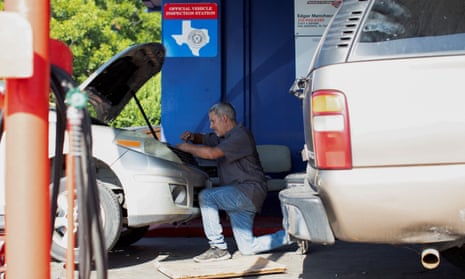 Here are some air and heat safety tips from Dr Nasim Rahman, an indoor air quality expert at Lennox International, a provider of climate control products.
Keep windows and doors closed: When outdoor air quality is at its worst, keep the entry points to your home closed to preserve the air in your home – without unsafely blocking your ability to exit the home.
Keep your system in "on" or "circulate" mode: When avoiding opening doors and windows in your home you should opt to turn your thermostat fan to "on". In this setting, the air in your home will continuously move through the furnace filter and improve the quality of the air in your home. If you have a smart thermostat in your home, you should utilize the "circulate" option, which will cycle your air for a few minutes every hour, using less energy than the traditional "on" setting.
Avoid activities that increase unhealthy air quality: Avoid activities that create or contribute to smoke or other pollutants in your home. You should avoid smoking, burning candles, or frying foods as these types of activities can significantly decrease the air quality in your home.
Install a high efficiency carbon filter or air purifier: Carbon activated filters can filter out fumes, smoke (up to 99% efficiency), and other chemicals you want to avoid having in the home. While regular filters are capable of removing dust and other similar allergens, a carbon filter is the upgrade you need to keep your home's air the best it can be during wildfire season.
With millions of Americans under heat alert advisories in multiple states, here is Aliya Uteuova's explainer on the impacts that extreme heat can have on your body:
What is heat stress and what causes it?
It occurs when the body experiences a buildup of heat, at a level that is more than what it can release. "The human body has this fantastic ability to cool through sweat evaporation," said Uwe Reischl, professor in the school of public and population health at Boise State University. But even when the body is producing sweat, the evaporation can be limited due to humidity in the air.
Another factor that causes body temperature to increase is when a person wears clothing that prevents sweat from being released from skin. And when the body doesn't have enough water, it becomes dehydrated to the point that it isn't able to produce sweat anymore.
For the full story, click here:
The city of Pittsburgh has postponed its Set It Off to Summer event which was supposed to celebrate the extended hours of operation at the city's recreational centers.
"Due to the ongoing Code Red Air Quality, we have decided to postpone our Set it Off to Summer event until July 13, 2023," the city announced on Twitter.

"The safety of our residents is paramount, so we encourage you to continue to protect your health by staying indoors as much as possible," it added.
The National Weather Service has issued a list of symptoms to watch out for as poor air quality shrouds multiple states.
Symptoms include headaches, difficulty breathing, irritated eyes and sinuses, chest pains and asthma attacks, fatigue, and irritated throat and increased coughing.
The US Democratic representative Colin Allred of Texas hit back against Republicans after Governor Greg Abbott signed a bill that rescinded water breaks despite a record-breaking heatwave spreading the state.
Speaking to MSNBC, Allred said:
"It's just the callousness of some of the Republican leaders we have in this state. Texas is bound to be hotter this week than 99% of the entire world … It just makes obvious sense that while … we are trying to build buildings and highways … that they should be able to have a little bit of water while they're doing that."
"The current heat wave has Texas set to be hotter than 99% of the world this week. Yet, the radical Republicans running our state are denying workers water breaks in this heat," Allred continued in a tweet.
Three US cities ranked as worst in the world for air quality
As of Thursday morning, three major cities in the US were ranked as the top three places in the world with the worst air quality.
According to the air tracking service IQAir, Chicago, Detroit and Washington DC topped air quality index charts with all three cities' air being classified as "unhealthy".
This is the second consecutive day for Chicago and Detroit to be ranked as the most polluted cities in the world as smoke from Canada's wildfires blanket the majority of the north-east.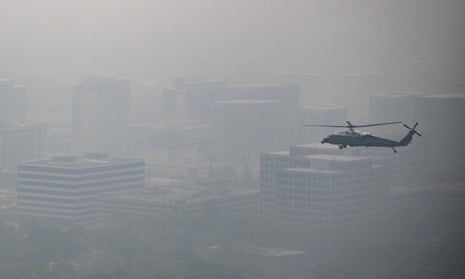 Hazy skies are expected to shroud New York on Thursday as smoke from hundreds of Canada's wildfires continue to blow southward.
An air quality alert has been issued for all of New York and New Jersey.
The National Weather Service has urged individuals sensitive to air quality, including the elderly and the young to limit strenuous activities and their time outdoors.
The Oklahoma department of wildlife conservation has issued a public message to residents, urging them to drink primarily water amid the heatwave.
An excessive heat warning has been placed in effect from noon today to 9pm this evening across south-east Oklahoma where dangerously hot conditions with heat index values 110 to 115F (43 to 46C) are expected.
Excessive heat warnings have been issued across central Alabama on Thursday as multiple counties are placed under a code orange air quality alert.
The excessive heat warnings are set to begin at Thursday 11am and will last until Friday 9pm, WVTM 13 reports.
With a chance for storms and triple-digit temperatures on Thursday, WVTM 13 meteorologists have designated Thursday, Friday and Saturday as impact days, which "are designed to let you know when the weather may get rough but is not necessarily extreme or life-threatening".
"Extreme heat and humidity will significantly increase the potential for heat related illnesses, particularly for those working or participating in outdoor activities," the National Weather Service warns.
Millions placed under heat alerts as country grapples with record temperatures
Good morning,
Extreme heatwaves are continuing to spread across the country as meteorologists warn Americans to prepare for a hot and smoky summer. With the hundreds of Canadian wildfires showing no signs of slowing down, smoke has drifted south into the US and shrouded multiple cities including Chicago and Detroit in a thick haze.
Numerous air quality alerts were issued yesterday across north-east states including Maryland and Virginia.
Meanwhile, Texas has been struggling with record-breaking triple-digit temperatures which have been sending hundreds of people to emergency rooms and leaving thousands without power. According to experts, the current heatwave spreading across the south has been made five times more likely by climate change.
In total, at least 80 million Americans have been placed under excessive heat alerts across the country.
Stay tuned as we bring you the latest updates.


https://www.theguardian.com/world/live/2023/jun/29/extreme-heatwaves-heat-air-quality-warnings-texas-canada-wildfires Extreme heatwaves continue to grip US as millions under heat and air quality alerts – live | Extreme weather