Sydney
England v Australia: Ashes fifth Test, day one – live | Ashes 2023
Key events
WICKET!!! Brook c Smith b Starc 85 (England 212-7)
Nooooooo! Brook flashes to second slip, where Steve Smith makes up for an early fumble by holding on safely. The end of a glorious innings.
42nd over: England 208-6 (Brook 81) So Harry Brook is left with the tail – although he has the fun of batting with Woakes and Wood.
WICKET!!! Bairstow b Hazlewood 4 (England 208-6)
Played on! Attacking shot, crooked bat – not Bairstow's finest moment.
41st over: England 204-5 (Brook 80, Bairstow 4) Starc continues and Bairstow gets a thick inside edge to fine leg. This is a chopped-on sort of surface, as Joe Root showed. The alarm was sounded even earlier, when Ben Duckett nearly played on three times in about five minutes, but maybe Jonny was buried in his Sudoku book at the time. Harry Brook, who's been quiet by his blazing standards for the past 20 minutes, flirts with trouble by driving uppishly but gets two for it. These two are not going to die wondering.
40th over: England 198-5 (Brook 76, Bairstow 3) After getting a wicket out of Todd Murphy, Cummins sends him back to the deep and brings on Hazlewood. Bairstow, who should be still in nick from Friday, eases him past extra-cover for two. Hazlewood bites back with a big inswinger, doing too much to get an LBW, which may have Jimmy Anderson licking his lips.
39th over: England 195-5 (Brook 75, Bairstow 1) And with that one ball, Starc puts Australia back on top. This match has barely begun and it's already been a treat for fans of Messrs Ebb & Flow. The first hour was all England, the second nearly all Australia, the third nearly all England, and now Australia have struck in the fourth. The sky is grey, the air is dank, the lights are on, and the Aussies sniff more blood.
WICKET!! Stokes b Starc 3 (England 193-5)
Massive moment. Stokes plays across the line, misses and hears a rather loud death rattle.
Afternoon everyone and thanks Jim. As Richie used to say.
38th over: England 194-4 (Brook 74, Stokes 3) A defensive field set for Murphy with men protecting on each side of the wicket. England rotate the strike to take five off the over.
Time for a drink. As the players slurp on something luminous it is time for me to slope off for an Earl G and let Tim de Lisle take you through the rest of the day. Thanks for your correspondence – It's been great fun and Baz willing I'll be back at the weekend. Ta-ra!
37th over: England 188-4 (Brook 71, Stokes 1) Good stuff from Starc, he keeps Brook honest with three fast deliveries back of a length. A single off the fourth ball brings Stokes on strike – England's skipper still on nowt. Not any more, a clip for one gets him going.
All gone quiet for the time being. This was Moeen's six a bit earlier. Crumbs.
36th over: England 186-4 (Brook 70, Stokes 0) A calmer few overs since Mo's brief blitzkrieg ended. Brook pulls Murphy to leg for a single and Stokes is happy to see out the rest of the over.
"England have tested the 'fortune favours the brave' theorem to breaking point today." Writes Will Ellen. "Plays and misses, risky runs, constantly driving on the up in bowler friendly conditions: Cummins could have a five-fer. In a parralel universe the nighthawk would be in afternoon flight. But there is brilliance amidst the madness. And Carey's drop of Brook could take on monumental proportions here…"
It has cost Australia 65 runs and counting.
35th over: England 185-4 (Brook 69, Stokes 0) Brook nudges a single and then Stokes gets clanged in the knackers for about the 12th time this series. Deep breaths.
34th over: England 184-4 (Brook 68, Stokes 0) Respect – as Ali G might have said*. More of an Aretha man myself. Either way, Stokes pats back three dots to Murphy.
(*Remember him? He was big the last time Australia won a series in England. Sorry don't know what came over me there.)
WICKET! Moeen Ali b Murphy 34 (England 184-4)
Murphy gets the breakthrough and stops the bleeding for Australia*. Moeen carted him for four but then missed a straight one with a big old yahoo across the line. An innings of two halves, England will be praying he is fit enough to bowl when it comes to it.
*For the time being, here comes Ben Stokes.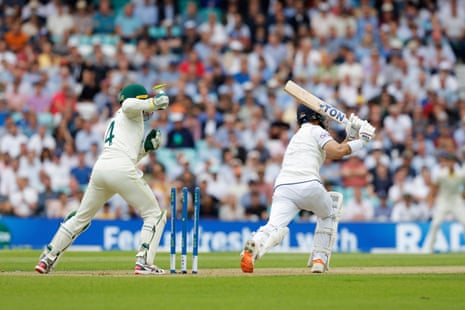 33rd over: England 179-3 (Ali 30, Brook 67) Six more to Moeen! A bit of a top edge on a full blooded pull shot flies into the stands to my left. Australia are getting this wrong for mine, Moeen is injured but he can still waddle singles. They set the field right back and England tick over easily. Upper cut/ramp for four! Audacious from Moeen, leans back and glides a short ball away off the face of the bat for a one bounce four! The crowd love it. Here comes Todd Murphy. 100 partnership and then some for Moeen and Brook. England looking rampant.
32nd over: England 165-3 (Ali 18, Brook 65) An over to draw breath. Brook takes a single and Moeen limps a leg bye. The 'momentum' today has been swinging between the sides like Austin Powers on a see-saw… in the sixties.
31st over: England 163-3 (Ali 17, Brook 65) Incredible batting from both men. Brook drives Cummins away for consecutive fours, both down the ground and both inspiring a purr of satisfaction from the crowd.
Moeen looks troubled by that leg injury and as a result seems to have decided to tee off! He clubs a six off Cummins that was in danger of plopping into the Archbishop Tenison school playground. An amazing stroke. Four more! Moeen is nearly cleaned up swiping at the next ball but a clip on the pad sees it race past Carey to the fence. NINETEEN runs off the over. Cummins runs his hands through his hair, ruefully.
30th over: England 144-3 (Ali 11, Brook 56) Swiss clock timing from Brook as he rocks back and cuts Hazlewood for four. The seamer responds with two dots before Brook takes a better judged single off the last. Moeen Ali pulls up stricken as a result though, this might be a bit of a Gordon Groinidge. (Sorry Mo. Sorry everyone)
29th over: England 139-3 (Ali 11, Brook 51) Cummins is radiating intent here at the Oval. He scythes one through Harry Brook at 90mph. Harry Brook then very nearly cooks his own goose! A poorly judged quick single and he was miles out of his ground had Cummins' gather and throw off his own bowling hit the stumps.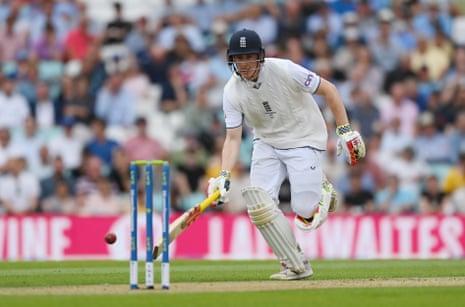 28th over: England 138-3 (Ali 11, Brook 50) Fifty for Harry Brook! Hazlewood is picked off for singles, the third of which takes Brook to a rapid half-ton. He couldn't, could he?
27th over: England 135-3 (Ali 10, Brook 48) Pat Cummins with the first over after the lunch break, he was magnificent this morning. Moeen sways inside a short ball to see it swing prodigiously after passing him by, past Carey and away for four byes.
Here come the players, another session of mayhem awaits?
Forgive me, for I have shamelessly plugged:
"Nice to see Harry Brook playing for lunch…" says a beaming mate in the lunch queue:
Tim is so good at these pearly stats:
What a nutty session. Australia were put to the sword for the first hour before roaring back with three quick wickets. There have been three dropped catches and SEVENTEEN boundaries. Won't somebody think of the OBOers!
26th over: England 131-3 (Ali 10, Brook 48)
Time for a bite to eat and then it'll be a case of sleeves up and a delve into the emails.
25th over: England 126-3 (Ali 9, Brook 45) Crikey Mikey and Jeez Louise. Harry Brook! Two crunched fours in a row from Brook through the off-side sees Starc hanf his length back a touch… no mither for Brook who pivots and spanks the ball for SIX! 14 runs off the over, England heading into lunch with a bang. The Australian's dropped Brook on 5. One to keep an eye on.
24th over: England 112-3 (Ali 9, Brook 31) We've got about ten minutes to lunch. Moeen ticks along at his own pace, tickling a single off Marsh. Brook squirts a full ball to fine-leg for another.
"You may not be aware of this" usually very safe to assume this John Starbruck…
"…but 'tight lines' used to be a goodbye wish amongst anglers. Very appropriate for batters going fishing."
I was actually humming it along to this, John.
23rd over: England 110-3 (Ali 8, Brook 30) A calmer over after the pyrotekkers of the last. Starc beats a wafty drive by Moeen who gets off strike next ball with a push to point. Argh. Brook rides a short ball that thunks into his middle. That'll bruise that.
22nd over: England 109-3 (Ali 7, Brook 30) Shot of the morning from Harry Brook! A short-armed pull off Marsh flies into the stands for SIX! That was dismissive from Brook, like he was swatting a midge away whilst trying to read a novel.
The ball before he whelped Marsh on the up through the covers for four too. Two more collected to deep point makes it ten off the over and the hundred up for England. Punch and counterpunch.
21st over: England 97-3 (Ali 7, Brook 18) Starc replaces Cummins who takes a breather with 1-21 from his six overs including two drops and TWENTY FOUR play and misses. He could have had two sides out with a bit more luck. Great spell to come back with after being carted at Old Trafford.
Moeen drives languidly and Khawaja slides over the ball on the fence to gift him a boundary. The crowd let off a bit of steam as Brook edges in the gap for four more!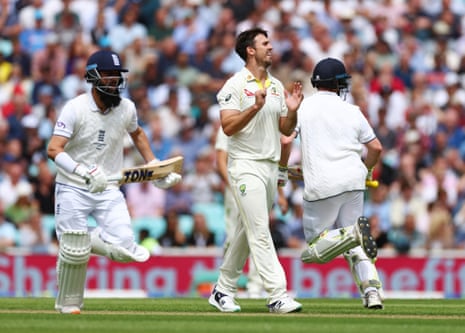 20th over: England 87-3 (Ali 3, Brook 13) Five dots from Hazlewood and the pressure cooker starts to hiss after the Cummins maiden last over… What pressure? Brook smashes the last ball for four through the covers. Cat and mouse. Josh and Harry. Don't go anywhere.


https://www.theguardian.com/sport/live/2023/jul/27/england-v-australia-ashes-fifth-test-day-one-live-scores-updates-results-aus-vs-eng-cricket-the-oval England v Australia: Ashes fifth Test, day one – live | Ashes 2023