Sydney
Burning Man festival in Black Rock City, Nevada, turns into disaster due to flooding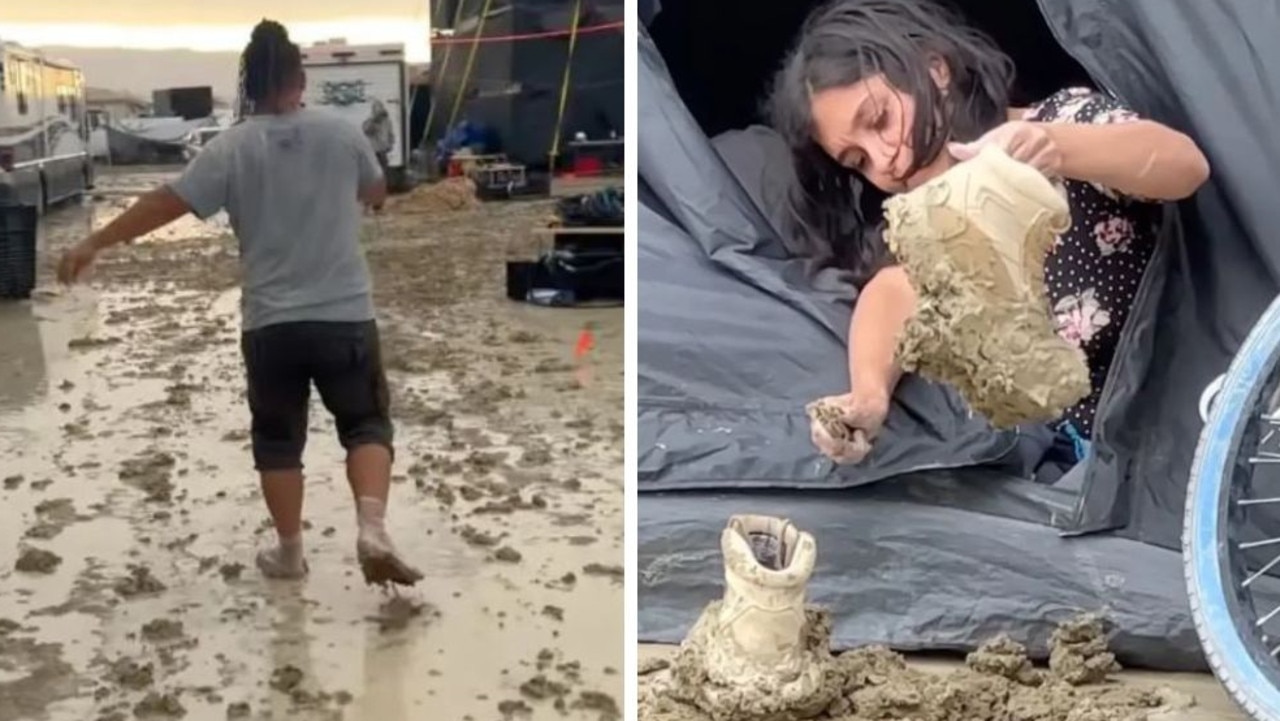 Frightened attendees of the iconic Burning Man festival have been told to "hunker down" amid dangerous weather conditions.
More than 73,000 people have become helplessly trapped in Nevada's Black Rock Desert as the popular yearly festival becomes a "muddy hellhole" due to flooding.
Festival goers have been warned that there is "no way in or out" of the grounds, with organisers telling attendees to "hunker down" and "conserve food and water".
About 150mm of rain is believed to have fallen on Friday at the festival site, located about 177 kilometres north of Reno, the local National Weather Service said.
Another 80mm of rain was expected late Saturday into Sunday.
"The Gate and airport in and out of Black Rock City remain closed. Ingress and egress are halted until further notice," the festival's traffic account tweeted on Saturday.
"No driving is permitted except emergency vehicles. If you are in BRC, conserve food, water, and fuel, and shelter in a warm, safe space."
The festival is one of America's most well known cultural events, and is held every summer in a makeshift city that is temporarily set up for the festival.
It is best known for the concluding event, in which a large wooden symbol of a man is set on fire.
There is currently no estimated time for reopening, with thousands of attendees stranded as the gate and airport into Black Rock City remain closed.
Footage on social media shows attendees struggling to walk on muddy paths.
Organisers have said "no driving is permitted until the playa surface dries up, with the exception of emergency services".
"Participants are encouraged to conserve food, water, and fuel, and shelter in a warm, safe space," they added in a statement.
Burning Man was founded in June 1986 when Larry Harvey and his friend Jerry Goodell burned a wooden man on Baker Beach, San Francisco to mark the summer solstice.
It was first held in Nevada's Black Rock Desert in 1990.
Many attendees appeared to remain in good spirits, playing beer pong in the muddy streets or splashing in the standing water, the Reno Gazette Journal reported.
Techno music was still echoing around the encampment, while spontaneous dance parties are still breaking out.
Comedian Chris Rock was among the thousands stranded, however it appears the 58-year-old made it out after hitching a ride with a fan on the back of his pick-up truck.
Famous DJ Diplo took to Instagram to share a clip that showed Rock, himself and a few others in the back of the truck.
He said that they walked for six miles before someone offered them a ride.
Rock has been documenting the experience on social media, which included an Instagram video in which he shared that "because of the flooding, the port-o-potties reportedly can't be emptied".
"And because the gates are closed, people can't get in to fill generators or deliver supplies," he said.
The comedian later posted a short video showing the heavy mud making it impossible to get around the area, while another attendee posted a TikTok clip showing Rock walking in ankle-deep mud.
More to come
Originally published as 'Conserve food and water': 73,000 trapped at Burning Man
https://www.dailytelegraph.com.au/news/nsw/conserve-food-and-water-73000-trapped-at-burning-man/news-story/16a657ea60a08cfd99804f26667ac87d Burning Man festival in Black Rock City, Nevada, turns into disaster due to flooding