Sydney
Bledisloe Cup 2023: All Blacks v Wallabies – Rugby Championship live | Bledisloe Cup
Key events
47 mins: The kick to the left and resulting lineout are efficient and a maul forms with plenty of black jerseys engaged. New Zealand are coming. But Hooper is having none of it, forcing himself into the fray and winning a penalty. The Wallabies needed that early in a half in which they have not had a sniff.
46 mins: After a couple of phases of restart football McKenzie kicks long. Gordon runs back over halfway at pace and sets his side up nicely, but support is slow to arrive and Savea secures another breakdown turnover – they're starting to rack up this half.
CONVERTED TRY! New Zealand 10-17 Australia (Stevenson, 44)
The throw is secured and the All Blacks get to work. Fainga'anuku straightens up and nears the line under the posts. That creates space out on the right, Christie spots it, New Zealand throw a couple of beautiful long passes and Stevenson finishes off in the right corner! The ABs hit back quickly at the start of the half.
McKenzie fades over a magnificent conversion, and the game is very much on again.
43 mins: New Zealand are on the front foot with plenty of intent. Taukei'aho and Finau hit the line hard. Gordon flies out of the line and misses his target as the All Blacks cross halfway. The connections remain clunky out wide though and play is called back for a breakdown advantage. The kick goes deep to the left touchline.
42 mins: Fa'amausili is back on his feet as the All Blacks kick to halfway and win their own throw.
42 mins: Early breakdown penalty to New Zealand after Fa'amausili was unable to roll away from the contest, and the Wallaby prop, injured in the opening half, looks in trouble again on the deck, receiving treatment.
41 mins: Gordon kicks to Whitelock and we're back on in Dunedin.
The teams retake the field ready for the second half. Australia are in sight of a famous victory.
The first time in 12 matches that Australia have led New Zealand at half-time. The first time in years the Wallabies have played up to expectation. It's hard to find a fault with Australia's intent or execution in defence – and especially in attack.
The All Blacks have been awful. Individual skill errors all over the park. Dreadful kicking. Embarrassing scrummaging. Allowing Australia to dictate terms in every facet. Ian Foster must be fuming. If this is a World Cup selection trial then a few of the guys in black are at risk of losing their squad places.
Half-time: New Zealand 3-17 Australia
Do not adjust your set, the Wallabies really are comfortably in front of the All Blacks at the break. And they deserve to be. That was the best half of rugby by an Australian XV since I don't know when.
40 mins: The lineout is a shambles. It flicks off Finau's fingers, onto the back of the unsuspecting Cane, and the Wallabies escape on their own line.
38 mins: From their own half New Zealand finally run. McKenzie and Stevenson look dangerous off steps but they gain little ground. Ennor makes more of an impact, straightening up in the right centre position and now there's go-forward, with a penalty advantage. Can the All Blacks convert some rare pressure? Not with Laulala grassing a simple pass. Play returns to the penalty and McKenzie kicks to the right corner.
36 mins: And the lineout is overturned! Australia were too slow getting over to take the set-piece. New Zealand breathe a sigh of relief and clear to halfway.
35 mins: The Wallabies go through the phases, but they're slow, shuffling from right to left on the 22. Valetini is eventually stripped in the tackle and New Zealand can counter. But yet again McKenzie boots away possession – twice – once long, then with an up-and-under that he knocks-on in the chase. Gordon looks up, sees the space in behind and drops a wonderful 50:22 behind Jordan. What a kick!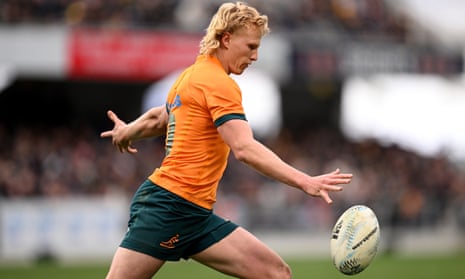 34 mins: Can the All Blacks string something together? No! Off the lineout the home side try to shift from left to right but near the centre spot McReight is first to the breakdown, keeps his feet and forces the penalty. Gordon kicks to the 22m line on the right.
33 mins: Kellaway kicks away possession early off the back of the scrum, one of the few poor decisions by the men in gold all afternoon, and as Jordan runs the ball back there's a breakdown infringement and New Zealand kick to halfway.
32 mins: New Zealand cannot clear their lines, so the crowd raises a number of decibels when there's a lineout steal on the All Blacks 22 and they can kick downfield. But in no time afterwards Stevenson drops a routine ball and Australia have a scrum on halfway.
29 mins: The lineout is again good – and this time the maul forms – Australia grinding in inches towards the line. Eventually McDermott snipes off the back, pivots to cut to the right corner, surely he gets there – the tackle around the ankles from Whitelock stops him in his tracks but he crosses the line with his momentum, only for Savea to appear on the scene to hold the Wallaby skipper on his back like a stranded turtle. So close!
28 mins: The lineout is safe but the maul fractures early. The Wallabies persist with pick-and-go drives on the short side, Faessler doing superbly on the ground to keep the move alive. Valetini smashes straight into a mass of black, and New Zealand concede a penalty. Gordon again kicks to the right corner – this time with three points his for the taking.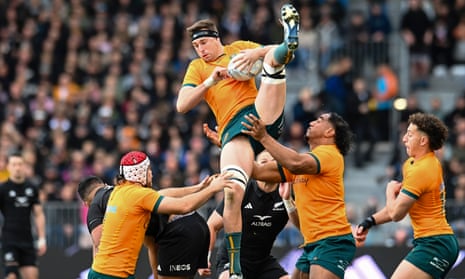 27 mins: What are the All Blacks doing out there? The kick to touch fails to reach its destination and as Nawaqanitawase leads the rebound there's a penalty call allowing Gordon to kick to the right corner.
26 mins: Valetini and Kerevi run off the back of the scrum and McDermott keeps play moving freely at the ruck. Australia reach six phases crisply but Hooper is then isolated at the breakdown after being fed through nicely by Gordon, and Retallick shows all his experience to stifle the Wallabies. However, that will be the big lock's last action as he limps off with an injury.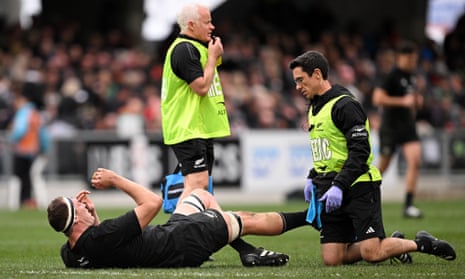 25 mins: After a delay to attend to the injured Retallick, Australia continue their efficient lineout play. It all gets scrappy infield so both teams go to the boot, but McKenzie lets fly from his 22 – and it flies and flies – Kellaway lets it bounce, and it tumbles end over end and out of touch! The Wallabies get a scrum 80m downfield.
24 mins: Is the match when everything finally comes together for the Wallabies and Eddie Jones gets to barrel the camera and say "I told you so"? Australia's decision making, discipline, and execution have all been superb so far. McDermott is having a blinder, gamebreakers Nawaqanitawase, Kerevi and Koroibete are all hitting the line hard, and the front row have won two scrums against the feed.
Penalty! New Zealand 3-17 Australia (Gordon, 23)
There was a penalty advantage on the previous drive and from under the posts Gordon strokes three more points to extend Australia's advantage.
22 mins: As play resumes Kerevi drives hard with tacklers falling off him off the 20m lineout. The Wallabies power through in support and from the breakdown that man Fa'amausili goes over… but he's held up by a desperate effort from Samisoni Taukei'aho.
21 mins: Pone Fa'amausili is in the wars for the Wallabies but he looks ok to continue. Dave Porecki is also off receiving an HIA.
21 mins: Eight phases follow the lineout with the left-sided runners again doing outstanding work. Then McDermott directs traffic to the right where Kellaway sneaks through a gap. The Wallabies are flooding forward with purpose. Nawaqanitawase gets to 10m and pops the ball up to his skipper, but as he's hit near the line the All Blacks are hungry at ground level and secure the turnover. This is such a positive performance from Australia.
19 mins: Australia kick to halfway and get back to work off the lineout. It's slow ball though with the All Blacks pushing gold runners backwards infield. The Wallabies are unperturbed and look to their favoured left edge with cute hands and with Koroibete running out of grand they are fortunate to find a deflection off hands for a gold throw.
18 mins: New Zealand's second scrum feed of the afternoon ends in an Australian penalty! Angus Bell is having a day out.
17 mins: Australia, full of verve, are quickly back in New Zealand territory but there's a turnover apiece on the 22 before both teams go to the boot. The kicking exchange works out badly for the Wallabies with Koroibete knocking-on awkwardly midway in his own half.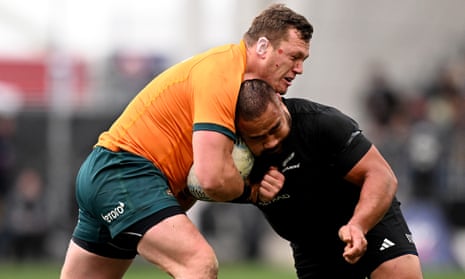 Penalty! New Zealand 3-14 Australia (McKenzie, 15)
Play is called back to the penalty 30m out in line with the posts and McKenzie kicks New Zealand onto the scoreboard.
14 mins: Jordan makes his first break through the line and cruises into the 22, leaving Kerevi for dead. He looks off both shoulders but there's no support, eventually looking for a low percentage floater to the left that Nawaqanitawase deflects Australia's way. New Zealand are quickly back on the front foot though and with a penalty advantage in midfield try again to engineer space down the left but Petaia is there to knock-on and delay the scoring of points with a failed interception.
12 mins: Speaking of which, Gordon tries an ambitious spiral to Kerevi on the left that just misses the big centre, but it was a very bold and worthwhile effort.
10 mins: The All Blacks have yet to get going. They've turned the ball over at breakdowns whenever they've ventured into Australian territory, allowing the Wallabies to counter dangerously. McKenzie has been quick to go to his boot, but he has yet to nail a target.
TRY! New Zealand 0-14 Australia (Hooper, 7)
Nawaqanitawase gallops into the line and feeds Kellaway through a gap. Australia are through! The ruck is quick, the Wallabies go through hands to their favoured left again, Hooper straightens up and pounds his way through tacklers over the line in the left corner. The Wallabies are in dreamland! Two superb early tries.
Gordon curls over another magnificent conversion!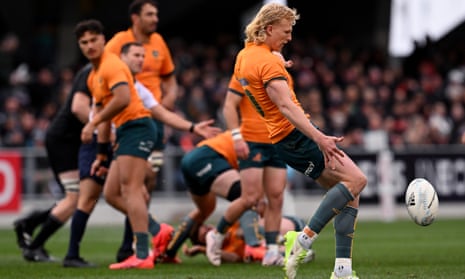 6 mins: New Zealand scrum on halfway – but Dickson raises his hand for a penalty Australia's way! The Wallabies are enjoying themselves out there. But Gordon doesn't make touch with his kick and New Zealand can run the ball back. Jordan kicks so the visitors run instead…
5 mins: McDermott rewarded for his bold decision to kick to the corner, and then credit to his backs for seizing the opportunity. So often in recent matches the Wallabies have run out of inspiration in the red zone, but that was decisive.
TRY! New Zealand 0-7 Australia (Koroibete, 3)
The lineout is secured and the Wallabies free the ball quickly from the maul to Kerevi who straightens and draws tacklers. Australia recycle quickly and redirect the play back down the blindside through Petaia to Koroibete who does brilliantly to hold off two All Blacks and dive into the corner! The TMO has a close look at the grounding, and how close the big Australian winger was to the sideline, but it's all good – by millimetres! The Wallabies with a magic start.
Carter Gordon, who kicked poorly last week, curls over a settler from the touchline. Challenge accepted by the underdogs.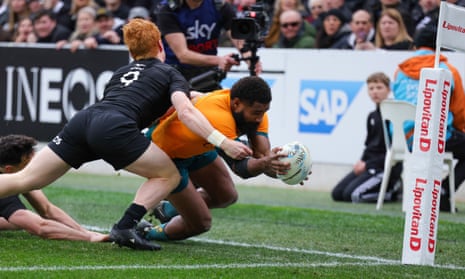 2 mins: Frost takes the kick-off superbly and lands awkwardly but McDermott box kicks to keep Australia moving. Nawaqanitawase marks that ball on the run superbly on the right touchline and the Wallabies can go through hands to the left. Promising from the visitors, and they earn a penalty with Williams called offside. Gordon kicks to the corner with three points at his mercy.
Can the Wallabies win their first Test on New Zealand soil in 22 years?
Anthems sung, pleasantries exchanged, a full squad Haka performed. Forsyth Barr Stadium is packed to the rafters. Everything is set.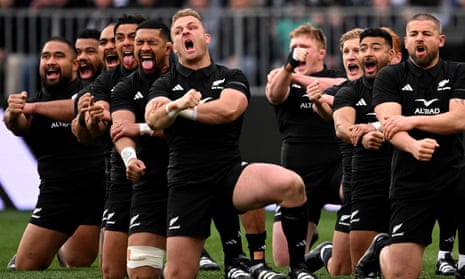 There's a minute's silence in honour of former All Black player and administrator Tane Norton, who died this week.
Sam Cane, followed by Sam Whitelock, lead an imposing bunch of All Blacks onto the turf. That uniform will never be anything other than brilliant.
A pensive looking Tate McDermott leads his side out into the hostile surrounds of Forsyth Barr Stadium.
The referee this afternoon is former Harlequins scrum-half Karl Dickson.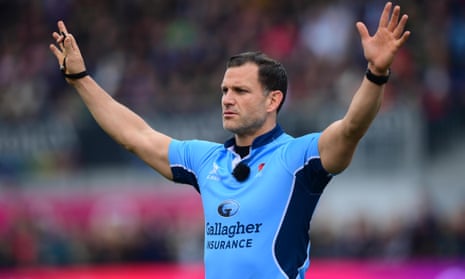 Conditions are excellent in Dunedin. It gets chilly this close to Antarctica but under the roof there's no wind or rain to worry about.
The All Blacks do a good job in making people think they're all bloody lovely.
Ian Foster played down any talk his side might take the foot off the gas this afternoon with the Bledisloe and Rugby Championship already sealed.
The minute we take the pressure off and say it doesn't matter then we're in trouble.

That's the challenge of Test matches, if you look too far ahead you get tripped up anyway.

I've said this from the start, we're pretty keen on short-term focuses and preparing for a Test match particularly against the Wallabies.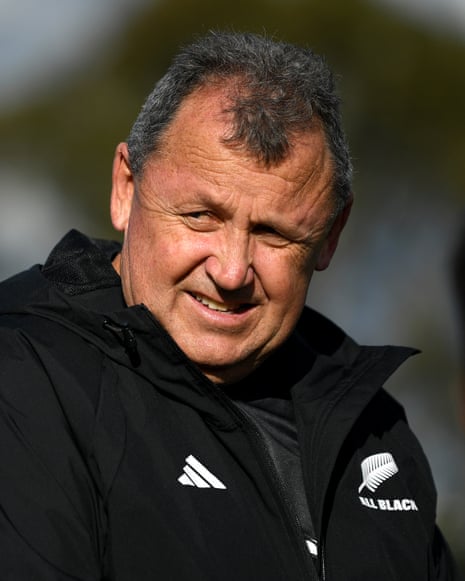 A late change on the bench for the Wallabies with Matt Faessler now in line to debut following an injury to Jordan Uelese.
Don't know much about the new skipper? Find out more here:
Tate McDermott has just had a few words with Australian TV about his side's approach today.
Defence has been a big focus. We weren't good enough last week. Simple stuff today, we need boys getting off the line. We have to fight. We had 30 minutes of good rugby last week, we need to fight longer and harder.
The appointment of scrum-half Tate McDermott as the 86th captain of the Wallabies has been the story of the week on this side of the Tasman. Eddie Jones was confident he'd backed the right leadership contender, despite overlooking the 24-year-old in his 33-man training squad in April.
"Tate's got all the attributes to be a great captain of his country," Jones said. "We're definitely remodelling the team. We need to change the team from where we've been and part of it is definitely the leadership aspect."
McDermott is the fourth different captain in Jones' four Tests on his return as Wallabies coach, inheriting the role from prop Allan Alaalatoa who suffered a ruptured Achilles last weekend.
Longtime skipper Michael Hooper remains sidelined with a calf issue, while another of Australia's regular leaders, James Slipper, will start on the bench.
More recently, Angus Fontaine set the scene for today's match, with the Wallabies battling to remedy the combination of a porous defence and misfiring attack.
Australia have now conceded more than 30 points in three straight defeats, falling off one-on-one tackles with such regularity that the heat on defence coach, former NRL great and union rookie Brett Hodgson, is now at boiling point. And their handling of the ball, despite a new halves pairing in McDermott and 22-year-old Carter Gordon with many promising waves of attack, yielded just one try last week, and that was by a forward, No 8 Rob Valetini.
Earlier this week Angus Fontaine looked back on New Zealand's Bledisloe defence in Melbourne, pondering where Eddie Jones' renaissance sits after three straight losses.
His grand reboot of Australian rugby is still in flux after a 0-3 start to his second stint as coach and hopes are fading fast for the World Cup kicking off in 40 days.
Despite all of New Zealand's changes, Australia will still go into Bledisloe II with the more inexperienced group, one with only 277 caps, the Wallabies' seventh-lowest in the professional era.
The backline, led by new skipper Tate McDermott, is unchanged, but there's movement in the pack. Pone Fa'amausili will earn a first Test start at tighthead prop in place of the injured pair of Alalaatoa and Taniela Tupou. Locks Richie Arnold and Will Skelton trade places, with the latter dropping to the bench, while flanker Fraser McReight returns in place of Tom Hooper.
Wallabies: 1 Angus Bell, 2 David Porecki, 3 Pone Fa'amausili, 4 Nick Frost, 5 Richie Arnold, 6 Tom Hooper, 7 Fraser McReight, 8 Rob Valetini, 9 Tate McDermott (captain), 10 Carter Gordon, 11 Marika Koroibete, 12 Samu Kerevi, 13 Jordan Petaia, 14 Mark Nawaqanitawase, 15 Andrew Kellaway.
Reserves: 16 Matt Faessler, 17 James Slipper, 18 Zane Nonggorr, 19 Will Skelton, 20 Rob Leota, 21 Nic White, 22 Quade Cooper, 23 Izaia Perese.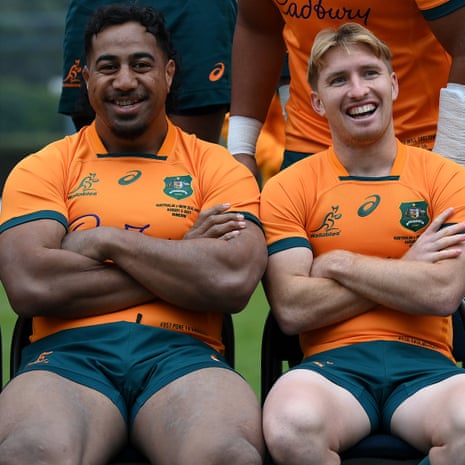 Only three of the 15 New Zealanders who started last week's victory in Melbourne retain their places in Dunedin. Around Brodie Retallick, Ardie Savea, and Will Jordan come debutants Samipeni Finau and Shaun Stevenson (Dallas McLeod will debut from the bench), while Tamaiti Williams, Leicester Fainga'anuku, and Baydon Ennor have just 11 caps between them. It's not only greenhorns making up the numbers though, Sam Cane returns after a week off with a neck injury, Anton Lienert-Brown is back from suspension, and Dane Coles collects another memory in his valedictory season.
"We really believe that with what's coming around the corner this is a great opportunity to give a few a run," Foster said. "We've got a number of guys that have been with us that have trained well.
"We want to keep growing and taking a step forward and making sure this isn't a wasted opportunity for us to grow our game."
All Blacks: 1 Tamaiti Williams, 2 Samisoni Taukei'aho, 3 Nepo Laulala, 4 Brodie Retallick, 5 Sam Whitelock, 6 Samipeni Finau, 7 Sam Cane (captain), 8 Ardie Savea, 9 Finlay Christie, 10 Damian McKenzie, 11 Leicester Fainga'anuku, 12 Anton Lienert-Brown, 13 Braydon Ennor, 14 Shaun Stevenson, 15 Will Jordan.
Reserves: 16 Dane Coles, 17 Ofa Tu'ungafasi, 18 Fletcher Newell, 19 Tupou Vaa'i, 20 Luke Jacobson, 21 Aaron Smith, 22 Richie Mo'unga, 23 Dallas McLeod.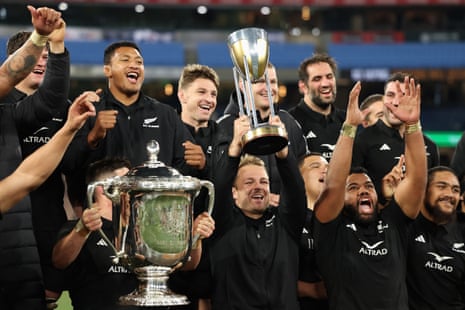 Preamble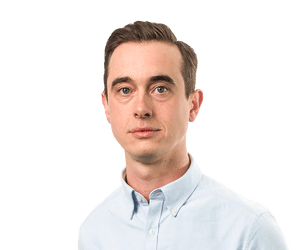 Jonathan Howcroft
Hello everybody and welcome to live coverage of The All Blacks v The Wallabies from Dunedin. Kick-off at Forsyth Barr stadium is 2.35pm local time / 12.35pm AEST.
I'm not really sure how to categorise this afternoon's match. It's not a Rugby Championship fixture because that ended last weekend. The Bledisloe Cup isn't at stake because New Zealand retained that piece of silverware in Melbourne. So it must be a World Cup warm up? Well, for Australia perhaps – but the All Blacks have made 12 (twelve) changes to their starting XV, so who knows?
However this clash is contextualised, there's plenty at stake for Eddie Jones and his Wallabies. Australian rugby is at a desperately low ebb.
The Wallabies are now ranked eighth in the world, worryingly close in ranking points to World Cup Pool C rivals Fiji and Georgia – and far closer to that cohort than the big four Webb Ellis Cup contenders at the top of the standings.
Australia lost all three matches in the Rugby Championship – including two at home – defeats contributing to a run of just one win in seven outings. Actually, make that two in 11. No, five in 20 (with the margins of victory five, one, eight, 15, and two points). These are ghastly numbers that date back to late 2021. It has been bad for a long time.
Saturday's humbling at the MCG was a microcosm of Australia's woes. For the first 20 or so minutes of each half they were on the front foot and looked New Zealand's equal. However, they failed to convert promise into points. Once the momentum shifted the scoreboard ticked over apace for their opponents.
Adding injury to insult, stand-in skipper Allan Alaalatoa suffered an horrendous Achilles injury that will rule him out of the World Cup. The Wallabies are already managing long-term captain Michael Hooper, while co-captain James Slipper is no longer an automatic starter. The latest recipient of the poisoned chalice, Tate McDermott, could be forgiven if he runs out today with a lucky rabbit's foot tucked into his sock.
As for the All Blacks, three convincing Rugby Championship victories in a row have raised expectations ahead of the World Cup. Their clash to open the tournament with hosts France in a month promises to be one of the competition's highlights. Thereafter, New Zealand take on Namibia, Italy, and Uruguay in the group phase.
Which brings us nicely back to this afternoon. Ian Foster has shown us his preferred starters for clashes like those against France, but his World Cup squad will contain 33 names, the men he will rely on for those less taxing encounters. Standouts against the Wallabies in Dunedin will doubtless enhance their chances of a ticket to Europe.
I'll be back with final team news and insights from the two camps shortly. If you want to get in touch at any point you can always send me an email.


https://www.theguardian.com/sport/live/2023/aug/05/bledisloe-cup-2023-live-wallabies-vs-all-blacks-australia-v-new-zealand-score-aus-nz-rugby-union-championship-scores-results-lineup-kick-off-time-forsyth-barr-stadium-dunedin-latest-news-updates Bledisloe Cup 2023: All Blacks v Wallabies – Rugby Championship live | Bledisloe Cup