Sydney
Biden heads to Hawaii to view damage, meet survivors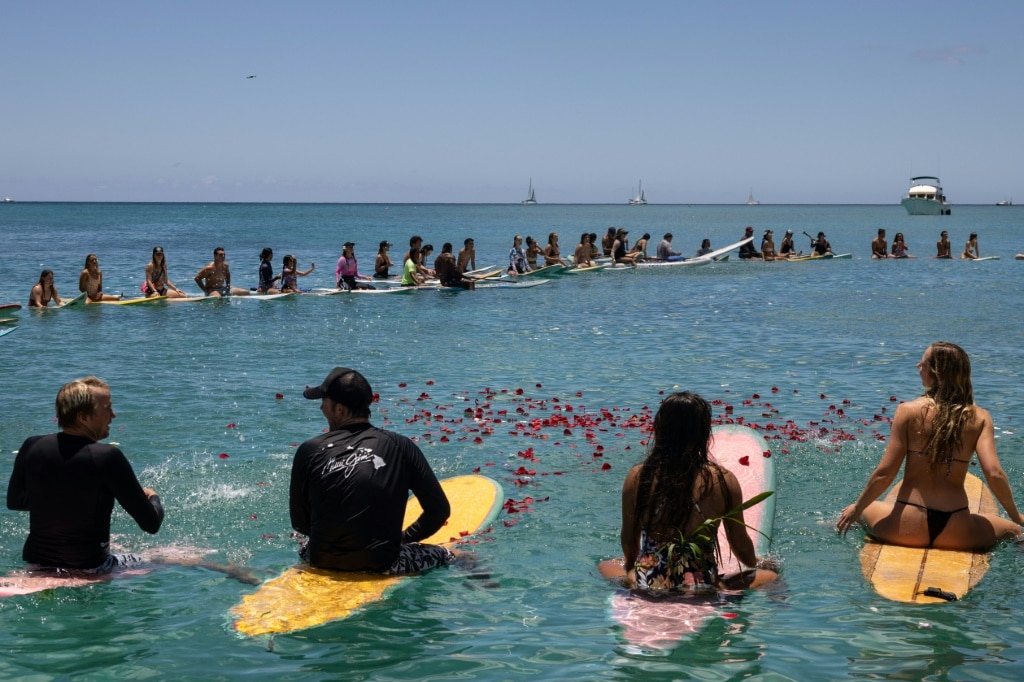 President Joe Biden departed for Hawaii on Monday to view the widespread damage from recent Maui wildfires, meet with survivors and fend off criticism that his government was too slow to respond to the disaster.
Biden and First Lady Jill Biden will arrive nearly two weeks after ferocious, wind-whipped blazes ripped through the historic town of Lahaina, claiming at least 114 lives.
The flames moved so quickly that residents and visitors were caught off-guard, trapped in the streets or jumping into the ocean to escape the worst natural disaster in Hawaii state's history.
Read Next
After a helicopter tour of the damage, Biden is due to announce further relief funding and the appointment of a federal response coordinator.
Critics, including disgruntled survivors in Hawaii and some Republicans hoping to face Biden in next year's presidential election, say aid has been inadequate and poorly organized.
Former president Donald Trump said it was "disgraceful" that his successor had not responded more quickly, though the White House has said Biden delayed his trip so as not to distract officials and rescuers working on the ground.
Biden's spokeswomn, Olivia Dalton, told reporters aboard Air Force One that the president was expecting it to be "an emotional day" as he met with survivors.
"The president certainly intends to stand with them and make sure that he communicates to them that not only have we been there since day one, he intends for his administration to be there for as long as it takes," she said.
By visiting Hawaii, Biden will "experience the complete and utter devastation that this town had experienced," Deanne Criswell, Federal Emergency Management Agency (FEMA) administrator, said Sunday on ABC's "This Week."
"He's also going to be able to talk with people and hear their stories and provide a sense of hope and assurance that the federal government is going to be with them."
Biden, who took off from Nevada where he was vacationing, said in a statement that "I know nothing can replace the loss of life. I will do everything in my power to help Maui recover and rebuild from this tragedy."
– Agonizingly slow –
Criswell, defending the government's response, said Biden's one-day visit should underscore his commitment to ensuring Hawaii's recovery.
She said more than 1,000 federal responders were now in Hawaii — and added that none of them would have to be moved to the US Southwest, which is contending with the effects of Tropical Storm Hilary.
Maui residents say the process of recovering lost loved ones — and identifying bodies — has been agonizingly slow, criticizing the government for a sluggish response.
As a result, "a warm welcome may not be assured for Biden in some circles on Maui," the Honolulu Star-Advertiser newspaper concluded.
While search teams have covered 85 percent of the search zone, the remaining 15 percent could take weeks, Governor Josh Green said on CBS's "Face the Nation." The fire's extreme heat meant it might be impossible to recover some remains.
Criswell acknowledged that the process could be slow but said the federal government had sent experts from the FBI, the Defense Department and the Department of Health and Human Services to help with the painstaking identification process. 
Presidential visits to major disaster zones, while viewed as almost politically mandatory, can carry risks. 
When President George W. Bush traveled to Louisiana in 2005 to witness the historic devastation of Hurricane Katrina, critics seized on pictures of him looking out the window of Air Force One while flying over New Orleans to say his arms-length visit lacked empathy.
And when then-president Donald Trump casually tossed rolls of paper towels into a crowd in hurricane-ravaged Puerto Rico in 2017, critics called his gesture cavalier and insensitive.
bur-hg/jh
Read Next
https://www.theaustralian.com.au/news/latest-news/biden-heading-to-hawaii-to-view-damage-meet-survivors/news-story/6084cc9762c14a6416f203563be9890a Biden heads to Hawaii to view damage, meet survivors