Sydney
Aviation expert says Qantas QF144 engine failure is rare and 'very serious'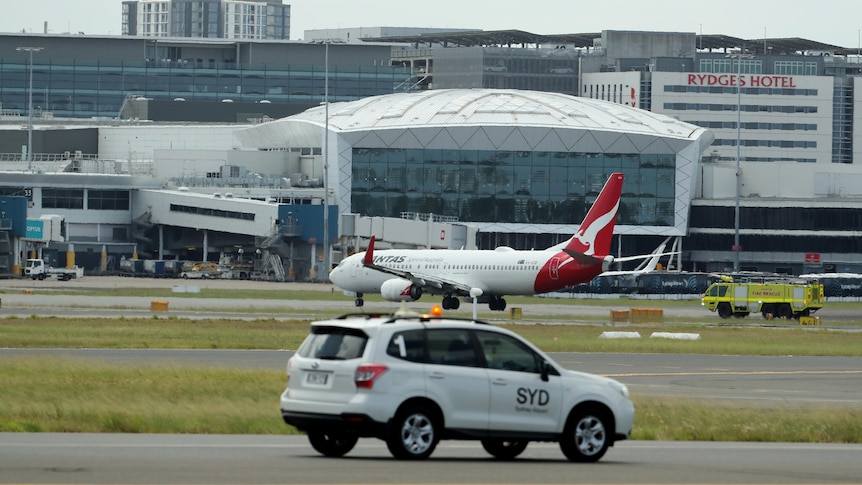 Qantas and aviation investigators are putting together the pieces to determine why a plane carrying 145 passengers lost its engine yesterday.
QF144 landed safely in Sydney around 3:30 pm on Wednesday. After the pilot made a rare Mayday call.
Airlines experienced another problem today QF101 forced to turn back to Sydney As a precaution.
May Day is usually reserved for the most urgent cases. Yesterday's use caused emergency services to flood Sydney Airport, causing a media frenzy.
How often do engines fail?
Australian and International Pilots' Association vice-president Mark Hoffmeyer backed the decision, saying the pilots on board were "well within their rights".
Hoffmeyer said he knew of "perhaps three" Qantas engine outages in the past 15 years.
"So we're talking millions of flight hours," he said.
"These aircraft or these engines are joking that they are bulletproof. This rarely happens."
According to Angus Mitchell, Chief Commissioner of the Australian Transport Safety Board (ATSB), the ATSB receives up to 8,000 reports each year.
He said minor accidents on airliners occur "regularly", but airborne disturbances of this kind are rare.
"The loss of the engine, which is the first report, is pretty serious," Mitchell said.
"That's not often the case."
How do engines fail?
According to pilot and aviation expert Keith Tonkin, engine failures are particularly rare in the conditions reported by QF144.
A former Qantas pilot, he didn't want to speculate about what happened, but said many things could have contributed to the engine failure.
It could be partly due to engine damage, electrical failures, or even birds or volcanic dust being sucked into the turbine.
According to Tonkin, the most unusual aspect of the QF144 is that the failure was reported while the plane was cruising for hours into the flight.
"The aircraft was in normal flight conditions," he said. "It usually happens during takeoff."
However, Tonkin said the aircraft is certified for long flights on one engine and pilots are trained on what to do in case of failure.
Some international widebody aircraft, such as the A330 and Boeing 787, can fly for hours on a single engine.
Hoffmeyer, a Qantas co-pilot with 20 years of experience, said pilots would reduce the cruise altitude from 38,000 feet to 20,000 feet to manage the situation.
"Mayday" or "PanPan"
Mayday's call is more serious than another international distress call called "pampang".
Derived from the French word for "malfunction," pan pan call means an emergency that does not pose an immediate threat to the vessel or life.
In 2010, two Australian pilots of a Cathay Pacific CX780 successfully landed at Hong Kong International Airport with two engines shut down.
Loading Instagram content
Captain Malcolm Waters and First Officer David Hayhoe were the first to declare Pampang after losing the first engine during the descent.
They didn't make the Mayday call until a second call failed a few minutes later.
Several of the 322 people on board were injured when the plane landed at twice its normal speed, but there were no fatalities and the aircraft remained unharmed.
An investigation revealed that contaminated fuel had been ingested at Juanda International Airport in Indonesia, causing engine damage.
Hofmeyer praised the QF144 crew, who later downgraded the distress signal to Pampang, saying it was "fair and reasonable" to do so.
"When they level off at 20,000 feet, we can reassess our options for figuring out the nature of the problem," he said.
"The decision the pilots made is upheld because they were on the flight deck.
"They were there and had all the information in front of them to make that decision."
What happens after the Mayday call?
Mayday and Pampang alert air traffic control and emergency services in the event of problems on board.
Tonkin said he had notified the ground crew that the aircraft had to be prioritized.
Mayday is usually only issued when pilots determine they are unable to properly control the aircraft, he said.
In any case, only the crew can land the plane safely.
"They can't get help until they're on the ground," Tonkin said.
Qantas said it was still investigating the cause of QF144's engine failure, as was ATSB.


https://www.abc.net.au/news/2023-01-19/nsw-qantas-engine-failure-explainer/101870742 Aviation expert says Qantas QF144 engine failure is rare and 'very serious'