Sydney
Anzac Day 2023: Sydney dawn service honours heroes | photos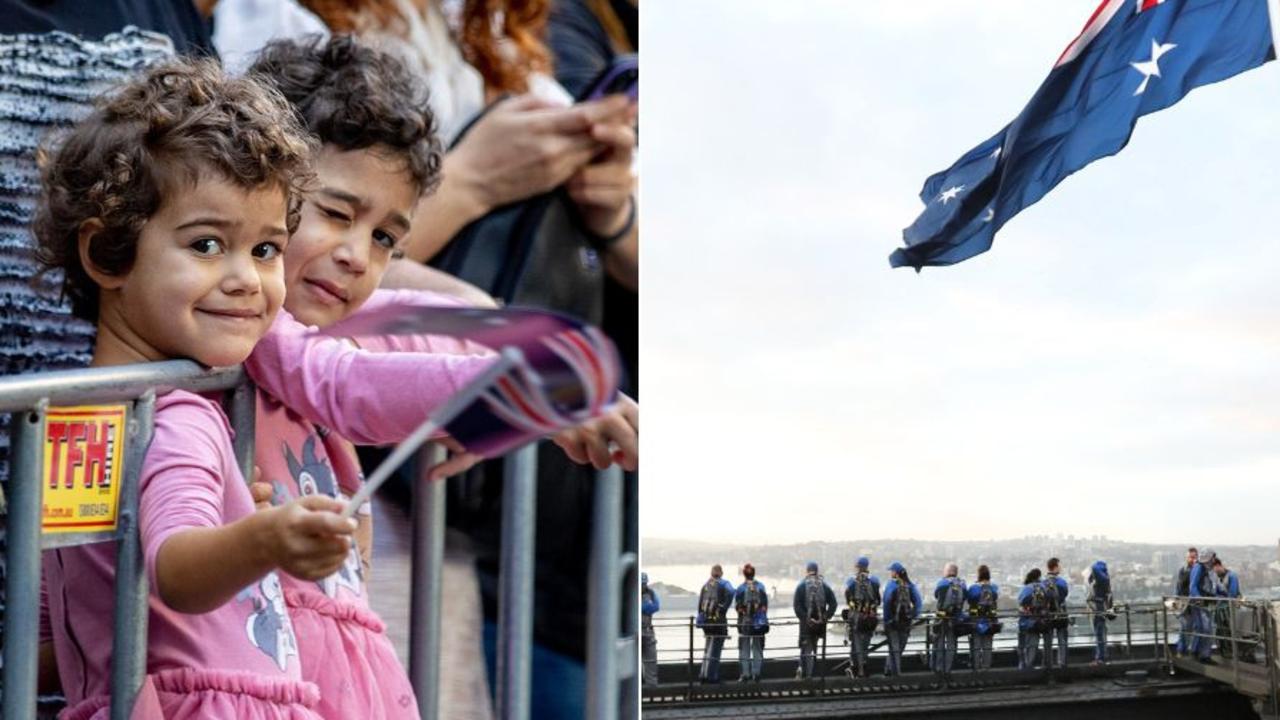 Veterans, Aussie servicemen and women and their families came out in force on Tuesday with a chorus of bagpipes and a flurry of trumpets to march from Martin Place to the Anzac Memorial in Sydney for the 108th Anzac Day.
Parade onlookers lined all the way up Elizabeth St cheering on the diggers, waving Australian flags and signs that said 'thank you for your service'.
Veterans, some in their wheelchairs, marched alongside army, navy and airforce units, their feet tapping to the beat.
Neville Hall may be 98-years-old, but the WWII veteran still managed to march the first stretch.
Flanked by his daughter Barbara Hoddinott and his granddaughter Lauren, the veteran beamed with joy as he made his way to the memorial.
As a boy from Milperra he was enlisted as a wireless air gunner in the Royal Australian Airforce in 1943.
Mr Hall has been marching in the parades since he was a boy.
"I would march with my father who served in WWI," he said.
"I've been going to the parade my whole life.
"Today's parade was very fine indeed."
Vietnam veteran George Fisher was also having the time of his life.
Even though he was now in a wheelchair being pushed by his grandson Ryan McShane, his foot was tapping to the beat of the drum as if marching.
"I am having a ball!" he said.
"Although it's pretty easy being pushed all that way."
Serving as a cook in the Australian army, the 78-year-old from North Epping was posted to Vietnam in 1969. Ever since he has marched in the parade.
"I also march for my father and uncle who both served as well," he said.
"It's not something you ever forget."
Miranda Harrowell, 68, had come down to set up her seat for the parade at 7.30am.
She has been coming early every Anzac Day for 50 years.
The Chatswood woman comes to honour her father and uncles who served in the Middle East and Papua New Guinea during WWII.
"I have been coming as a child to watch dad march… it always made me so proud," she said.
"Even though he's been gone for more than 20 years, the parade reminds me of him."
Thousands of people also turned out for services and parades in the north of the state, with the people of the Northern Rivers and North Coast paying their respects in moving ceremonies.
AUSTRALIA'S MOST SCENIC SERVICE
A special dawn service was held on top of the Sydney Harbour Bridge to commemorate Anzac Day.
Hosted by RSL LifeCare, the service was complete with a performance of The Last Post as the sun began to appear over the harbour.
5000 HIT BONDI FOR MOVING CEREMONY
Thousands braved the cold conditions to commemorate the sacrifices made by our men and women during the dawn service held at the North Bondi RSL in Sydney.
The community of people crowded roads and footpaths on all sides of the RSL, some flooded the nearby hill to get a glimpse of the laying of wreaths while others gathered on the sand to show their respects.
Commander Aaron Scott from the Royal Australian Navy spoke in front of dignitaries including Mayor for Waverley Paula Masselos and MP Allegra Spender.
In a touching tribute, Commander Scott pointed out to the surf where a rowing boat waited, alluding to the horrors of Gallipoli while encouraging people to learn about and be inspired by the sacrifice of those who serve.
"It was 108 years ago today when regular Australian and New Zealander soldiers, mostly just young kids really, looking for adventure, crowded and shoulder to shoulder with their mates in large rowing boats like the ones you can see in the water right now," Commander Scott said.
"As they approached the Anzacs were hit with shrapnel, bullets and blood from above, some never even touched Turkish soil."
As the sun rose, the Last Post and Reveille rang out and the Australian New Zealand national anthems were performed by the school choir from Bondi Beach Public.
The ceremony was followed by a free breakfast for current service men and women and veterans at the North Bondi RSL club and an Anzac Day march will commence at the nearby Bronte beach at 10am.
PREMIER SPEAKS AS THOUSANDS GATHER IN CITY
Tens of thousands of Australians are taking part in dawn services across the country to commemorate the 108th anniversary of the landing of Anzac troops at Gallipoli in World War I.
Services are being held across NSW to mark Anzac Day, the most solemn day on the Australian calendar.
The sombre tune of the last post rang out across the darkness in Sydney's Martin Place at 5am.
Silence fell over the country for one minute as the song came to a close.
The Sydney Maori Choir, composed of New Zealanders now living in Sydney, sung a haunting rendition of the Song of Sorrow in tribute to Australian and New Zealand soldiers who have died fighting for their country.
NSW Premier Chris Minns attended the Martin Place service after being elected last month.
Minister for Veterans David Harris said Anzac Day is an opportunity for the community to pay respects to those who have served our country.
"It was heartening to see the large crowd honouring the Anzac spirit and paying tribute to the service and sacrifice of our veterans," he said.
Mr Keogh will represent Australia at the Gallipoli service, where some 60,000 Australians served during the eight-month campaign and where more than 8700 died.
Over 7,000 current serving members and veterans, some serving as far back as the Second World War, will begin their march from Martin Place to the Anzac Memorial in Hyde Park Sydney later today.
Free public transport is being offered to all current and former Australian Defence Force members and their families.
Spectators can head into Elizabeth Street in Sydney to pay tribute to servicemen and their families as they make their way through the CBD alongside marching bands and bag pipes.
Aboriginal and Torres Strait Islander servicepeople will be recognised at the Coloured Digger March at 1.30pm in Redfern.
Services will also be held internationally on the Gallipoli Peninsula, Villers-Bretonneux in France, Hellfire Pass in Thailand, Sandakan in Malaysia and in Papua New Guinea as well as New Zealand.
SYDNEY'S NORTH WEST
By Matt Gazy
The Hills ceremony in Kellyville commenced as the sun peeked through the clouds just after 5:45am, with the annual muster, and a band of veterans behind the sounds of bagpipes.
Thousands flocked to commemorate those who sacrificed everything.
Young student ambassadors representing their families, their schools and the youth honoured each service.
Speaking for the Air Force, student Gemma Oaklands said the air fighters had to "step up after America failed to provide resources".
"The Air Force battled extreme conditions and demonstrated a testament of Australian spirit – bravery, dedication, sacrifice," Gemma said.
Heidi Wilkinson said the Navy demonstrated bravery, resilience and loyalty.
She said she was honoured to represent the youth.
"It's a privilege and you recognise our veteran's influence as you get older and begin to understand what they've been through," Heidi said.
Student Aryan Roy addressed the sacrifices Australian women made during the war.
"Today we give a voice to women and their fortitude and perseverance," Aryan said.
"Continuing to give life to Anzac tradition intertwines us as a community."
Aryan said Australian women on the home front endured the pain and suffering from those fighting overseas, while having to carry on their everyday lives.
"They carried an enormous burden, with a duty to carry on their lives without communication and unaware of their safety," Aryan said.
Damon Buchanan addressed the dedication of Army soldiers, reminding those to consider the life changing sacrifice troops on the ground made – aware they may never return to their loved ones.
"When you next have a drink in hand, remember the young army soldiers, taken from their families to pay the ultimate sacrifice so we may indulge in our beautiful lives," Damon said.
Hills SES unit commander Daniel McGovern said he was thrilled to see so many people.
"It's getting bigger each year, with younger generations and schools participating," Mr McGovern said.
SES work often puts members in dangerous situations to save lives, on the frontline.
"It's all about doing what we can to help our community," he said.
WESTERN SYDNEY
By Nicole Hogan
Thousands of people paid their respects at Pinegrove Memorial Park in Western Sydney for the first full-scale Anzac Day Dawn Service in Minchinbury since 2019.
Regularly one of the largest dawn services in Sydney with crowds of several thousands of people before the Covid pandemic hit, the event returned to full glory this year.
Hosted by Pinegrove Memorial Park and the Rooty Hill RSL Sub-Branch, the event began with marching band Pipers of Distinction and veterans leading a march through the park gates and ended with a cook up of over one thousand egg and bacon rolls.
The service marked the 108th anniversary of the Gallipoli landings, and Rooty Hill RSL Sub-Branch President and ex-national serviceman Alf Davey, 73, said it was a 'very special event'.
"This Dawn Service is our first full-scale event in four years in Minchinbury due to the Coronavirus pandemic and weather-related issues last year, so it's a very special and moving service for our close-knit community," Mr Davey said.
InvoCare's General Manager Metro Parks Simone Ravenscroft said Pinegrove Memorial Park, owned and operated by InvoCare, was proud to support the Western Sydney community.
"Pinegrove has a rich history and continues to play a pivotal role in supporting communities by commemorating special days," Ms Ravenscroft said.
"The Anzac Day Dawn Service is part of our psyche, and we are proud to be a part of this incredibly special service alongside the Western Sydney community for the first full service in four years."
The home of the Light Horse Brigade, located at Wallgrove nearby, Mr Davey said thousands came together for the service, hosted by Pinegrove and Rooty Hill RSL Sub-Branch.
"Anzac Day is about commemorating the sacrifices and hardship our forebears endured but more importantly it's also about mateship," he said.
The event saw marching band, Pipers of Distinction and veterans lead the service through the park gates to the war memorial stepping off at 4.30am with the Anzac Day Dawn Service at 4.55am on Tuesday, April 25.
ANZAC SERVICES AND MARCHES IN SYDNEY
Thousands of Australians will commemorate Anzac Day and pay tribute to those who have served our nation at dozens of services and events across NSW on Tuesday.
Sydney's dawn service at Martin Place will begin at 4.30am with roads around Martin Place starting to close from 2am ahead of major closures from 6am along and surrounding the Elizabeth Street march route.
Roads will reopen by 4pm.
Travel on public transport is free for veterans and their families on Anzac Day.
Here is your guide to Anzac events near you.
SYDNEY CITY
4.30am: Martin Place Dawn Service
9am: March with public viewing on Pitt and Elizabeth streets
NORTHERN BEACHES
4am: Dawn Service, Manly War Memorial, The Corso
5.15am: Dawn Service, Manly Dam
5.30am: Dawn Service, Avalon Beach RSL sub branch
5.30am: Dawn Service Dee Why RSL
5.30am: Dawn Service, Pittwater, RSL sub branch
6am: Dawn Service, Balgowlah RSL Memorial Club
6am: Dawn Service, Oxford Falls Peace Park
6am: Dawn Service, Palm Beach RSL
8am: March, Bilgola SLSC
10.45am: March, Terrey Hills Frank Beckman Reserve
11am: March, Manly War Memorial
11am: March, Avalon Beach RSL sub branch
5pm: Sunset service, Collaroy RSL sub branch
NORTH SYDNEY AND NORTH SHORE
4.30am: Dawn Service, Hornsby RSL Club
5am: Dawn Service, Roseville RSL Memorial Park
5.30am: Dawn Service, Bicentennial Park, West Pymble
5.30am: Dawn Service, Old Parade Ground, Mosman
5.45am: Dawn Service, The Greens, North Sydney
7.30am: March, Berowra RSL sub branch
7.30am: March, Lane Cove RSL sub branch
EAST AND SOUTHEAST SYDNEY
5am: Dawn Service, Bronte RSL sub branch
5am: Dawn Service, Coogee Randwick Clovelly RSL sub branch
6am: Dawn Service, North Bondi RSL
7.45am: March, Waverley Park
9am: March, Coogee Diggers
WESTERN SYDNEY AND INNER WEST
4.30am: Dawn Service, City of Parramatta RSL sub branch
4.30am: Dawn Service, Panania RSL sub branch
4.30am: Dawn Service, St Marys RSL sub branch
4.30am: Dawn Service, Merrylands RSL sub branch
4.45am: Dawn Service, and march, Ingleburn RSL sub branch
5.45am: Dawn Service, Balmain Rozelle RSL sub branch
6am: Dawn Service, Padstow War Memorial before march
6am: Dawn Service, Earlwood Bardwell Park RSL sub branch
7am: March, Kingsgrove RSL sub branch
7am: March, Canley Heights RSL sub branch
SOUTH SYDNEY
5.15am: March and Dawn Service, Cronulla RSL sub branch
5.30am: Dawn Service, Heathcote RSL sub branch
5.30am: Dawn Service and march, Miranda RSL sub branch
6am: Dawn Service, Arncliffe RSL sub branch
CENTRAL COAST
5.30am: Dawn Service, The Entrance Memorial Park
6am: Dawn Service and march, Kibble Park Gosford
6am: Dawn Service and march, Doyalson RSL club
NEWCASTLE
5am: Dawn Service, Nobbys Beach 9.15am: March, Hunter St
WOLLONGONG
5am: Dawn Service, the Cenotaph 11am: March through Wollongong city
TAMWORTH
5.30am: Dawn Service and march, Anzac Park
FAR NORTH AND NORTH WEST
5.45am: Dawn Service, Yamba Cenotaph
10am: March, Graham Place Casino
10.15am: March, opposite Slipway Hotel, Ballina
SOUTH COAST
6am: Dawn Service, Milton Ulladulla Ex-Servos Club
6am: Dawn Service, Club Narooma
10.10: March, Berry St Nowra
If you know of another Anzac Day service, let us know in the comments section below.
https://www.dailytelegraph.com.au/news/nsw/anzac-day-2023-sydney-dawn-services-and-marches/news-story/8bed0c30ccd2ab7df82b9a809782b10f Anzac Day 2023: Sydney dawn service honours heroes | photos