Sydney
A valuable image of the moment when a 5952-ton ship exploded "like an atomic bomb"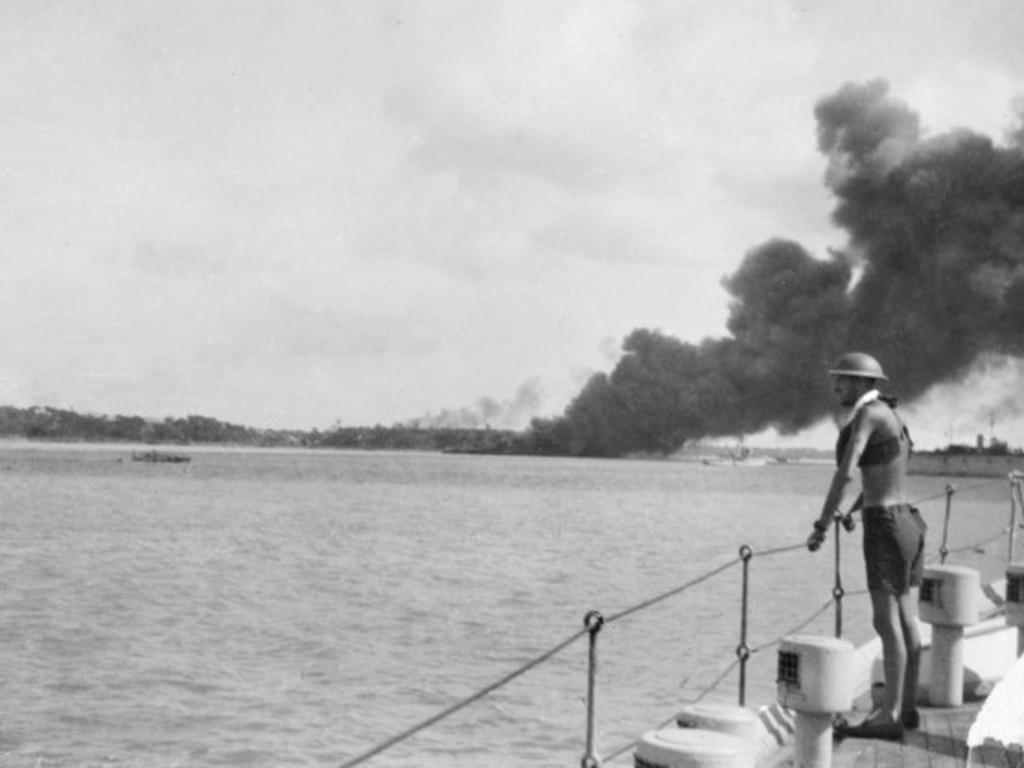 On Sunday, as the nation paused to mark the 81st anniversary of the bombing of Darwin, one man is remembered for his efforts to document the historic events of February 19, 1942.
Born in Drummoyne, Sydney in 1917, Victor Ernest Montagu Tuckerman, nicknamed Monty, joined the Royal Australian Navy in 1936.
read next
Monty has worked as a Stores Vittler for HMAS Australia, Albatross and Warrnambool.
This particular Stores Vittler has a penchant for visual storytelling and carried a moving film camera and rolls of color film to capture naval life in the Middle East, Darwin and the Dutch East Indies.
Monty usually filmed the activities of his shipmates, such as loading the ship with fruit, fishing, watching the sunset, and evacuating civilians from islands believed to be in danger. .
During his second assignment to HMAS Warrnambool in 1942, Monty witnessed the shocking air raid on Darwin's harbor on 19 February and was convinced he was done.
Thinking he would never live to tell this story, Monty was able to film much of the destruction, including the sinking of the USS Peary. "It was the worst sight he had ever seen," Monty said in an interview with his fellow retired Navy officer James McDonald. ".
"It was a really bad day," Monty said of the attack.
"The Peary lost almost everyone on board…it's no wonder there were so few survivors, given what happened."
He also said he witnessed the 5,952-ton freighter Neptune "explode like an atomic bomb and minutes later bits of it land in the water".
Not only did Monty survive and document the horrific events, but he and his crew, who were on board the Warrnambool, helped rescue the other crew from the burning ships in the harbor.
"I picked up my camera and that's what I did. I went and started shooting," he said.
"There was nothing else I could do."
It was later discovered that 252 Allied service personnel and locals lost their lives that day.
Monty's daughter Sue donated his film to the Memorial in 2012.
Speaking at an official memorial service in Darwin, Veterans Affairs Minister Matt Keough said the bombing was the first time "mainland Australia has been attacked".
"War came to Australia, and those who were here in Darwin at the time experienced firsthand the horror, devastation and loss that war brings," Keough said.
"Eighty-one years may have passed, but we will never forget the sacrifice of soldiers, women and civilians who defended our country in World War II.
"On the day of the bombing of Darwin, I encourage all Australians to remember and honor those who died in the raids on northern Australia and the courage shown to defend our country during World War II. increase."
read next
https://www.theaustralian.com.au/news/latest-news/rare-footage-of-the-moment-a-5952-tonne-ship-blew-up-like-an-atomic-bomb/news-story/aa443111ac292fdac05676854a50910c A valuable image of the moment when a 5952-ton ship exploded "like an atomic bomb"