Sports
Wimbledon 2022: Cornet stuns Swiatek, Kyrgios v Tsitsipas, Gauff out – live! | Wimbledon 2022
Kyrgios leads 2-1 in sets on Tsitsipas
*Kyrgios 6-7 6-4 6-3 Tsitsipas
Kyrgios gets a spot of luck in let-cording a drop shot at 30-15. There's a sarcastic apology. Then Tsitsipas gets the ball on Kyrgios's backhand and it's 30-30, and then comes another flukey let cord, and there's a sarcastic bow. He takes the set point with a low volley at the net.
Kyrgios 6-7 6-4 5-3* Tsitsipas
Nice and easy hold from Tsitsipas. He now needs to save the set.
Nadal is 2-0 up in his match with Sonego. Those on Centre Court are missing out on the fireworks.
*Kyrgios 6-7 6-4 5-2 Tsitsipas
Nice, quick hold from Kyrgios and they can start shouting at the umpire. "Where is the towel, where is the banana?" says Big Nick, acting all self-entitled.
*Kyrgios 6-7 6-4 4-2 Tsitsipas
"He doesn't respect the opponent," says a raging Tsitsipas to the umpire. Kyrgios, as per the rules, starts the game 15-0 up. He loses his cool as he attempts to smash a volley right at his opponent, showing no respect for Kyrgios. This is getting very silly. The ball goes out for that one but eventually he serves out to hold.
*Kyrgios 6-7 6-4 4-1 Tsitsipas
Boos for Tsitsipas as gets a code violation and a point deduction, for being angry at an underarm serve. Kyrgios is getting at him, winding him up, and serving like a demon, too.
Kyrgios 6-7 6-4 3-1 Tsitsipas*
Chance of a break? Maybe, it goes to 15-30. Then Tsitsipas double faults to hand over a break point chance, only to cream a forehand that pulls him back level. Then, he can't dig out a drop volley, and there's another break point on offer. And with a crashing forehand, then Kyrgios has the lead in the match.
Rafa Nadal, meanwhile, after an hour and five minutes, is two sets up on Sonego.
*Kyrgios 6-7 6-4 2-1 Tsitsipas
Rapid stuff once more from Kyrgios, he's not given the ball boys and girls any chance to settle, let alone Tsitsipas. He still complains about the Tsitsipas "default" and the idea of "intent". Tim Henman was once banished for something similar, the older heads may recall.
Kyrgios 6-7 6-4 1-1 Tsitsipas*
The word "shit" is used by Kyrgios as he continues his dialogue with the ump. A "rude word", as Johnny Rotten once told Bill Grundy. The tournament referee has arrived on the scene. More to follow. Oh, and amid all that, Tsitsipas held his serve.
*Kyrgios 6-7 6-4 1-0 Tsitsipas
Tsitsipas goes out for a moment, comes back in and starts a row about towels. He's lucky to be playing. Still, this has become a grudge match, and the crowd is very much on the side of Kyrgios and with a brutal forehand he holds his first service game of the third.
Kyrgios wins the second set and all hell breaks loose!
Kyrgios 6-7 6-4 Tsitsipas*
Krygios gets a warning for swearing at the line judge. Pat Cash, on the BBC coverage, suggests he really ought to be chucked out, or defaulted. Still, it appears to be working for him, as he's 30-30 and within two points of taking the set. Big serve from Tsitsipas takes it to 40-30, then comes one of those casual winners from Krygios. But then a Tsitsipas error and it's set point. Kyrgios grabs it, and then Tsitsipas, in frustration, hits the ball into the crowd. Kyrgios then asks for his opponent to be defaulted. He demands a supervisor to come out. When that happens and they refuse to ban his opponent, he refuses to play. "What about Novak," he says, referring to the US Open default. This is bonkers. Self-destruction by both players. Tsitsipas *did* hit the ball into the crowd.
*Kyrgios 6-7 5-4 Tsitsipas
Like a train, Krygios gets it back underway, races to 40-0, and finds himself pegged to 40-30. A second serve chance for Tsitsipas, and then comes deuce. A lack of concentration, and suddenly there's a break chance offered by a woeful slice. That's saved by a second serve ace at 112mph. Wow. Then comes another crasher, and a whipped winner. An amazingly casual shot but it ends up being a beaut. And a hold.
Nadal has gained a break on Sonego in the second set, he's 2-0 up.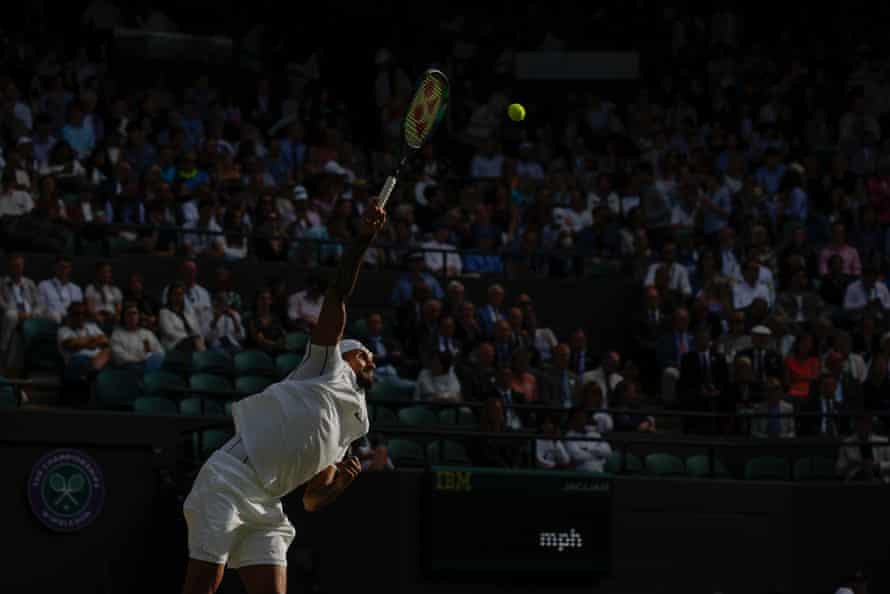 Kyrgios 6-7 4-4 Tsitsipas*
A glimmer for Kyrgios at 15-30, but then comes a big serve from Tsitsipas but here's a break point chance, only for that to be smothered by some excellent serving. Then comes a highly casual backhand to land deuce from the Aussie. Another one follows, but this one goes out. Then Tsitsipas clanks a backhand out of play only to improve on that with his next shot. A huge, swinging winner, and he ends up holding.
Kyrgios* 6-7 4-3 Tsitsipas
Tsitsipas picks a winner to go to 15-30 on Krgios's serve. But he can't return a blammed forehand, and Big Nick's serve is holding firm.
Nadal has taken the first set 6-1.
Kyrgios 6-7 3-3 Tsitsipas*
Krygios is complaining about the speed of Tsitsipas' challenge. The talk is of "common sense", but he can't break the Tsitsipas serve and can only chop into the net to hand over the game.
Nadal has a 5-1 lead in the first set with Sonego. All going to plan so far.
Kyrgios* 6-7 3-2 Tsitsipas
Krygios still at it over a challenged line call. The use of the word "idiot'? Perhaps so. Still, he serves out. They are racing along.
Kyrgios 6-7 2-2 Tsitsipas*
Nick Krygios's running battle with the officials continues, though he is angry with himself at netting the ball from the baseline to fall 40-0 down. Tsitsipas serves and the metronomic pattern of play continues.
*Kyrgios 6-7 2-1 Tsitsipas
A similarly easy hold for Tsitsipas, then another for Krygios. They flew by.
Nadal meanwhile has broken Sonego, and is 3-1 up.
*Kyrgios 6-7 1-0 Tsitsipas
Krygios, chunnering away at the ump still, holds his serve at the start of the second set.
Kyrgios 6-7 Tsitsipas (* denotes next server)
Into the tie-break we go, and a double fault from Kyrgios hands Tsitsipas a 2-1 lead. Then comes a 4-2 lead, then 5-2. The Greek player has the advantage, and can serve out the first set. Krygios hands him set point with a wild thrash wide. Then, a challenge is called on a baseline shot from Krygios, and correctly. The first set belongs to Tsitsipas.
Sonego, by the way, holds his serve, after being given a Nadal chasing.
Thanks, Will.
Rafa Nadal is on Centre Court against Lorenzo Sanego, and he's already taken the first game off the Italian, who is aiming to equal his best performance at a slam by beating Nadal. Tall order, of course.
Kyrgios* 5-6 Tsitsipas (* denotes next server)
Kyrgios takes Tsitsipas to deuce after his opponent sends a loose shot well beyond the baseline. The Greek follows up with a booming ace before winning a storming rally. Kyrgios goes on a tirade against the umpire, which is very on brand. I'll hand you back to John Brewin for the rest of the match.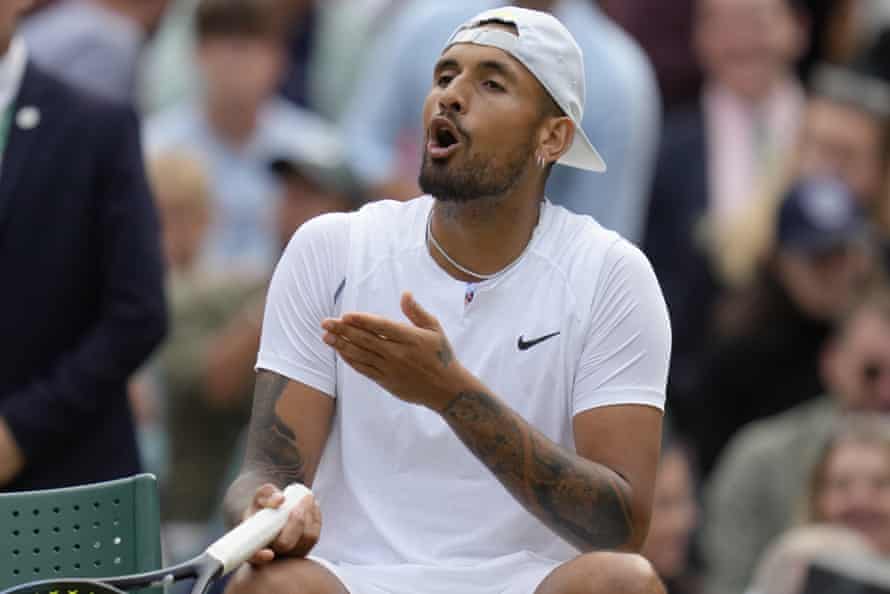 Kyrgios 5-5 Tsitsipas* (* denotes next server)
Kyrgios means business here. His serves are magnificently chunky, landing like meteorites all around his opponent.
Kyrgios* 4-5 Tsitsipas (* denotes next server)
Tsitsipas responds with a similarly meaty service game, pummelling the ball down the court and leaving Kyrgios struggling to return.
Kyrgios 4-4 Tsitsipas* (* denotes next server)
Oosh. Kyrgios thunders his first ace of the match, then follows up with another. He sees out the game with studied nonchalance.
Kyrgios* 3-4 Tsitsipas (* denotes next server)
Tsitsipas defends the break point deftly and powers through deuce to hold. Both men are bleeding points on serve at the moment without striking any decisive blows.
Over to Court No 1? Yeah, go on then. Kyrgios and Tsitsipas are evens at 3-3, but the Australian has a break point.
Badosa is magnanimous in victory, professing her admiration for Kvitova. "You can imagine, for me, stepping onto Centre Court for the first time and playing a legend like her is really, really special," she says. "She's been an inspiration for me in my career."
Badosa beats Kvitova 7-5, 7-6
It's all over on Centre Court, with Kvitova losing out on narrow margins. Badosa was that little bit more precise with her shot placement and merits her place in the fourth round.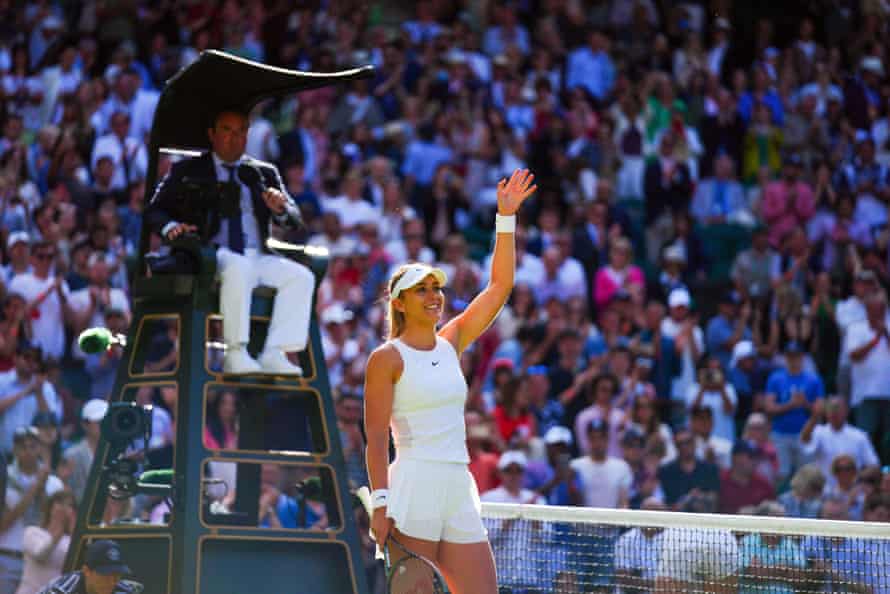 Kvitova takes the second set to a tie-break. In the meantime, Nick Kyrgios and Stefanos Tsitsipas have got under way on Court No 1. It's currently 1-1, with Tsitsipas being given a hard time on serve.
Badosa 7-5, 6-5 Kvitova* (* denotes next server)
Badosa holds to love. This is really quite tense now. Time for a drinks break. Phew.
Badosa* 7-5, 5-5 Kvitova (* denotes next server)
Badosa wins a couple of early rallies to crank up the pressure on Kvitova. The world No 26 roars back with three points in a row to take the game.
Badosa 7-5, 5-4 Kvitova* (* denotes next server)
Kvitova digs out a couple of points on her opponent's serve, but Badosa stays cool and manages to avoid deuce. Back to Kvitova, then.
Badosa holds serve against Kvitova, surviving a flurry of break points. She was clinging on by her fingernails there, but cling on she did.
Hello, me again. Several punnets of strawberries later and things have got pretty wild. I'll do my best to hold it together.
And with that, I leave the bunker for the next while as the excellent Will Magee takes the reins.
Some quotes from Liam Broady, who lost to Alex de Minaur in three sets in true plucky Brit style.
In the past I've been on Court One and Centre and it's probably been more of a negative experience because I've not felt like I've been able to express myself. I mean, I remember I played Raonic on Court One. I think it was 5-0-1. I felt like I wanted the ground to swallow me up. I felt just awful. Whereas today I felt like I was playing well enough to be able to try and get the crowd involved.

The crowd were pretty incredible at the end. I mean, they helped me get the break back in the third as much as I got the break back I probably ended up getting into the rhythm of it once I was a break down in the third and obviously against someone like Alex, he's a world-class grass-courter, it's a little bit too late. I sent a racket off to get it done a couple of pounds tighter. The first couple sets I felt like the ball was flying off my strings a bit.

The racket only came back once I was a break down in the third. I brought it out and I just felt a lot more comfortable playing, felt like the ball was doing what I was trying to tell it to do. Like I said, the change was probably a little bit too late.
Over on Centre Court, that match between Badosa and Kvitiva continues to be close, and it's 3-2 to Badosa, who won the first set.
Taylor Fritz beat Alex Molcan 6-4 6-1 7-6(3) to ensure there will be four American men in the fourth round at Wimbledon for the first time since 1999. The 11th seed joined Tommy Paul, Brandon Nakashima and Frances Tiafoe in the last 16.
Swiatek, to her credit, signs autographs as she departs Court No 1, and it's Cornet's chance to leave the court to huge cheers.
I have no words right now, it reminds of the moment I beat Serena. I am a huge fan of Iga, she's such an amazing player and a nice ambassador. This is the kind of match I am training for, it drives me. She feels a little less confident on grass. I guess I like the upset, it's a really nice feeling now. I need to process. In France they say a good one always ages well and that's what happened to me. I am playing one of the best seasons of my career. I am still motivated, I have the fire in me. See you in the next round.
Cornet beats No 1 seed Swiatek 6-4, 6-2
Cornet races to 4-0, Swiatek a beaten woman, and she loses her run at 37. Elize Cornet has done it! Swiatek nets from the baseline and that's it for her.
The women's draw may well be opening up for the likes of Anisimova.


Wimbledon 2022: Cornet stuns Swiatek, Kyrgios v Tsitsipas, Gauff out – live! | Wimbledon 2022 Source link Wimbledon 2022: Cornet stuns Swiatek, Kyrgios v Tsitsipas, Gauff out – live! | Wimbledon 2022