Sports
US Open golf 2022: second round – live! | US Open
Tarren's birdie putt on 9 lips out. A chance to reclaim sole ownership of the lead missed by millimetres.
Joel Dahmen joins Callum Tarren in the lead! Out in one of the final groups, he bundles his approach at 1 into the heart of the green, his ball coming to an elegant stop three feet from the flag. After waiting an age while his playing partners faff about, he taps in for an opening birdie. How long he'll remain with a share is a moot point, though, because on 9, Tarren fires his second straight at the flag and will have an uphill look at birdie from five feet or so.
-4: Tarren (8), Dahmen (1)
-3: Hardy (F), Scheffler (F), Lingmerth (5), Morikawa (5*), Rahm (5*), Harman (3), Wise (3)
Collin Morikawa makes his second birdie of the day, at the par-five 14th, and the reigning Open champion moves to -3. His playing partner Jon Rahm, fresh from dropping one at the previous hole, batters a monster drive down the track, lashes an iron to eight feet, and tickles in the eagle putt! The defending champ moves to one off the lead as well, and this is beginning to heat up.
-4: Tarren (8)
-3: Hardy (F), Scheffler (F), Lingmerth (5), Morikawa (5*), Rahm (5*), Harman (3), Wise (3)
Tarren clips his ball onto the 8th green with delicate hands, allowing it to slowly make its way down the slope and … nearly in! A couple of millimetres to the left, and he was carding an outrageous birdie. But he'll take that par from where he was. He remains one clear at -4.
Trouble for the leader Callum Tarren on the par-five 8th. Having found a poor lie in the rough with his drive, he chips out, then blades his third over the back. He'll do well to get up and down from the cabbage from there. Meanwhile on 5, David Lingmerth – coming off the back of an outrageous up-and-down from a fairway bunker to save par on 4 – smacks the pin with his chip up to 5. No idea how his ball didn't drop for eagle, but it's a birdie that cancels out a shot carelessly dropped at 2. He's -3.
McIlroy manages to whip his ball into the heart of the green … but that's his third attempt to do so. He's left with a 22-footer for double bogey. You know what's coming up next, don't you. In goes the right-to-left slider, limiting the damage, and it's a double bogey the gallery celebrate like a birdie. McIlroy won't be happy about that, let's not be daft – it's a double from the centre of the fairway – but he'll feel a lot less bad than he did before making that putt. He's -1.
An eventful start for the 2015 champion Jordan Spieth. Bogey at 10, but irons arrowed to three feet at both 11 and 12 for birdies. He moves up to +1. Meanwhile bother for Rory McIlroy at 3. He sends his approach into thick fescue up a bank to the right of the green. He takes a slash at the half-visible ball and barely moves it. He's still in the thick stuff, shortsided, up a bank, with a bunker to clear. The ball hardly moves on take two. Oh dear. A big score coming up.
Brian Harman knocks his hybrid pin high at 2 and rolls in his first birdie of the day. He joins the group one off Tarren's lead at -3.
The rain that had been forecast, then not forecast, has arrived. This should in theory make the greens a wee bit more receptive, allowing for slightly better scoring in the afternoon. We'll see if anyone makes a break for it. Callum Tarren however can't get up and down from a greenside bunker at 6 and his lead is just the one again.
-4: Tarren (6)
-3: Hardy (F), Scheffler (F), Buckley (6), NeSmith (4*), McIlroy (2), Dahmen
Right, we're back, baby! So what have we missed? Callum Tarren extended his lead with birdie at the short par-four 5th. Jon Rahm and Collin Morikawa have picked up strokes at 12. Heyden Buckley and Matthew NeSmith birdied 4 and 13 respectively. But perhaps most impressively, Adam Hadwin finished with birdies at 8 and 9, a glorious end to an otherwise miserable day, and a denouement that turns a damaging round into a workable 72.
-5: Tarren (5)
-3: Hardy (F), Scheffler (F), Buckley (5), NeSmith (4*), McIlroy (1), Dahmen
-2: Burns (F), Fitzpatrick (F), Hadwin (F), Rodgers (4*), Lingmerth (3), Morikawa (3*), Rahm (3*), Harman (1), Wise
No closing birdie for Matt Fitzpatrick, but he finishes with a level-par 70 that initially promised more, then threatened a lot less. He goes into Moving Day at -2, just one off the current clubhouse lead and two off Callum Tarren's tournament lead. Bogey for Dustin Johnson at the last and he goes into the weekend at +1, as does Justin Rose after a scrappy 73.
A good point, then, to park this blog for a while, as your honest hack pops off to source some ice-cold water and other refreshments. Back at 7pm with updates of the early second-wave action!
-4: Tarren (3)
-3: Hardy (F), Scheffler (F), Lingmerth (1), McIlroy, Dahmen
-2: Burns (F), Fitzpatrick (F), Buckley (3), NeSmith (2*), Rodgers (2*), Harman, Wise

We've already had one surprise package making a break for it today in MJ Daffue. Now Callum Tarren hits the front with birdie at 3! He's -4. Meanwhile over on 9, Matt Fitzpatrick finds the centre of the green in regulation, and will have a look at birdie from about 30 feet.
Matt Fitzpatrick finds the centre of the par-five 8th with a booming drive and a long iron. Anything Brooks Koepka can do … well, not quite, because he can't make his eagle putt, but birdie takes him back to -2, and this has been a sturdy response to the three consecutive bogeys that took him down to level par.
Birdie at the last for Justin Thomas, who never really got going after an abysmal double bogey, bogey start. A disappointing 72 to go alongside yesterday's 69, but that finish will put the reigning PGA champion in a slightly better humour, and it's not as though he's miles off the pace at +1 overall.
It's extremely hard to dislike MJ Daffue, who remains in high spirits despite coming home in 40 strokes. When asked about his decision not to take a drop from the hospitality box at 14 and hit 3-wood off the carpet instead, the 33-year-old South African, playing in his first major championship, has just told Sky Sports with a smile and a twinkle in his eye: "We're here for entertainment, right? So I figured, why not entertain them a little bit?!"
Scottie Scheffler can't make his birdie putt on 18, but his par is enough for a 67. He joins Nick Hardy in the clubhouse lead. Meanwhile Darlington's Callum Tarren nearly opens his second round with a long birdie rake at 1, but a nerve-settling par will suffice.
-3: Hardy (F), Scheffler (F), Tarren (1), Lingmerth, McIlroy, Dahmen
-2: Burns (F), Buckley (1), NeSmith, Harman, Wise
-1: Daffue (F), Fitzpatrick (16*), Rodgers, Morikawa, Piot, Rahm, Scott, Homa, Zalatoris, Hossler
Some closing run by Thomas Pieters! Birdies at 13, 14, 15 and 17 whisk the Belgian, who had been skirting with the cutline, all the way up the standings to level par. A 68 to go alongside yesterday's 72.
Brooks Koepka pars the last and signs for a 67. That would have been better were it not for an overly aggressive lip-out at 15 that cost bogey. Anyway, it repairs the damage of yesterday's average 73, and the 2017 and 2018 winner goes into the weekend at level par for the tournament.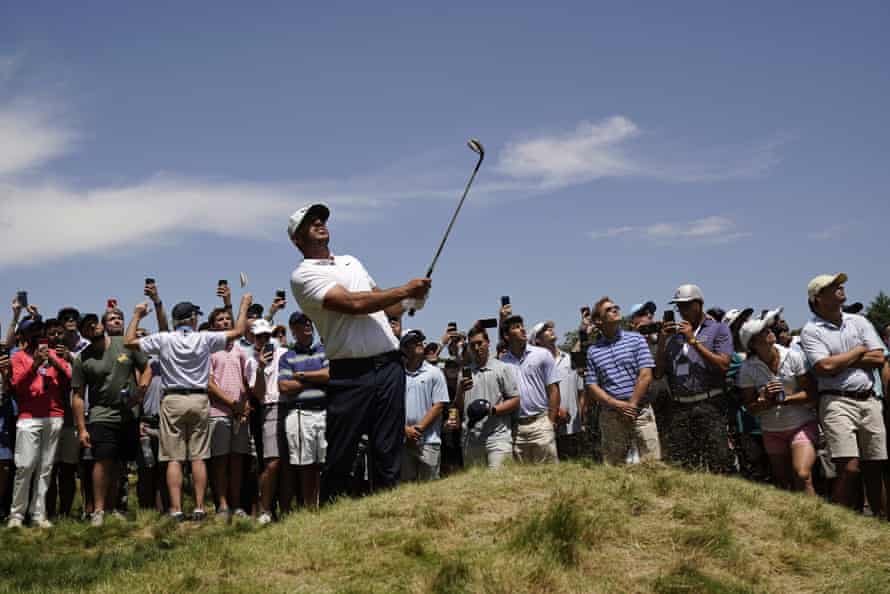 Scottie Scheffler flicked a switch on this back nine. Two birdies and a chip-in eagle, and he comes up the 18th in style. He splits the fairway, then sends his second to 12 feet, from where he'll have a look at birdie and the outright lead.
Par up the last for Sam Burns, and he signs for a superb 67. In these trickier conditions, that's a fine card, and it could have been a couple of shots better, too, had two lip-outs on the back nine dropped. He's -2, one behind the clubhouse and tournament lead.
The last we heard of Viktor Hovland, he was completing his first nine holes, the back nine, in level-par 35. But that was having bogeyed 17 and 18, and since then he's suffered a total capitulation. Bogeys at 1, 2, 3 and 4 made it six on the bounce, then another at 6. Having risen to -2 less than three hours ago, he's +5 now and as things stand, unlikely to make it to the weekend.
Phil Mickelson has endured a nightmare this week. A 78 yesterday on his 52nd birthday, followed by bogeys at 13, 14, 15 and 4 today. But they don't call him Phil the Thrill for nothing, and even at this low ebb, he's got a way of getting the gallery going. They whoop and cavort as he rolls in a long one for birdie at 5 … then an absolute monster at 6 for another! He's away home soon, at +10, but as always, he's left a little something to remember him by.
A good time to update the leaderboard, then … not least because Scottie Scheffler has joined the folk at the very top after easing his iron at 16 to ten feet and rolling in the rock. Birdie meanwhile for Sam Burns at 17, richly deserved given he had lip-outs for birdie on the previous two holes.
-3: Hardy (F), Scheffler (16), Tarren, Lingmerth, McIlroy, Dahmen
-2: Burns (17), Buckley, NeSmith, Harman, Wise
-1: Daffue (F), Fitzpatrick (15*), Reed (13), Rodgers, Morikawa, Piot, Rahm, Scott, Homa, Zalatoris, Hossler
Nick Hardy gets up and down from a greenside bunker at 9, and he adds a 68 to yesterday's 69. He's the early clubhouse leader at -3, with a share of the tournament lead, and there's a fair chance he won't be far off at the end of the day either, with conditions expected to get harder as the sun blazes down, baking the greens. No sign of the rain or storms we were earlier promised.
MJ Daffue can't make his bogey putt on 18, though his ball shaves the lip. A double to end with, and he's back in 40 strokes, having gone out on 32. He was inches away from reaching the heights of -7 at the 10th; he's finished the day at -1, signing for a rollercoaster 72. He'd have taken this position at the start of the week, but, well, y'know.
A sickening end to the round for MJ Daffue is unfolding. His drive finds thick fescue just above a bunker to the left of the fairway. With one foot in the sand, he can only send a power-free second into a bunker guarding the front of the green. He then blades one over the green and up a bank on the other side. He's short-sided in thick rough with a downhill lie. Oh, and he has to navigate a bunker. He tries to be a bit too cute with his fourth shot, and only just gets his ball onto the green. That wasn't far away from snagging in more rough. He'll have a putt from the fringe from 20 feet for bogey.
This is impressive from Matt Fitzpatrick. He's just carded three bogeys in a row. His tee shot at 5 finds greenside sand, from where he whips to three feet, tidying up for birdie. That's a big momentum shifter that takes him back up to -1.
Nick Hardy finds the fringe of the par-five 8th in two. A couple of putts later, the 26-year-old from Illinois, making his first serious impression at a major championship, finds himself in a share of the lead at -3.
One hell of a par scramble for MJ Daffue on 17! His drive finds sand down the left. He's not far off finding the green with his second, but the ball topples back off the false front … and into an old divot. That's awfully unfortunate. But he rolls a confident putt up the bank, six feet past the hole, and makes the one coming back. He deserved that. Meanwhile a third bogey in succession for Matt Fitzpatrick, this one the result of a three putt on 4, and he's back in the pack at level par, alongside the overnight leader Adam Hadwin, who ships his fourth bogey of the round at 2. Some big names on this leaderboard now!
-3: Daffue (17), Tarren, Lingmerth, McIlroy, Dahmen
-2: Hardy (16*), Scheffler (14), Buckley, NeSmith, Harman, Wise
-1: Burns (15), Koepka (14), Reed (11), Rodgers, Morikawa, Piot, Rahm, Scott, Homa, Zalatoris, Hossler
A couple of hours ago, the world number one Scottie Scheffler was chunking a chip on 5. Now he's bumping one in from the top of a bank, 50 yards out at the par-five 14th for eagle! You can't keep a good Masters champion down! All of a sudden, having been struggling to find something, he's one off the lead at -2! Sensational! He's going round with Brooks Koepka, and after whipping a long iron into the green to ten feet – this hole is 616 yards long – the two-time winner rolls in for an eagle of his own! He's suddenly -1, having picked up four strokes in the last four holes!
The now joint-leader MJ Daffue stops the rot with an up-and-down from a deep bunker to the side of the par-three 16th. He remains at -3. Meanwhile the 2018 Masters champion Patrick Reed spurns a good chance to join the group one shot behind Daffue & Co. He clips a lovely wedge at the short 11th to ten feet, but can't make the downhill right-to-left slider and remains at -1. Still, bereft of form for so long, Reed won't be at all unhappy with the way things are going here.
Justin Thomas looked to be piecing his challenge back together an hour ago. Birdie at 1 saw the PGA champ return to level par. But after one step forward, bogeys at 2 and 4 have sent him a couple back. He's +2, as yet unable to carry over the form that saw him come so close at last week's Canadian Open to Brookline.
Birdie at 13 for Scottie Scheffler, and despite not bringing his best stuff yet, the world number one finds him just three off the pace at level par. Nerve-settling pars meanwhile for Adam Hadwin at 18 and 1, and he consolidates his position at -1. For all his travails this morning, the 34-year-old Canadian is still right in the mix.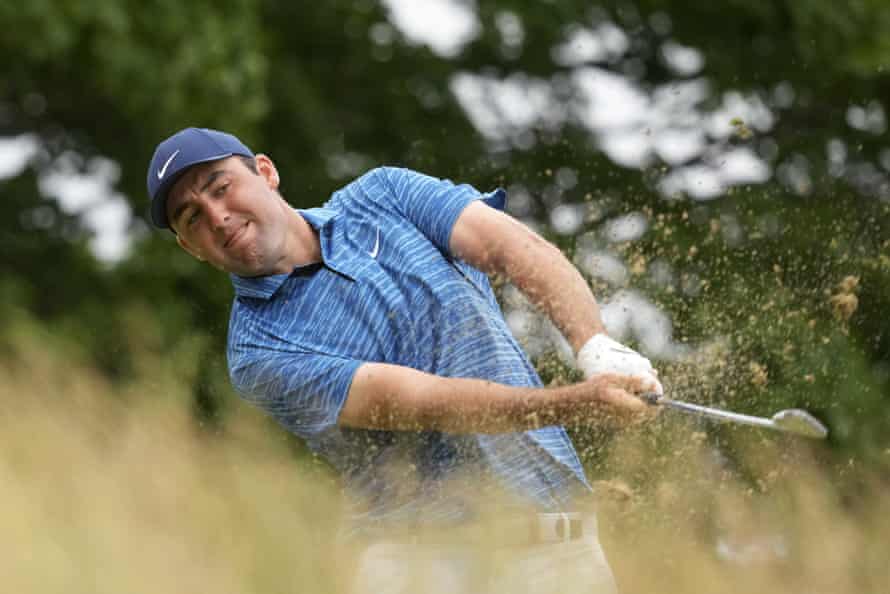 No we won't. But we do know that Fitzpatrick can only send his third from wherever to 25 feet. He can't make the saving putt, and that's back-to-back bogeys for the Englishman. He's -1. Daffue isn't able to salvage his par either on 15, and he reacquaints himself with the other folk he started the day alongside.
-3: Daffue (15), Tarren, Lingmerth, McIlroy, Dahmen
-2: Hardy (15*), Buckley, NeSmith, Harman, Wise
-1: Burns (13), Fitzpatrick (12*), Reed (9), Hadwin (9*), Rodgers, Morikawa, Piot, Rahm, Scott, Homa, Zalatoris, Hossler
MJ Daffue sends his sand shot high over the flag at 15, and 20 feet past the hole. He'll need to make that if he's to retain sole ownership of the lead. Meanwhile bother for Matt Fitzpatrick at 3. His drive disappears into the tall fescue down the right, and his hack out squirts left and into more deep fescue … or maybe a bunker if he's lucky. The camera doesn't reveal the outcome. We'll find out soon enough.
US Open golf 2022: second round – live! | US Open Source link US Open golf 2022: second round – live! | US Open