Australia & World
Russia-Ukraine war: Moscow gathers 'virtually all its forces' to storm settlements near Sievierodonetsk, says Ukraine – live | Ukraine
Russia 'orders troops to reach Luhansk borders by Sunday', says Ukraine
Ukraine's deputy defence minister, Hanna Maliar, said Russia has gathered almost all of its forces to storm the settlements near the embattled eastern city of Sievierodonetsk.

"Decisive" battles are taking place in the area of Sievierodonetsk with the Russian leadership aiming to reach the borders of the Luhansk region by the end of the week, Maliar was quoted by the Ukrainian News Agency as saying.
Maliar told reporters:
The Russian army has thrown virtually all its forces and means in order to storm the settlements around. They seek to break through the defences of our troops and are trying to encircle the grouping of our troops, which is carrying out the defence of Lysychansk and Sievierodonetsk.
Ukrainian troops are doing "everything possible" to hold its territory in order to prevent encirclement, she said, adding:
But we must understand that the enemy has an advantage in armament, so the situation is extremely difficult now, and at night and today, there is a maximum intensity of these decisive battles.
Reuters is reporting that the Russian foreign ministry will summon the European Union ambassador to Moscow, Markus Ederer, over the ban of the transit of goods by Lithuania through Kaliningrad.
Lithuania banned the transit of goods under EU sanctions through Lithuanian territory to and from the Russian exclave of Kaliningrad, which is sandwiched between Lithuania and Poland.
Anton Alikhanov, Kaliningrad's governor, appeared on Russian television on Monday to discuss the situation.
"This is, of course, a situation that can be resolved by diplomatic means," Alikhanov said. "As far as I know, tomorrow Marcus Ederer, the European Union ambassador to Russia, will be summoned to the foreign ministry … and he will be told of the appropriate conditions involved here."
There was no immediate official confirmation from the Russian foreign ministry about the summons.
Brittney Griner, the US basketball star who has been detained since February in Russia, tried to call her wife nearly a dozen times through the American embassy in Russia on the couple's fourth anniversary on Saturday, but they never connected since the phone line at the embassy was not staffed, the Associated Press is reporting.
The couple has not spoken by phone in the four months since Griner was arrested after Russian officials said they found vape cartridges containing hashish oil in luggage. Saturday's phone call was going to be the first time the couple could hear each other's voices again in months.
"This was such a big moment because this would have been the first time where I truly could tell if she's okay," Cherelle Griner told the Associated Press. "This would have been the first time for me to actually just hear her in real time and to truly know if she's okay or to know if she's seconds away from not being in existence anymore."
The call never happened. Today Cherelle Griner learned from her wife's lawyers that her wife had actually tried to call 11 times over a period of several hours, dialling a number she'd been given at the US embassy in Moscow, which the couple had been told would then patch the call through to Cherelle Griner in Phoenix.
But each time, the call went unanswered because apparently nobody worked the desk at the embassy where the phone rang on Saturdays – even though this call had been scheduled for two weeks in advance. Cherelle Griner spent the day anguished, wondering what went wrong and suspecting at least initially that Russian authorities had thwarted the call.
"I was distraught. I was hurt. I was done, fed up," Cherelle Griner said. She had gone to bed at 5pm that day so she could be awake and alert at midnight for the anticipated call.
The US state department said Monday that it was aware of the issue and was looking into it. Cherelle Griner said she had received an apology for the error, but the whole experience has left her with "zero trust" in the US government.
"I find it unacceptable and I have zero trust in our government right now," she said. "If I can't trust you to catch a Saturday call outside of business hours, how can I trust you to actually be negotiating on my wife's behalf to come home? Because that's a much bigger ask than to catch a Saturday call."
In that same interview with MSNBC, Kremlin spokesman Dmitry Peskov spoke about US basketball star Brittney Griner, who has been in custody in Russia for months.
Griner had arrived in Russia in February to promote basketball in the country. Russian officials said they found vape cartridges containing hashish oil in Griner's luggage, but her wife, Cherelle Griner, has said she is being held as a political pawn.
"Russia is not the sole country in the world to have quite strict laws in that sense…it is prosecuted by law. We can do nothing about that," Peskov told MSNBC.
He "strongly disagreed" with any notion that Griner was being held hostage.
"We cannot call her a hostage. Why should we call her a hostage?" he said. "She violated Russian law and now she is being prosecuted. It not about being a hostage."
Kremlin spokesman Dmitry Peskov told MSNBC that Alexander Drueke and Andy Tai Ngoc Huynh, two missing Americans volunteering to defend Ukraine against Russian invaders, were "soldiers of fortune" who were involved in "illegal activities". It was the Kremlin's first formal acknowledgement that the two US military veterans were being held and were under investigation.
"They are soldiers of fortune. They were involved in illegal activities on the territory of Ukraine. They were involved in firing at and shelling of our military personnel. They were endangering their lives," Peskov said. "They should be held responsible for those crimes that they have committed. Those crimes have to be investigated."
When pressed about what those crimes were, Peskov stood firm that Drueke and Huynh were not members of the Ukrainian army and therefore "not subject to the Geneva convention".
"The Geneva convention cannot be applied for soldiers of fortune," he said.
Iryna Vereshchuk, Ukraine's deputy prime minister, held a briefing today in which she urged residents to leave the occupied Kherson oblast ahead of the counteroffensive and spoke of how more than half – 165 out of 350 – of the humanitarian corridors to evacuate civilians have failed to open due to violations by Russia.
She touched on an especially chilling piece of data: since the start of the Russian invasion, Russia has deported 1.2m Ukrainian citizens to Russian territory. Of those 1.2m people, 240,000 were children.
More than 1,500 are being held in Russian prisons, Vereshchuk said.
An update on casualties:
Charles Michel recommends EU candidate status for Ukraine and Moldova
Charles Michel, president of the European Council, is calling for the European Union to grant candidate status to Ukraine and Moldova.
As expected, Michel stopped short of recommending candidate status for Georgia, another former Soviet state seeking acceptance into the EU.
Next week, EU leaders will decide whether to grant these three states EU candidate status, although full membership will likely take years.
"I believe it's time to recognise the European perspective of Ukraine, Moldova and Georgia," Michel said in a video address posted to Twitter. "The future of these countries and their people lies within the EU. More specifically, my intention is that we decide to grant candidate status to Ukraine and Moldova."
Joining the EU could take years, but receiving candidate status alone would be a historic step for Ukraine, where reformers have been seeking democratic change since the Maidan protests of 2014, events that were the prelude to Russia's annexation of Crimea.
Ursula von der Leyen, president of the European Commission, had previously stated that Ukraine had made major strides in the past eight years, including creating a market economy and an independent judiciary and tackling corruption. However, she said, more needed to be done to allow Ukraine to progress in membership talks.
Actor and director Ben Stiller, a United Nations High Commissioner for Refugees Goodwill Ambassador, was in Ukraine today – World Refugee Day – to discuss the needs of Ukrainian refugees.
At least 7.7m people have fled Ukraine since Russian forces invaded on 24 February, according to UNHCR.
Kharkiv was struck hard over the past 24 hours by Russian missiles. According to Oleh Synyehubov, the governor of Kharkiv, nine civilians were injured, including three children.
Here's a look at the damages: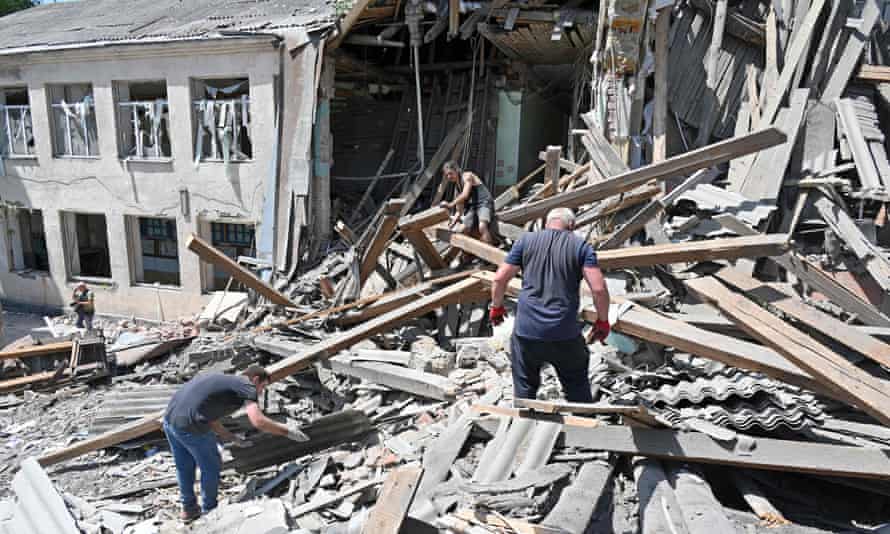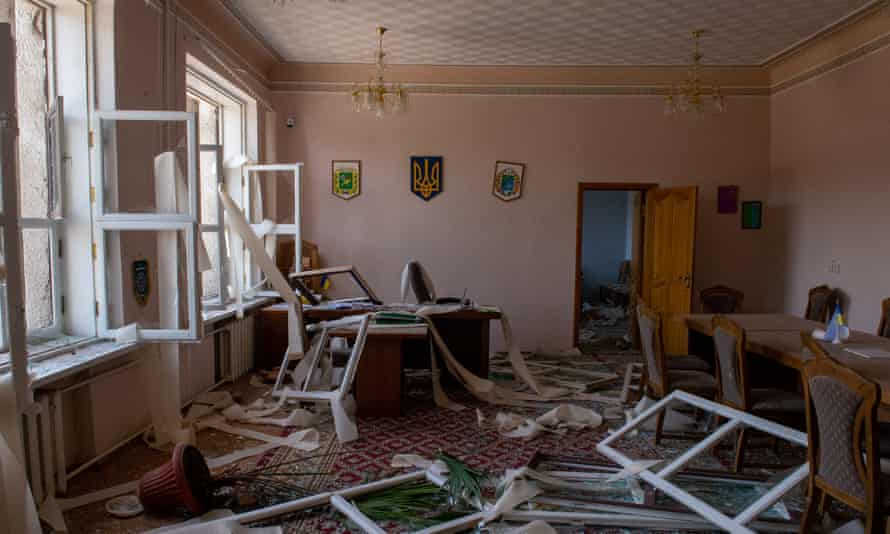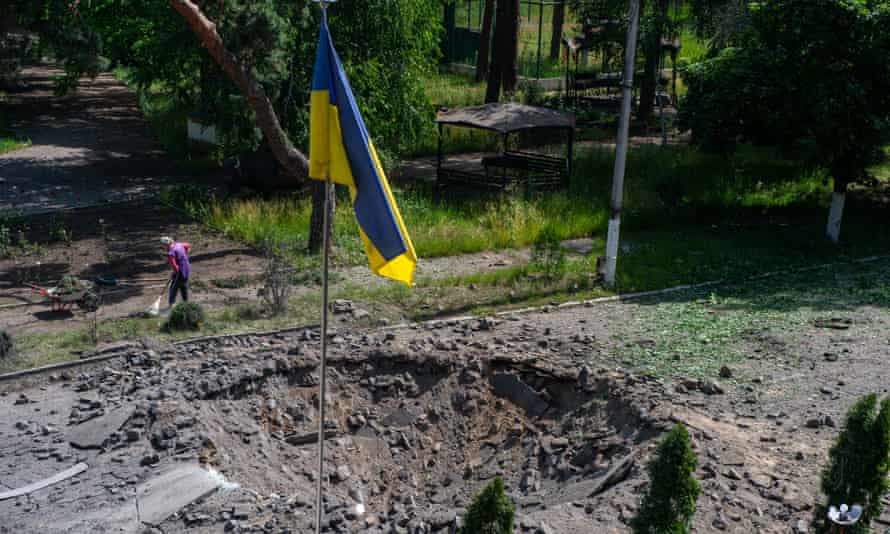 Kremlin: Americans captured in Ukraine should bear responsibility 'for crimes'
The Kremlin on Monday said any Americans captured in Ukraine were "mercenaries" who should take responsibility for their "crimes", Reuters is reporting.
As of today, the US state department was investigating the possible capture of Alexander Drueke and Andy Tai Ngoc Huynh, two missing Americans volunteering to defend Ukraine against Russian invaders. Last week, a photograph surfaced showing the two veterans in the back of a military truck with their hands tied behind them.
The RIA news agency quoted Kremlin spokesman Dmitry Peskov as saying that the detained men were not covered by the Geneva convention, as they were not regular troops.
Last week, the family of the former Marine Corps officer Grady Kurpasi disclosed that he had been missing in the Kherson area since late April. It is unclear if the state department is investigating whether Kurpasi was captured as well.
So far in the conflict, one US citizen has been killed fighting as a volunteer.
It's 9pm in Kyiv. Here's where we stand:
That's it from me, Léonie Chao-Fong, today. I'll be back tomorrow. Vivian Ho will be here shortly to continue to bring you all the latest developments from the war in Ukraine. Thank you.
Turkey said it does not consider next week's Nato summit as a final deadline for resolving its objections to Finland and Sweden joining the military alliance.
Finland and Sweden formally submitted their Nato membership bids last month but have faced opposition from Turkey, which has accused Helsinki and Stockholm of supporting Kurdish militants.
Turkish presidential spokesperson, Ibrahim Kalin, said discussions between Ankara, Stockholm and Helsinki will continue following a round of talks in Brussels on the issue.
Nato leaders had hoped the Brussels talks would pave the way for the Nordic states' formal approval to join the bloc at the Madrid summit. However, Kalin reported no breakthrough at the talks.
Kalin told reporters:
The Madrid Nato summit is not the deadline, so our negotiations will continue.

The existence of terrorist organisations must end in those countries. That is what we expect both from Finland and Sweden.
He said Ankara was expecting Sweden, especially, to take immediate steps regarding actions by the Kurdistan Workers Party (PKK) militant group in its country.
Any progress on the Nordic membership bids "now depends on the direction and speed at which these countries will take steps", Kalin added.
Nato's secretary general, Jens Stoltenberg, described the meeting as "constructive" while conceding that Turkey's "legitimate" concerns had still not been fully addressed.
Stoltenberg said:
Turkey has legitimate security concerns over terrorism that we need to address. So we will continue our talks on Finland and Sweden's applications for Nato membership, and I look forward to finding a way forward as soon as possible.


Russia-Ukraine war: Moscow gathers 'virtually all its forces' to storm settlements near Sievierodonetsk, says Ukraine – live | Ukraine Source link Russia-Ukraine war: Moscow gathers 'virtually all its forces' to storm settlements near Sievierodonetsk, says Ukraine – live | Ukraine