Australia & World
England v India: fifth Test, day one – live! | England v India 2021
"One of my fave stats," says Stuart Silvers, who started this thread. "The gap between Bicknell's second and third Test caps spanned the whole of Darren Gough's Test career." Ha, yes, spot-on – a whole decade from 1993 to 2003. So it also spanned all the years when Oasis were any good, with some to spare.
"Most omitted great," says Ben Mimmack. "Matt Le Tissier – did I do this right?"
"To all those who say that the English have no sense of humour," chuckles V Kishnamoorthy, "they invented a game that needs five continuous days of sunshine." You mean you're not a fan of heavy cloud cover?
"Most omitted greats," says Stuart Silvers, briskly. "Angus Fraser, Robin Smith, Ben Foakes, Stuart Law, Darren Lehmann, Shoaib Mohammad, Vinod Kambli, Harold Larwood. And top of the list by miles, Sydney Barnes." Intriguing line-up! I know what you mean about The Judge, but are we really going to let in players who got 62 Tests?
The rain has stopped and, all being well, play will resume at 2.15pm, in just over a quarter of an hour. Tea will be at 4.15 and there will be an extended last session with the close at 7pm.
"Good to see that India are paying their own tribute to Bob Willis," says Jezz Nash, "by having a fast bowling number 11 as captain for this Test." Ha. "Hope the weather improves for Blue for Bob, tomorrow."
"I'm watching this," says William Milner, "at a sports bar in sunny Rhodes in the heat and loving every minute. Chardonnay in the bucket.
"I played for Warwickshire boys with Neil Smith (son of MJK) back in the 80s and remember Bob Willis jogging round the colts' ground even back then. We were 13 and he was big with even bigger hair." Nice.
"I recently saw a post highlighting how I could listen in to TMS overseas. Could you please repost?" OK, as it's raining.
"Btw is Kumar [Sangakkara] possibly the greatest 'cricket man' of our times? Please get him on our coaching staff somehow… or better still head of MCC." Yes, one of the great cricket people – but he has already been MCC president.
Sanga was the first in a chain of mildly revolutionary appointments. He handed the baton to Clare Connor, the first woman to do the job in 233 years. And she in turn has appointed Stephen Fry, probably the first MCC president who is openly gay, and definitely the first to be openly supporting Extinction Rebellion. If only Jim Swanton were here to see it.
No action till 2pm at least
Sure enough, that inspection was on the optimistic side. There will be another one at 1.45, so the earliest the players will get back out there is 2.
"Thanks for the coverage," says Tom Wein. "With Ashwin in the yellow vest again, can we build a team of most-omitted greats? Alongside Ashwin, perhaps Bob Taylor and Stuart MacGill? Who else would OBOers pick?"
Great question. To go with that nicely balanced spin attack, here's a seamer for you: Martin Bicknell.
It's still raining, so Jimmy Anderson can have some cheese and crackers. The rain may be easing off: if so, there will be an inspection in ten minutes' time, but that looks a touch optimistic
It never stops, does it? After those T20s, there are three ODIs, also against India (12-17 July). Brook is in this squad too, but he may not get a game as there are recalls for two more senior Yorkies: Jonny Bairstow, presumably resuming his opening partnership with Jason Roy, and Joe Root, displacing Dawid Malan as the designated driver of the party bus. And who's this sneaking in as the allrounder? It's Ben Stokes! Gleeson drops out, Carse continues and Overton (C) comes back, so there are two specialist right-arm seamers and just the three lefties.
Full squad Jason Roy, Jonny Bairstow, Phil Salt, Joe Root, Jos Buttler (capt, wkt), Harry Brook, Liam Livingstone, Ben Stokes, Moeen Ali, Sam Curran, David Willey, Craig Overton, Bryson Carse, Reece Topley, Matt Parkinson.
Jos Buttler, exuding calm as usual, is giving an interview in his capacity as England's new white-ball captain. Asked what he feels about the Test team doing so well, he says "I'm enjoying watching as a fan… To be honest, I wasn't worth my place in the side."
His first squad has just been announced, as this Test is to be followed by three T20s against India on 7-10 July. Harry Brook, who's been batting like Bradman for Yorkshire, gets the call, and so does Richard Gleeson, the Northants seamer, who takes the Brydon Carse role as the token right-armer. With Adil Rashid taking a break for the Hajj, Matt Parkinson gets a good opportunity.
Full squad Jason Roy, Phil Salt, Dawid Malan, Jos Buttler (capt, wkt), Harry Brook, Liam Livingstone, Moeen Ali, Sam Curran, David Willey, Chris Jordan, Tymal Mills, Richard Gleeson, Reece Topley, Matt Parkinson.
Atherton was spot-on, lunch is being taken. England had slightly the better of the morning as Anderson (8-2-15-2) produced two moments of magic, but it could have been even better for them if Zak Crawley had taken all three of his chances. Do join us in half an hour.
One thing in the meantime. This Test is another fund-raiser for the Bob Willis Fund, which supports the fight against prostate cancer. It also celebrates a man who was a great cricket character twice over, first as a wild-eyed, shock-haired fast bowler, then as a grumpy old pundit. Edgbaston will be going Blue For Bob on Saturday. Do go here if you feel a donation coming on.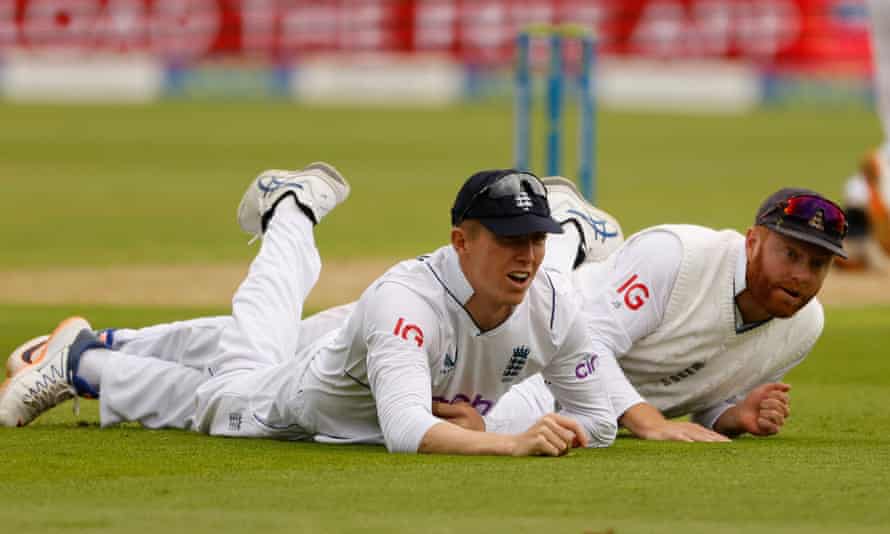 "Aaaaaaand it's raining," says Shiladitya Pandit. "Of course it is. How is this a summer? Was it ordered off Wish?"
20.1 overs: India 53-2 (Vihari 14, Kohli 1) One more ball from Potts, and then the heavens open and the hover-cover comes on. The gods are overruling Stokes and giving Anderson a breather. Mike Atherton predicts an early lunch.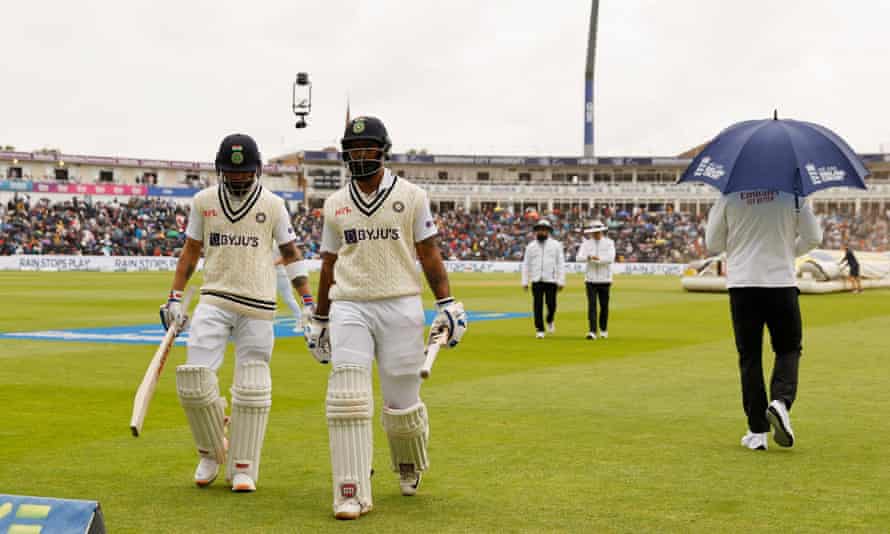 20th over: India 53-2 (Vihari 14, Kohli 1) So, Anderson to Kohli. Easy leave. Uneasy leave – a big nip-backer. Easy leave. Easy leave. Uneasy prod. Easy prod, for a single. Proper cricket.
19th over: India 52-2 (Vihari 14, Kohli 0) Some of the credit for the wicket goes to Potts, for keeping the pressure on with four overs for five runs. He finally concedes a boundary now as Vihari leg-glances and Leach, honest as ever, indicates that he was touching the Toblerone when he flicked the ball back. That brings up the Indian fifty. Vihari, seeing the chance to ruin Potts's figures, adds a clip for two.
18th over: India 46-2 (Vihari 8, Kohli 0) Full credit to Stokes: bringing Anderson back (from the other end) has paid off. And now he can resume his epic battle with Virat Kohli, though perhaps only for a couple of overs.
Wicket! Pujara c Crawley b Anderson 13 (India 46-2)
Got him this time! Lovely bowling from Anderson, and all Crawley had to do was bring his hands together in front of his navel. Advantage England.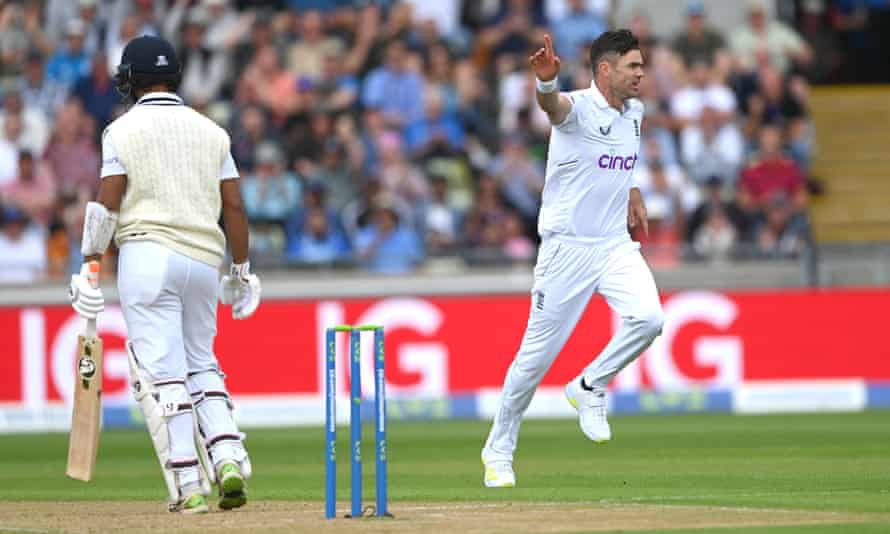 17th over: India 45-1 (Pujara 13, Vihari 7) Potts hardly puts a foot wrong – until he does, bowling a big no-ball, the first of his Test career. Pulling himself together, he beats Vihari with a beauty. And then has him dropped by Crawley at second slip – a tough one, low to his right, but he did get there. It went in, and it popped out.
Joe Root, generously, signals that it wobbled. "That's the 11th catch," says Ian Ward, "that England have put down in Tests this summer behind the stumps."
16th over: India 43-1 (Pujara 13, Vihari 6) Broad gets his break now, but Sergeant-Major Stokes doesn't turn to Leach, or himself… He goes back to Anderson! Is he trying to make them retire? Anderson responds manfully, if it's still OK to say that, with a maiden to Pujara.
Thanks to those readers who have pointed out the slight lack of a scoreboard, now rectified by my colleague Niall McVeigh. And thanks too to Ed Broome for the TMS link.
15th over: India 43-1 (Pujara 13, Vihari 6) Potts, again, is right on the money, luring Vihari into a nick – but it just dribbles through to Joe Root at first slip. The early signs are that this pitch is too slow, which won't be music to the ears of India's four seamers.
14th over: India 43-1 (Pujara 13, Vihari 6) The last England regime believed in resting elderly seamers. Ben Stokes seems quite happy to wear them out – his administration is half holiday camp, half boot camp. So it's still Broad, and he's still not getting any joy. As his pace sags to 79-80mph, Pujara has plenty of time to cut for four. But then the old boy strikes back, seaming the ball in and drawing a raised finger from the umpire. Pujara reviews straight away and he's right: you can see from the first replay that the ball just flicked his trousers.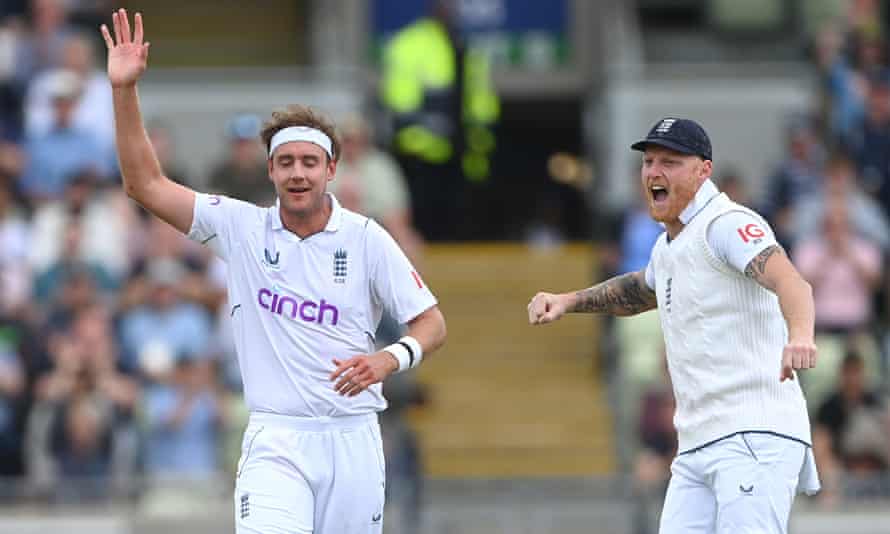 13th over: India 38-1 (Pujara 9, Vihari 5) Potts keeps the batters quiet, as he did throughout in the last Test. He's a senior player already. And that's drinks, with India winning the first half-hour, England the second, but India maybe marginally the happier camp, as they haven't crumbled after being put in.
"Is there an overseas TMS link?" asks Gill Partington. "Desperately trying to follow from Germany!" I suspect the hive mind will sort it for you.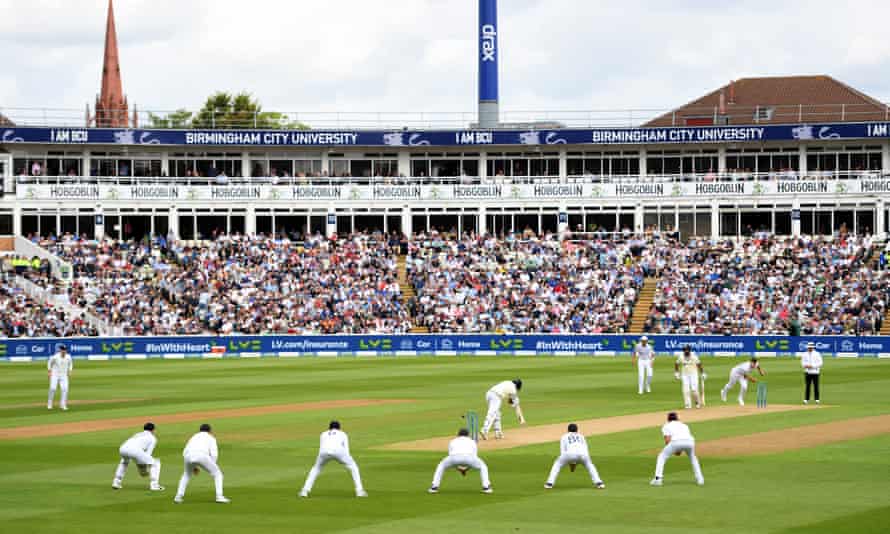 12th over: India 36-1 (Pujara 8, Vihari 5) Pujara flirts with danger by watching the ball as Vihari calls for a quick single. Anderson swoops at mid-on and Pujara would be out if the shy had hit the stumps at the non-striker's end – or, perhaps, if Billings had been a bit quicker to get there. Broad, with figures of 6-1-16-0 after a wicketless second innings at Headingley, is due a breather. Another early go for Leach?
11th over: India 34-1 (Pujara 7, Vihari 4) Stokes makes his first bowling change, replacing Anderson with Matthew Potts. "He's built from the ground up," as Mark Butcher says, quoting Mike Selvey. Potts doesn't have four slips like the old firm: he has five. Vihari makes use of the gap this leaves in the covers to push for two. Potts beats Pujara, but the ball only just gets through to Billings. The pitch is as pale as an oatcake and "very woolly", Mike Atherton said earlier.
Here's Kim Thonger. "Reading the interview with Jimmy about Stokes instilling spirit previously never seen, and unimaginable calm in the dressing room during run chases, it does sound as though the new captain has been watching and channelling the very wonderful Ted Lasso. But I predict he will need to also absorb and deploy the methodologies of Tony Soprano and Logan Roy before his tenure comes to an end."
10th over: India 31-1 (Pujara 7, Vihari 2) This time there's no early single, so Broad has a decent go at Pujara. There's a near-miss as the nip-backer goes big and Pujara's leave is either beautifully judged or a fluke. Broad has fun pulling his ooh-that-was-close face, and picks up his first maiden of the day.
"In what is India's eighth [Test] appearance at Edgbaston," says Zain Malik, "it is remarkable to note that Bumrah will be the eighth captain to lead the Indians. From Pataudi, Kapil Dev to the likes of MS [Dhoni] and Virat, none have been able to lift the curse of Birmingham."
9th over: India 31-1 (Pujara 7, Vihari 2) Pujara is picking up singles, which is fine by England as it means he's not seeing much of the strike. Anderson sets Vihari a small exam, which he passes, without flying colours.
"Just trying to recall," says Pet Salmon, "didn't India leave Ashwin out for all of the other Tests in this series a year ago. Making this the second time they've dragged him out here to carry the drinks?" Ha, yes, that's right, though he did get a Test last year against New Zealand.
8th over: India 30-1 (Pujara 6, Vihari 2) Now it's Broad's turn to beat the bat as a lifter, moving away, proves far too good for Vihari to get an edge. And the same again! The first half-hour is now a distant memory. Broad and Anderson are creatures of habit, grooved over the years. They believe the day starts at 11am.
7th over: India 29-1 (Pujara 5, Vihari 2) So one of the danger men has gone, and the reply shows that he could easily have left the ball: that's the difference it makes, not having Rohit and Rahul.
Anderson, buoyed by that freebie, greets Hanuma Vihari with two nip-backers. One is too high, the other gets an inside edge. The first brings an appeal and a lovely shot of the cordon (four slips, no gully) all going up. This England are more expressive than any previous edition that comes to mind.
Vihari manages a square drive to get off the mark, squirted away for two, but then Anderson beats him with a jaffa. Game on!
Wicket! Gill c Crawley b Anderson 17 (India 27-1)
Correction! India are not winning now. Anderson gets the length just right, putting Gill in two minds. His feet go nowhere, his bat goes half-cock, and Zak Crawley takes a comfy catch at second slip.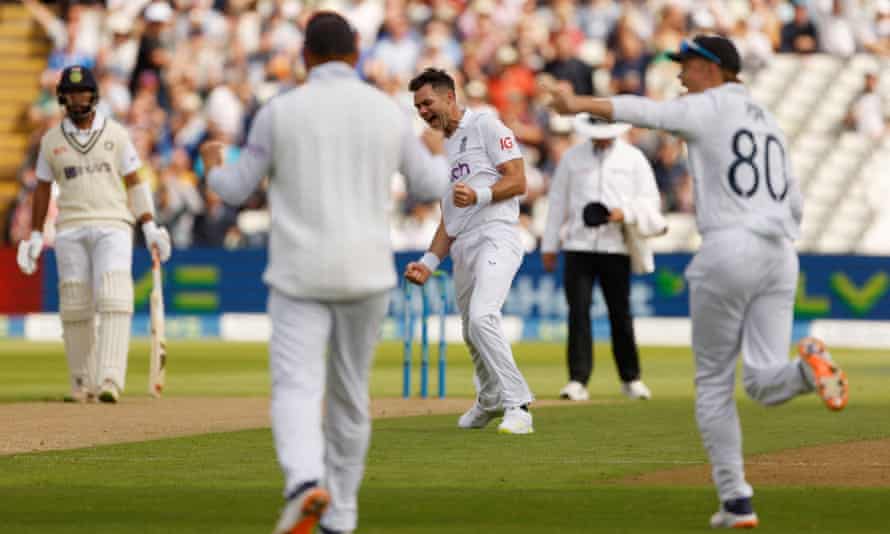 6th over: India 26-0 (Gill 17, Pujara 4) Maybe Broad won't be so thrifty after all. Gill, facing him for the first time, tucks in straight away. An imperious pull is followed by a wily dab, both for four. India are winning so far.
5th over: India 18-0 (Gill 9, Pujara 4) Anderson continues. "I see your off-push," Gill says to Pujara, "and I raise you an off-drive." It's a beauty too, the shot of the morning.
"I'm a bit confused," says Jazz, "by the decision to retain Broad and drop the snarl of Jamie Overton. This is now Big Stu's fourth consecutive Test after his hiatus and [he] looked much less threatening in Leeds. That's also forgetting Joverton's last innings yielded 97." Yes, it's certainly debatable. Broad is seldom threatening in both innings these days, but he's less likely to be expensive, so perhaps this is a rare case of Stokes taking the defensive option.
4th over: India 13-0 (Gill 4, Pujara 4) Pujara gets off the mark in style, pushing Broad past mid-off with the greatest of ease. He also picks up two leg-byes when, as Broad notes, he was surely not playing a shot.
"As we all know," says Alex Hankey, "India is cricket-mad. As an Englishman living and working in Pune, I am often asked where I come from, my 'Native Place'. If 'England' gains lack of response, 'Joe Root' commands instant recognition. I can see that I shall now have to change that to 'Ben Stokes'! Best wishes, and many thanks for all your efforts." Pleasure! I'm old enough to remember when the magic words were "Bobby Charlton".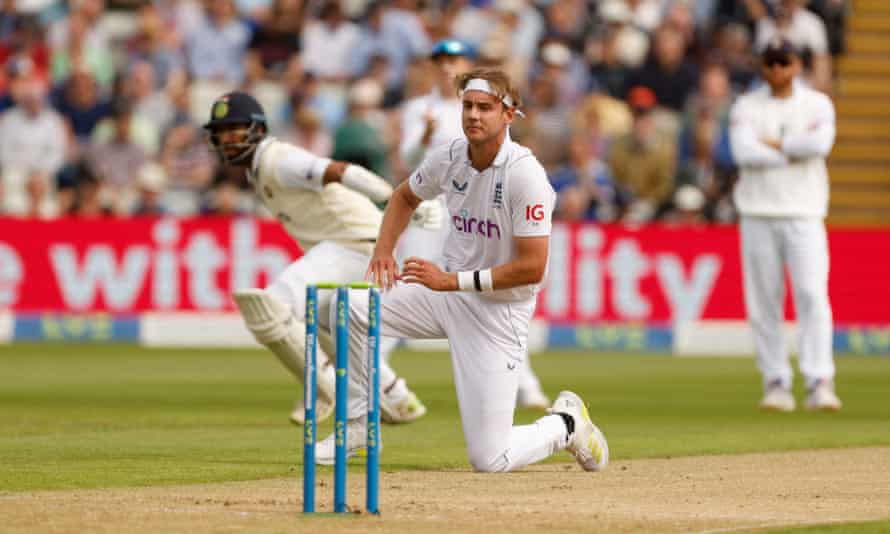 3rd over: India 7-0 (Gill 4, Pujara 0) Anderson adjusts his line, making Gill play, but the consequence is only a controlled edge, dropping well short of the cordon, and a couple of leg-byes.
2nd over: India 5-0 (Gill 4, Pujara 0) The other opening bowler is … Stuart Broad. I wonder if Stokes was tempted to go with Matthew Potts, as (a) he's the devil the Indians don't know and (b) it would really get Broad going. But Broad it is, and he opens with a no-ball before joining the dots as Cheteshwar Pujara just looks to survive and Broad, like his old mate, strays too wide. It was a mild surprise to see Pujara pushed up to open, but a Sky caption shows that he's actually better there than at No 3: eight innings, average 98.
1st over: India 4-0 (Gill 4, Pujara 0) Anderson's first ball dribbles through to Sam Billings. By mid-over he's found some carry, but he's wide of off and Shubman Gill, taking his cue from Rohit and Rahul last summer, gets in some good solid leaves. The fifth ball is the inswinger, hitting him high on the pad; so is the sixth, but it's fuller and Gill clips it for an effortless four.
The anthems ring out, giving us the chance to read some body language. The Indians stand proud, strong and apart from each other, hinting at independence. England lock arms, emphasising togetherness.
Anderson waves an arm, wanting something. He's got something now: the new ball.
The first email of the day comes from Texas. "Howdy!" says Jay P. "D'yuh think India will be quaking in their boots apropos England's steamrolling of NZ, the current World Test champions?"
No. But my guess, probably no better than yours, is that they'll be wary. It's one more thing for Bumrah to think about, on top of a hundred others.
Jasprit Bumrah goes with a battery of four seamers, so there's no room for Ravichandran Ashwin. In a perfect world, the ECB would stage a single-wicket contest at lunchtime between him and Jos Buttler. Formidable as those seamers are, you wonder whether India have noticed that this year's Dukes ball isn't moving much and Jack Leach has just taken a ten-for. Maybe they've decided that anything Leach can do, Ravi Jadeja can do better.
1 Shubman Gill, 2 Cheteshwar Pujara, 3 Hanuma Vihari, 4 Virat Kohli, 5 Shreyas Iyer, 6 Rishabh Pant (wkt), 7 Ravindra Jadeja, 8 Shardul Thakur, 9 Mohammed Shami, 10 Mohammed Siraj, 11 Jasprit Bumrah (capt).
England team: as advertised
Stokes likes to announce his team the day before, so no surprises here. Jimmy Anderson returns, Jamie Overton drops out and Sam Billings gets a proper start rather than a last-minute dash. The big question is whether Stuart Broad will have recovered from his extra-long shift at Headingley.
1 Alex Lees, 2 Zak Crawley, 3 Ollie Pope, 4 Joe Root, 5 Jonny Bairstow, 6 Ben Stokes (capt), 7 Sam Billings (wkt), 8 Stuart Broad, 9 Matthew Potts, 10 Jack Leach, 11 Jimmy Anderson.
Toss: England choose to chase
Ben Stokes wins the toss and puts India in to bat. The thrill of the chase! This isn't Bazball, it's Morgsball.
Morning everyone and welcome to a contest that is crying out to be a the answer to a quiz question. Albeit one that takes a bit of careful wording. Which Test-series decider took place in a different season from the series it was deciding? With different captains and coaches on both sides?
It's a bit like the bacon-and-egg ice cream that Heston Blumenthal once came up with: weird but mouthwatering. We've seen Joe Root and Virat Kohli going out to the toss often enough. It's time for Ben Stokes and … Jasprit Bumrah!
Rohit Sharma, India's new Test captain, has sadly gone down with Covid, which is bad news for connoisseurs of old-school Test opening but intriguing news for students of sporting strategy. Stokes captains just the way he plays, a man on a mission to make things happen. If Bumrah turns out to be that sort of captain too, this Test could be over by tomorrow night.
For Stokes, it is his first game in this series. For England, it is almost certainly the first time they have ever had back-to-back Tests against different opponents. It could have been a nightmare, but after acing all those chases against New Zealand they have the momentum.
They also have home advantage: the game is at Edgbaston, where they have beaten India in six Tests out of seven (and never lost to them). Hell, England even have a settled squad, albeit because Stokes and Brendon McCullum are bending over backwards to show faith in their opening batters, Alex Lees and Zak Crawley.
The Indians could be caught cold, as they were last summer, when they were beaten to the World Test Championship by New Zealand. But they have the lead in the series (2-1) and most of the superstars on the scorecard: the resurgent Cheteshwar Pujara, the buccaneering Rishabh Pant, the wily Ravi Ashwin, the tireless Mohammed Shami, the stump-smashing Bumrah and the wounded Kohli, who surely has a big score in his back pocket. On this ground, three years ago, he made a masterly 149 and 51 and still ended up on the losing side because of the will to win shown by England's allrounders, Stokes and Sam Curran.
If today's captains are birds of a feather, the coaches are a study in contrasts. Brendon McCullum treats a day at the Test like a trip to a funfair. Rahul David sees it more as a day in the library – a time for diligence and sobriety, with fun as an occasional bonus. It's a clash of cultures that could make for a cracker.
Play is due to start early throughout the match – at 10.30am UK time, 3pm in India. I'll be back 25 minutes before that with news of the toss. Will any captain fancy batting first against Stokes's England? We shall see.
England v India: fifth Test, day one – live! | England v India 2021 Source link England v India: fifth Test, day one – live! | England v India 2021