Australia & World
Democrats lose Senate vote to codify abortion rights 49-51 – live | US politics
Senate blocks abortion rights law
Senators have voted 51-49 to reject Democrat-sponsored legislation enshrining abortion rights into federal law.
The defeat of the Women's Health Protection Act, introduced after a leaked supreme court draft ruling last week jeopardized almost half a century of constitutional abortion protections, was expected.
The West Virginia Democrat Joe Manchin announced this morning he would join Republicans in voting against the measure, leaving it no chance of achieving a majority. The backing of at least 60 senators would have been needed for it to pass.
But Democratic senate majority leader Chuck Schumer insisted on pressing ahead with the doomed vote in order to put Republican senators on record.
Polls have shown that an overwhelming majority of voters don't want to see the supreme court overturn the 1973 Roe v Wade ruling that protected abortion rights, and Democrats see the issue as a vote-winner ahead of November's crucial midterm elections.
In comments before the symbolic vote, Schumer said:
Every American will see how they voted. And I believe the Republican party, the Maga Republican party, will suffer the consequences electorally when the American people see that.
Senators begin voting on abortion rights legislation
Vice-President Kamala Harris has called the vote on the Women's Health Protection Act and senators have begun voting. 60 Senate votes are needed for it to pass.
Alaska Republican Lisa Murkowski has issued a statement insisting that "I strongly support women's reproductive freedoms, including the right to abortion".
But she says she also "believes in limited government" and won't be voting for the Women's Health Protection Act in the imminent US Senate vote.
Murkowski's statement follows an earlier joint release with Maine Republican Susan Collins, in which they promoted their own reproductive rights act as an alternative.
In her new statement, Murkowski says:
The legislation before the Senate today goes well beyond the precedent established in Roe and Casey. It does not include the Hyde amendment, which prohibits taxpayer dollars from being spent on abortions – and has been the law almost as long as Roe.

It does not include conscience protections for healthcare providers that refuse to perform abortions based on religious beliefs. It explicitly overrides the religious freedom restoration act for the first time. It also allows late-term abortions without any notable restrictions.

Instead of taking yet another failed vote on a wholly partisan measure, I urge Democrats and Republicans alike to recognize that what Senator Collins and I have offered is in line with the views of a strong majority of Americans who support a woman's right to choose but believe that legal abortion should include reasonable limitations.
The Senate is edging ever closer to the abortion rights vote. Members are currently finishing a vote on confirming Joe Biden's pick Alvaro Bedoya to the federal trade commission, and will turn their attention to the Women's Health Protection Act next, according to C-Span.
Biden hails farmers as 'backbone of freedom'
Joe Biden has just wrapped up an address to agricultural workers in Kankakee, Illinois, in which he promised support for farmers and new measures to make food prices more affordable.
The president hailed farmers as "the backbone of the country" and "the backbone of freedom" as he blamed soaring inflation and high prices on Russian president Vladimir Putin's invasion of Ukraine:
You feed America. You got us through a pandemic and you're literally the backbone of our country. But you're also feeding the world. And we're seeing Putin's war in Ukraine, you're like the backbone of freedom.

America's fighting on two fronts. At home, inflation and rising prices. Abroad, it's helping Ukrainians defend democracy, and feeding those who are left hungry around the world because Russian atrocities exist.

American farmers understand Putin's war has has has cut off critical sources of food.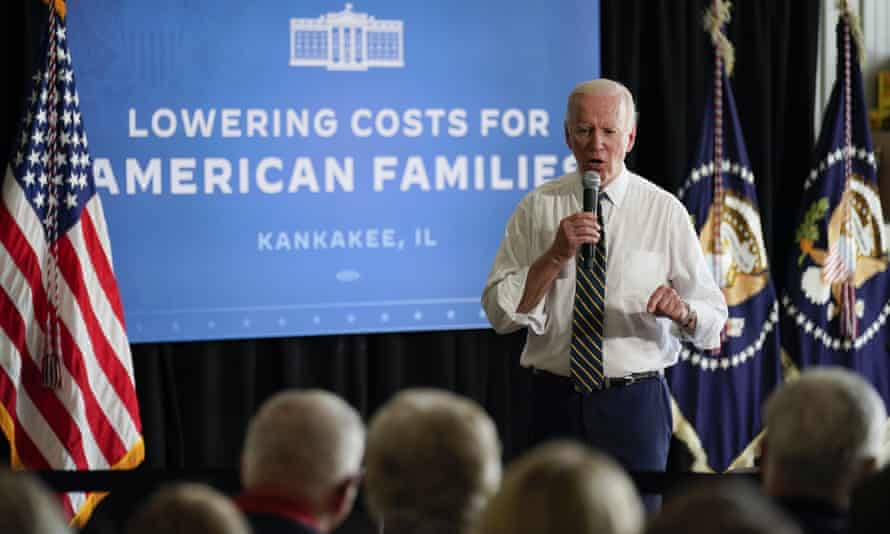 On Tuesday, at the White House, Biden insisted that tackling inflation was "my top priority". Despite a small lift this morning with news that inflation had slowed for the first time since August, it remains at a near 40-year high and is likely to remain uppermost on voters' minds as November's midterm elections approach.
Biden laid out measures he was taking to "lower costs on farmers", including doubling an investment in fertilizer production to $500m, and looking at extending crop insurance protection "to give financial security to farmers".
By protecting farmers, Biden said, food prices could stabilize and fall.
"Every little bit matters," he said as he went back over previous initiatives to tackle high prices, including issuing a summer waiver for ethanol-rich fuel which he said would reduce gas prices.
The AAA, however, was reporting on Wednesday a new record high national average for a gallon of unleaded gasoline at $4.40.
The White House released a fact sheet setting out Biden's proposals to "make food more affordable, and lower costs for farmers".
Lethal injection ends Arizona's death penalty hiatus
Arizona ended an eight-year hiatus on executions Wednesday when it put to death a man convicted of killing a college student in 1978.
The state halted the death penalty in 2014 following an execution critics say was botched, and difficulties in finding lethal injection drugs, Reuters reported.
Clarence Dixon, 66, died by lethal injection at the state prison in Florence for his murder conviction in the killing of 21-year-old Arizona state university student Deana Bowdoin, making him the sixth person to be executed in the US in 2022.
Dixon's death was announced late Wednesday morning by Frank Strada, a deputy director with Arizona department of corrections.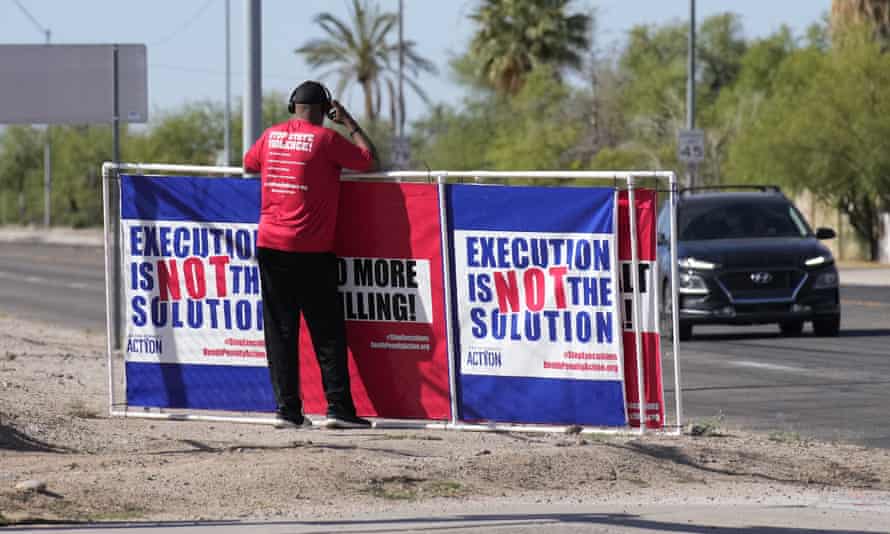 Dixon's death appeared to go smoothly, said Troy Hayden, an anchor for the Fox10 TV news program who witnessed the execution.
"Once the drugs started flowing, he went to sleep almost immediately," Hayden said.
Dixon's lawyers asked to postpone his execution, but judges rejected his argument that he wasn't mentally fit to be executed and didn't have a rational understanding of why the state wanted to execute him.
The US supreme court rejected a last-minute delay of Dixon's execution less than an hour before the execution began.
In another Arizona death penalty case, the Guardian's Ed Pilkington reported last week that Frank Atwood, convicted for murdering an eight-year-old girl, has two weeks to decide whether to be executed with cyanide gas, the poison known as Zyklon B used by the Nazis to murder millions of people in Auschwitz and other extermination camps, or lethal injection.
Atwood's execution is set for 8 June.
Last month, the Texas court of criminal appeals issued a stay of execution for Melissa Lucio, a Mexican-American woman set to be judicially killed for the death of her two-year-old daughter Mariah.
A state judge struck down new congressional districts in north Florida on Wednesday, saying that the state's Republican governor, Ron DeSantis, who drew the lines, made it harder for Black voters to elect the candidate of their choice.
"I am finding the enacted map is unconstitutional because it diminishes African Americans' ability to elect candidates of their choice," circuit judge Lane Smith said on Wednesday, according to the Tributary.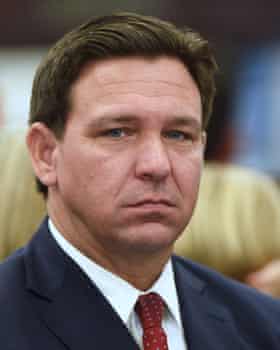 Lawyers for the state of Florida are expected to immediately appeal the ruling, and the Florida supreme court shaped by DeSantis could ultimately decide the case.
The decision dealt specifically with DeSantis' decision to dismantle Florida's fifth congressional district, which stretched from Jacksonville to Tallahassee, was 46% Black, and is currently represented by Al Lawson, a Black Democrat. DeSantis' new district chopped the district up into four districts where Republican candidates would be favored to win.
A coalition of civic action groups and Florida voters immediately challenged the map, saying that they violated a provision in Florida's constitution that says new districts can't "diminish" the ability of minority voters to elect the candidate of their choosing.
Last month, plaintiffs asked the court to block the districts in northern Florida specifically from taking effect for the 2022 election. Smith ordered the state to adopt a map that maintained a 5th congressional district stretching from Jacksonville to Tallahasee, according to the Tributary.
The Florida map is one of the most aggressively gerrymandered maps in the US. Republicans currently have a 16-11 advantage in the state's congressional delegation, but DeSantis' plan would add an additional four GOP-friendly seats, increasing that advantage to 20-8 (Florida is gaining an additional US House seat because of population growth). It's an effort that's seen as a critical part of Republican efforts to retake control of the US House in the midterm elections.
In a separate court on Tuesday, DeSantis, a possible 2024 presidential candidate, won the opening legal round of his fight with Disney over the state's "don't say gay" bill that bans classroom discussions of sexual preference and gender identity issues.
Three central Florida taxpayers alleged state laws were broken when DeSantis signed a new law dissolving Disney's self-governing status, which critics said was in retaliation for the company attacking the "don't say gay" law.
But district court judge Cecilia Altonaga threw out the lawsuit, partly because the plaintiffs aren't personally harmed, the Orlando Sentinel reports.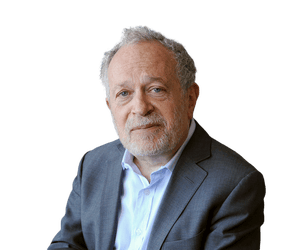 Robert Reich
The supreme court's upcoming decision to reverse Roe v Wade (an early draft of which was leaked last week) doesn't ban abortions. It leaves the issue to the states. As a result, it will put another large brick in the growing wall separating blue and red America.
The second American civil war is already occurring, but it is less of a war than a kind of benign separation analogous to unhappily married people who don't want to go through the trauma of a formal divorce.
One America is largely urban, racially and ethnically diverse, and young. The other is largely rural or exurban, white and older.
The split is accelerating. Red zip codes are getting redder and blue zip codes bluer. Of 3,143 counties, the number of super landslide counties – where a presidential candidate won at least 80% of the vote – jumped from 6% in 2004 to 22% in 2020.
Surveys show Americans find it increasingly important to live around people who share their political values. Animosity toward those in the opposing party is higher than at any time in living memory. Forty-two per cent of registered voters believe Americans in the other party are "downright evil".
Almost 40% would be upset at the prospect of their child marrying someone from the opposite party. Even before the 2020 election, when asked if violence would be justified if the other party won the election, 18.3% of Democrats and 13.8% of Republicans responded in the affirmative.
Increasingly, each America is running under different laws.
Trump contempt fine halted in New York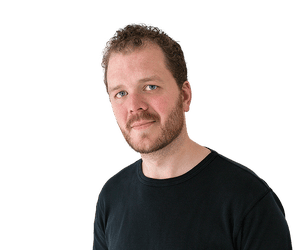 Martin Pengelly
Good news, of a sort, for Donald Trump out of New York, where a judge has said the former president must pay the state attorney general $110,000 and meet other conditions to purge a contempt of court order, but also that the fine will not grow by $10,000 a day, as it had been doing.
The New York attorney general, Letitia James, says her civil investigation of the Trump Organization has found evidence of fraudulent behaviour in tax filings. Trump says the investigation is a politically motivated witch hunt.
The judge in the contempt case, Arthur Engoron, said the daily fine on Trump stopped accruing on Friday, when the former president filed affidavits about his search for requested information – and his inability to find four phones which investigators would like to look at.
Engoron said the contempt order could be restored if certain conditions are not met.
Here's our report on Trump's phones, from yesterday:
We've heard a lot about the "rival" abortion rights bill pushed by Republican senators Susan Collins and Lisa Murkowski, and they've just released a joint statement explaining why they believe their reproductive rights act is preferable to the Democratic Women's Health Protection Act they'll vote against in the Senate this afternoon.
"I support codifying the abortion rights established by Roe v Wade. That's not what the women's health protection act would do," Collins, of Maine, said in the statement.
"Unlike some far-left activists, Senator Murkowski and I want the law today to be the law tomorrow.
"That's why we introduced legislation in February that would enshrine the important Roe and Casey protections into law without undercutting statutes that have been in place for decades, and without eliminating basic conscience protections that are relied upon by health care providers who have religious objections to performing abortions."
Collins, a pro-choice Republican, says she's committed to codifying abortion rights, but in a manner that would attract bipartisan support.
"After today's vote fails, I plan to continue working with my colleagues on legislation to maintain – not expand or restrict – the current legal framework for abortion rights in this country," she said.
Manchin to vote with Republicans and block abortion rights law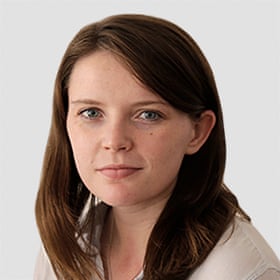 Joan E Greve
The Democratic legislation to enshrine abortion rights into federal law looks set to fail in the Senate this afternoon by a vote of 49-51, after the West Virginia senator Joe Manchin said he would cross the aisle and join Republicans to vote no.
Manchin, a moderate Democrat, has been speaking with reporters in the Senate hallway, saying he believes the legislation as presented "goes too far".
"I would vote for a Roe v Wade codification if it was today. I was hopeful for that, but I found out yesterday in caucus that wasn't going to be," he said.
The legislation would codify the 1973 Roe v Wade ruling that gave constitutional protection to abortion rights and, crucially, prevent states from acting to remove or alter those protections in the future.
Manchin also voted against the women's health protection act of 2021 earlier this year, so his opposition is not entirely surprising.
The bill was already expected to fail today because Democrats do not have the 60 votes necessary to overcome a Republican filibuster. With Manchin's opposition, the final vote to invoke cloture on the bill will likely be 49 to 51, with all Republicans voting against the measure.
Republican senators Susan Collins and Lisa Murkowski have said they would support codifying Roe, but they do not support the women's health protection act because they consider it too expansive.
Tammy Baldwin, Democratic senator for Wisconsin and co-sponsor of the legislation, said Manchin was wrong.
"I think his interpretation of the bill is incorrect when he says it goes a lot further," Baldwin told CNN.
"Actually, it keeps the states from interfering with Roe v Wade and restricting access.
"That's the additional provisions of the women's health protection act, and they need to be there because you look how many states have taken an action like the Texas law that allows vigilantes to go out and and try to find anybody who aided or abetted abortion."
It wasn't a good day in Nebraska for Donald Trump on Tuesday with the defeat of his endorsed candidate, Charles Herbster, in the Republican primary for governor.
Party voters in the state instead picked hog farm owner and veterinarian Jim Pillen as their nominee over a rival accused of groping multiple women.
Herbster's loss was a setback for Trump, who has issued hundreds of endorsements and staged rallies in support of candidates in an effort to bend the Republican party to his direction ahead of a possible presidential run in 2024.
The loss raises the stakes on other high-profile primaries this month in Pennsylvania and Georgia, where Trump has also intervened.
Trump's influence proved decisive in West Virginia on Tuesday, however.
In a US House primary pitting Republican incumbents against each other, Trump's candidate, Alex Mooney, defeated David McKinley, who angered Trump by voting for Joe Biden's bipartisan infrastructure package and the creation of the House committee investigating the 6 January attack on the US Capitol.
Read more:
Elizabeth Warren has been on CNN explaining why she's no supporter of a bipartisan approach to legislation to protect abortion rights.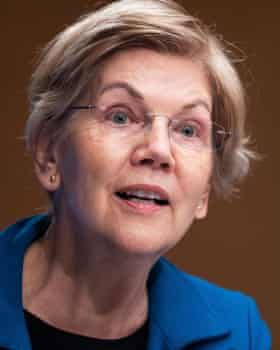 The Democratic Massachusetts senator, one of her party's most outspoken proponents of codifying the supreme court's 1973 Roe v Wade ruling into law, says measures promoted by pro-choice Republicans Susan Collins of Maine, and Lisa Murkowski of Alaska, won't go far enough.
The pair, according to the Daily Beast, are working with Virginia's Democratic senator Tim Kaine on more restrictive abortion rights legislation that would codify the basics of Roe v Wade but allow state laws to include items such as a religious conscience exemption.
Warren says she's a hard no:
A measure that says 'not really' on Roe, a measure that says, hey, the things that are going on in the states already, even before this latest dust up with Texas, a measure that says it's OK if in South Dakota there's only one abortion clinic in the whole state [and] it's OK to restrict the rights of people across this country? No, that's not OK.

Because keep in mind who this will fall hardest on. It's going to fall hardest on poor women, it's going to fall hardest on women of color, it's going to fall hardest on the 14-year-old who was molested by her uncle, on the mama working three jobs to try to support the children she has.

Mitch McConnell has [said]… if the Republicans get back into control, we're willing to open the door to make it fall on everyone, all across this country, to outlaw abortion, not just in red states, but in blue states as well.

The scope of this is enormous and that's why the vote today is so important.
The impending end to legal abortion in half the states will strain capacity and resources in others preserving abortion access, my colleague Maya Yang has found:
After the bombshell leak of a supreme court draft opinion last week revealed that the majority of justices plan to overturn Roe v Wade, a handful of states have been reaffirming and expanding their abortion care.
In recent days, a flurry of bills and statements have been emerging in largely Democratic-run states as lawmakers and organizations scramble to prepare for the possibility of a post-Roe America.
As some states seek to become "safe havens" for out-of-state abortion seekers, other states have been increasing abortion funding, expanding provider access and offering legal protections from lawsuits launched by citizen "bounty-hunters" against those involved in abortions.
Only 38% of women of reproductive age live in states that have shown support for abortion rights, according to the research organization Guttmacher Institute. In contrast, 58% live in states that have demonstrated hostility towards abortion rights. Only 4% of women live in middle-ground states.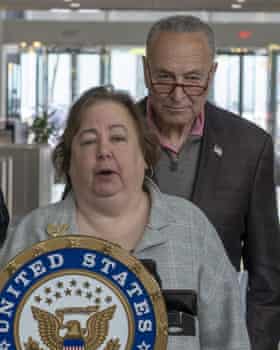 Last month, the New York state senator Liz Krueger introduced a bill that would shield New York doctors who offer abortion services to out-of-state patients by prohibiting law enforcement from cooperating with out-of-state investigations on abortion provisions.
"At this critical moment New York must ensure abortion access both to New Yorkers and refugees from other states who are being denied their basic rights," Krueger told the Guardian.
"We must provide iron-clad protection for New York healthcare providers against abhorrent and regressive laws in other states," she added.
Similarly, Alessandra Biaggi, another New York state senator, introduced a bill that would create an abortion access fund and allow taxpayers to contribute to it.
"We created this bill to make sure that we were not just saying that people have a right to an abortion, but also that they have access to it because we know that simply by just saying the right does not mean that people have the means to do it," Biaggi told the Guardian.
In addition to transportation costs, the fund would cover childcare services, lodging, various medical expenses and other logistical support.
Read the full story:
White House: 'Imperative' to protect women's reproductive choice
The White House has just issued a statement ahead of the US Senate's abortion rights vote this afternoon, urging Congress to pass the Women's Health Protection Act:
The urgency to protect women's health, their fundamental right to control their reproductive choices, and the freedom of all people to build their own future has never been greater.

The position of the Biden administration has been clear since day one: We will defend women's constitutional rights recognized in Roe v Wade nearly half a century ago – rights that have been under attack for decades, and are under unprecedented threat now, despite strong support from the American people.

It is imperative for Congress to act to adopt statutory protections for women's access to essential health care services and reproductive choice, regardless of where they live.

Congress must further act to protect health care providers' ability to provide such critical services free from unwarranted and inappropriate restrictions, and to eliminate unjustified burdens on commerce that prevent women and their families from participating fully and equally in the economic and social life of the United States.

The protections that the Women's Health Protection Act would ensure are essential to the health, safety, and progress of our nation. Congress should advance this important bill with the utmost urgency this moment demands.
Read the full statement from the executive office of the president here.
Here's a few tweets from some key Democratic players in the abortion rights debate, ahead of this afternoon's US Senate vote. From Chuck Schumer, the Senate majority leader:
Bob Casey, senator for Pennsylvania, staunch Catholic and self-confessed anti-abortion Democrat:
Elizabeth Warren, senator for Massachusetts and vocal abortion rights campaigner:
Dick Durbin of Illinois, Senate majority whip:
Richard Blumenthal of Connecticut, lead sponsor of the Women's Health Protection Act: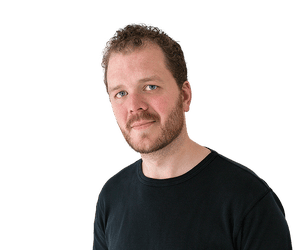 Martin Pengelly
A day before Democrats staged a vote in the Senate to codify into law the right to abortion, a right under threat from the supreme court, the Republican leader in the chamber said his party would not be able to pass an abortion ban should it take control in midterm elections in November.
"Historically, there have been abortion votes on the floor of the Senate. None of them have achieved 60 votes," Mitch McConnell told reporters.
"I think it's safe to say there aren't 60 votes there at the federal level, no matter who happens to be in the majority, no matter who happens to be in the White House."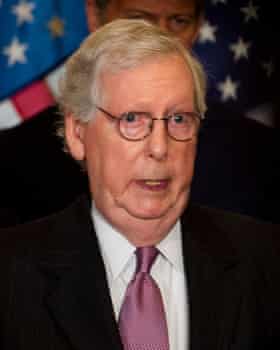 The chamber is split 50-50 and therefore controlled by the tie-breaking vote of the vice-president, Kamala Harris. Democrats and progressives have urged the party to seek to scrap the filibuster, the Senate rule that requires 60 votes for most legislation.
Such reform seems unlikely. With key Democrats opposed, Punchbowl News, a Washington outlet, reported on Wednesday that the issue was not even discussed at a party Senate lunch the day before.
When Donald Trump was in power McConnell, too, came under pressure to scrap the filibuster to advance the Republican agenda.
On Tuesday, the Kentucky senator told reporters there were "no issues that Republicans believe should be exempt from the 60-vote threshold".
The measure before the Senate on Wednesday – for which the Democrats do not even have 50 votes, with opposition from some in their own party as well as pro-choice Republicans – is the Women's Health Protection Act. It would codify Roe v Wade, the 1973 supreme court decision that protects the right to abortion.
Read the full story:
Democrats will start taking names on Wednesday afternoon as their attempt to enshrine abortion rights into federal law faces inevitable defeat in the US Senate.
What senate majority leader Chuck Schumer has called "among the most important votes of the century" will not reach the required 60-vote threshold, with Maine's Susan Collins and Alaska's Lisa Murkowski, two Republicans who support abortion rights, having declared their intention to vote against.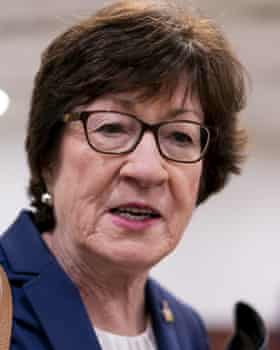 But with the symbolic vote, Schumer will achieve his goal of putting Republican senators on record, just months before November's midterm elections, over an issue that has proved hugely unpopular with voters:
Every senator will have to vote and every American will see how they voted. And I believe the Republican party, the Maga Republican party, will suffer the consequences electorally when the American people see that.
Opinion polls appear to back Schumer, at least as far as the unpopularity of last week's leaked draft ruling from the supreme court that would end constitutional protections for abortion.
A new Politico/Morning Consult poll on Wednesday shows increasing numbers opposed to the supreme court overturning the 1973 Roe v Wade opinion, including, for the first time, fewer than 50% of Republican supporters.
The survey shows 48% of Republicans would want the draft ruling to become final, down 3% from a week ago. Among Democrats, 75% want Roe upheld, up 7%, and among independents the figure is 52%.
That's why, despite Democrats lacking the numbers to pass legislation to protect abortion rights, and predicted to lose control of one, or both, chambers of Congress in November, they think they can still turn the issue to their advantage.
Morning Consult says since the supreme court draft ruling was leaked, Democratic voters who say they are "extremely" or "very" enthusiastic to vote in the midterms rose six points to 54%.
In the words of Democratic Nevada senator Jackie Rosen:
We have to take that fear, we have to take that anger that we're feeling, channel it into action to defend our majority. You have to elect more pro-choice senators. We're not living in a hypothetical.
Good morning and welcome to the midweek edition of the US politics blog.
It's voting day in the US Senate on Democrats' legislation to codify constitutional abortion protections in the wake of the supreme court's draft ruling overturning them.
Chuck Schumer, the Senate majority leader, says it's among the most important votes of the century, and when it fails, because he doesn't have the 60 votes he needs, the party can start pointing to the Republicans who blocked it.
A new Politico/Morning Consult poll on Wednesday shows fewer than 50% of Republican voters want Roe v Wade overturned.
It's a hugely busy day elsewhere in US politics:
Senators will pick up the $40m Ukraine aid bill passed in the House last night after Joe Biden dropped his demand for it to be tied to his $20bn+ Covid-19 relief request.
Biden heads for Illinois to talk about food prices and the economy, as new data Wednesday reflected a slowing in inflation for the first time since August. With gas prices at record highs, Biden says tackling inflation is "my top domestic priority".
There's fallout from Tuesday's Republican primaries in Nebraska and West Virginia, where candidates endorsed by former president Donald Trump experienced mixed fortunes.
White House chief medical adviser Dr Anthony Fauci is among a number of Biden administration officials testifying to Congress, as an alarming new wave of Covid-19 spreads across the US, and cases and hospitalizations rise.
Commerce secretary Gina Raimondo, international development administrator Samantha Power, defense secretary Lloyd Austin and joint chiefs chair Mark Milley also have appointments on Capitol Hill.
Incoming White House press secretary Karine Jean-Pierre will host a "gaggle" with journalists abort Air Force One en route to Chicago.


Democrats lose Senate vote to codify abortion rights 49-51 – live | US politics Source link Democrats lose Senate vote to codify abortion rights 49-51 – live | US politics