Health
Death of infant ruby ​​and "very rare" encephalitis due to COVID-19, experts say
Infectious disease specialists "extremely" child-like cases as parents of previously healthy infants mourn their "gentle soul" after an unexpected death at COVID-19. It is expressed as "rare".
Key Point:
Professor Robert Buoy says COVID-19 is generally not a serious infection for children
Ruby's father, Steven Edwards, says the family is still in "shock and distrust"
TGA tentatively approves COVID-19 vaccination for children 6 months to 5 years old
Ruby Grace Edwards died at the Queensland Children's Hospital on Sunday, two weeks before her second birthday, after being diagnosed with COVID-19 and developing encephalitis, the medical term for encephalitis.
Her parents, Crystal and Steven Edwards, said they felt "our world is collapsing" in preparation for tomorrow's son's birth.
"This should be a very happy time, when our family is perfect, but now it's very broken," Edwards wrote on social media.
Robert Buoy, an infectious disease expert at the University of Sydney, said children with viral infections "rarely develop encephalitis."
"Encephalitis can be caused by an inflammatory problem in which the body reacts to the virus and tries to fight it off, and cross-reactivity with the brain leads to damage," said Professor Buoy.
"There is a rare genetic predisposition, a rare genetic problem that may be causing this in combination with COVID infection.
"Parents need to be aware that viral infections are rarely very serious for their children.
According to Federal Health statistics, 14 children under the age of 10 are classified as COVID-related deaths among more than 420,000 known viral cases in that age group nationwide.
Edwards told ABC that Ruby tested positive for COVID-19 on July 14, after "a few days of fever."
They took her to Logan Hospital, and after reacting well to fluids, she was allowed to go home.
"When we didn't see any improvement, we took her back to the hospital," Edwards said.
"After receiving the water and showing signs of improvement, we were hoping to take her home again.
"But she experienced a seizure, prompted further investigation, and was subsequently transferred to the Queensland Children's Hospital (QCH) for neurological evaluation."
A QCH doctor diagnosed her with acute hemorrhagic leukoencephalitis (AHLE), which is characterized by inflammation of the brain and spinal cord.
The exact cause was unknown, but doctors said it usually followed a viral or bacterial infection.
"This also happens to others."
Adam Irwin, a QCH infection expert, said AHLE is "a very rare complication of COVID-19 infection."
"There are very few cases of children reported worldwide," said Dr. Erwin.
"Symptoms usually develop quickly. Features that can indicate serious illness include vomiting, seizures, and changes in consciousness and behavior."
Ruby's sad dad said the family "is still shocked and distrustful, as it hasn't really happened to us."
"This happens to others," Edwards told ABC.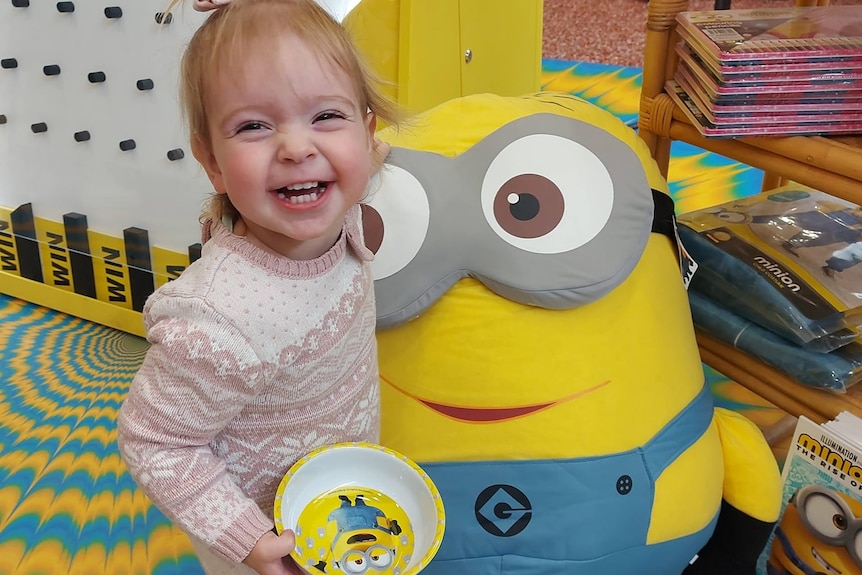 "I don't want to spread my fears, but I don't know when I can get rid of everything, so I may be careful and remind me to take good care of my loved ones."
He described Ruby as a gentle soul. He loved her hug and said, "She was loved by everyone. [who] I was lucky enough to meet her. "
"Ruby had the most beautiful, long eyelashes, a contagious smile, and a stunning hair color," Edwards said.
"She was very smart and had a lot of potential. Everyone was always commenting on how advanced her speech was for her age.
"It's a shame that her potential isn't fully realized, and the world is robbed of such a special gift."
Ruby was too young to be vaccinated with COVID-19.
Vaccination under 5 years old
The Therapeutic Goods Department, the Australian drug regulator, tentatively approved Moderna's COVID-19 vaccine for children aged 6 months to 5 years last week.
However, the Australian Immunotechnical Advisory Group (ATAGI) must provide the federal government with recommendations on its use before granting access to the COVID-19 vaccine to children under the age of five.
Professor Buoy said he expects vaccinations for that age group to begin next month.
"I give first priority to children with chronic medical problems and vaccination disorders," he said.
"If children go to day care or preschool, they are at high risk of infection, so after being vaccinated, more generally, children at home may benefit from vaccination. It is recommended that children often get terrible COVID.
"Almost certainly, all complications of COVID with inflammation are generally less common in vaccinated children."
Death of infant ruby ​​and "very rare" encephalitis due to COVID-19, experts say
Source link Death of infant ruby ​​and "very rare" encephalitis due to COVID-19, experts say