Sports
Commonwealth Games: Moraa beats Hodgkinson to 800m gold, plus hockey – live! | Commonwealth Games 2022
Key events
Hockey: England are 2-1 up against Australia at half-time in the hockey. Can they hold on to a slender lead and book a place in the final?
Cricket: Australia beat New Zealand by 5 wickets (with three balls remaining) to book their place in the final against India tomorrow. They get the job done, just.
Track: Men's 400m hurdles final – Have Guernsey just got their first ever Commonwealth medal on the track!? They have! Alastair Chalmers takes bronze with a time of 49.97. He's straight into the crowd to bear hug his family! Great stuff. Kyron McMaster takes gold with 48.93 seconds, Jaheel Hyde of Jamaica snares the silver.
Cricket: Stick the cricket on if you can! Australia need 21 from 20 balls. New Zealand hoping to pull off a big coup. Make that 20 from 18 balls. The experienced Rachel Haynes and Ash Gardner are at the crease for Aus.
Hockey: England's men are 1-0 up after the first quarter in their semi-final match against Australia over at the University. Phil Roper finding the back of the goal/net and English keeper Ollie Payne channeling Maddie Hinch by pulling off some fine saves to keep the scoreline in the home team's favour.
Track: Phewf I'm worn out just watching that men's 5000m final, the final lap was epic – Kenya's Nicholas Kipkorir Kimeli and Jacob Krop were basically sprinting from the moment the bell rang out only for Uganda's Jacob Kiplimo to time his race perfectly to best them on the home straight. Kiplimo, who also took the 10,000m, ran a season's best 13:08.08. and was absolutely ecstatic after crossing the finish line, where does he get the energy?! He's draped in the Ugandan flag and taking selfies with the crowd.
Kimeli and Krop take silver and bronze and Mark Scott held up well to finish fifth.
Track: No time to catch the breath (I'm still firmly rooted to my sofa… ) as the men's 5000m final gets underway. England's Marc Scott will be pounding the track in this one.
Cricket: Meg Lanning is out! This is not a drill. I knew my earlier words pretty much declaring Australia would make mincemeat of the Kiwi total would come back to bite me on the britches. Australia are 56-2 and need 89 off 71 balls. In the balance.
Track: Women's 800 metre final
My coach told me to go out hard and I thought I did but I was still miles off it. Oh my goodness, these girls are fast!

I was in fourth with 100 metres to go and I was just like 'no way'.

Kids, that's why if you coach says run all the way to the line, you run all the way to the line."
Laura Muir is delighted with her bronze medal which she just nabbed on the line with an outstretched arm. Her main event is the 1500m which she will contest tomorrow but for now she is chuffed to get on the podium in the 800m.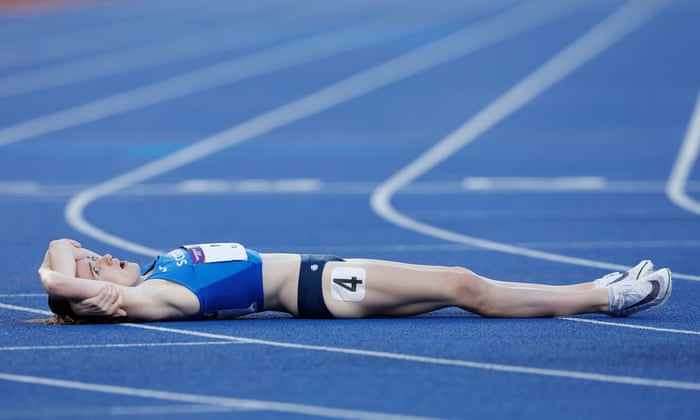 Track: Women's 800 metre final – An intriguing race from Mary Moraa who went out hard and then dropped back before launching a killer final assault at the last. Denise Lewis on commentary says that Moraa obviously likes to pick off opponents rather than going out and leading from the front the whole way. Interesting tactics but it works for Moraa, the gold medal is hers.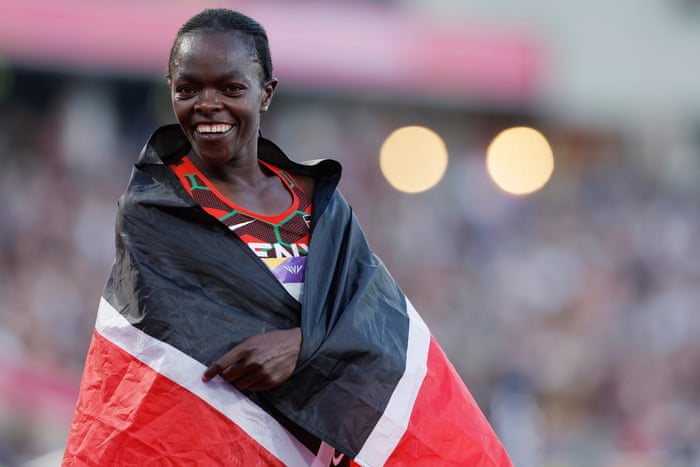 Track: Women's 800 metre final – they are off! Keely Hodgkinson and Muir are in the top three as they enter the second lap… Hodgkinson begins to pull away on the final bend but Kenya's Mary Moraa finds an extra level to go past Muir and then also powers past Hodgkinson with about twenty metres to go to take the gold medal! Hodgkinson has to settle for the silver and Laura Muir nabs bronze on the line!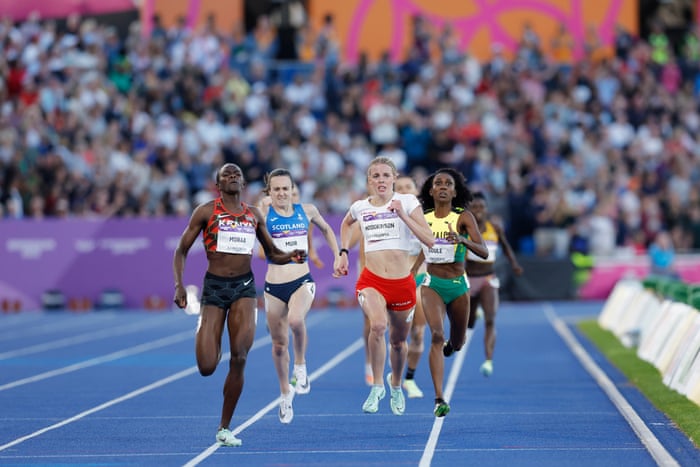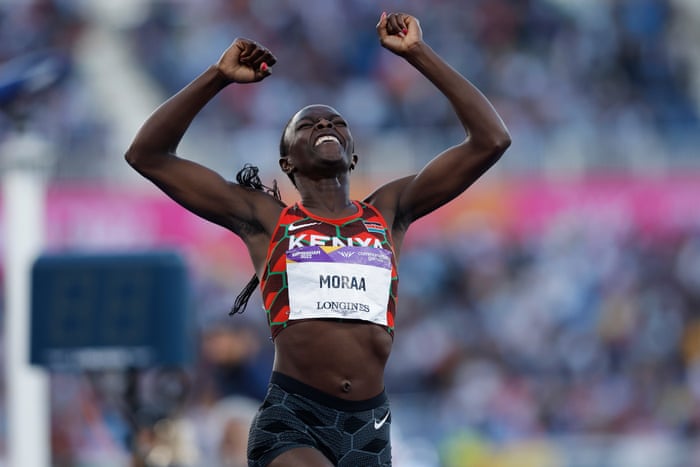 Track: Righto, lots happening and I'm now all eyes on the stadium for a match-up in the 800m as England's Keely Hodgkinson and Scotland's Laura Muir duke it out for gold in the women's 800m. The athletes are being announced, the pundits in the studio are split on who'll take the spoils.
Table Tennis: Jack Hunter-Spivey takes gold in the men's singles class 3-5!
Another gold in quick succession for England as Hunter-Spivey defeats Nigeria's Nasiru Sule's 11-4 9-11 11-6 11-7.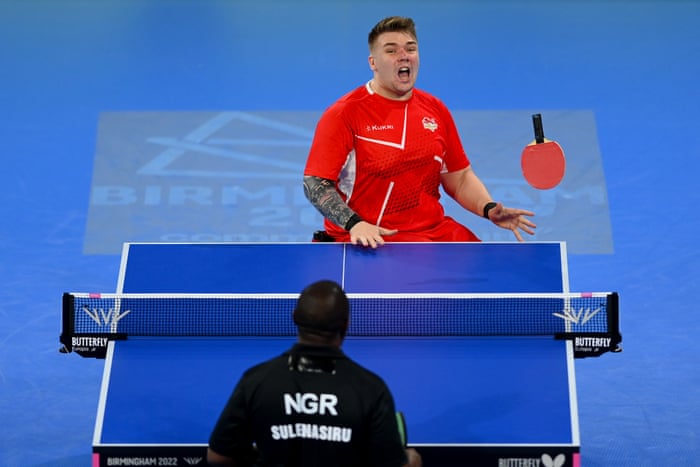 Cricket: New Zealand have set Australia 145 to win. Mockers alert! I'll keep an eye on the chase but would be surprised if the Aussies don't haul down that relatively modest target to take their place against India in tomorrow's final.
Diving: England clinch all three medals in the men's 3m springboard!
What a finish! Daniel Goodfellow gets the gold with a fine set of dives, he holds his nerve to take top spot at the last. Jordan Houlden gets silver, he could have taken the gold but didn't quite nail his final effort. He did do enough to stay a couple of points above Jack Laugher who now has a bronze to go with his earlier gold medal brace.
A "shut out" on the podium for England! The three young men embrace at the side of the pool and do a little jig. That was a fab final, full of twists and turns, and not just off the board.
Oh and spare a thought for James Heatly who picks up his third fourth place in as many days. Close but no cigar, or medal, for the Scot.
Diving: Jack Laugher fluffs his ending and generates a fair old splosh on a difficult dive, he only gets 50 odd from the judges and it sees him drop down to fourth place. What a dive from Jordan Houlden though, his effort sees him leap-frog his team-mates to gold medal position with just one dive to go. Daniel Goodfellow sits in silver and Shixin Li of Australia has come back into contention for bronze. One dive left… exciting stuff.
Diving: Eeeesh. It's hotting up at the aquatic centre – after four dives it's an English 1,2,3 on the podium as it stands. Laugher's dive was solid to keep him in gold medal place but the dives of the round came from his teammates Daniel Goodfellow and Jordan Houlden – each executing an incredibly intricate effort to score highly – Goodfellow pulling off the effort of the night so far and being rewarded with a 91 from the judging panel. He climbs into the hot tub after and affords himself a teeny-tiny smile. He's in silver, and Houlden in bronze. Currently, two huge dives to come.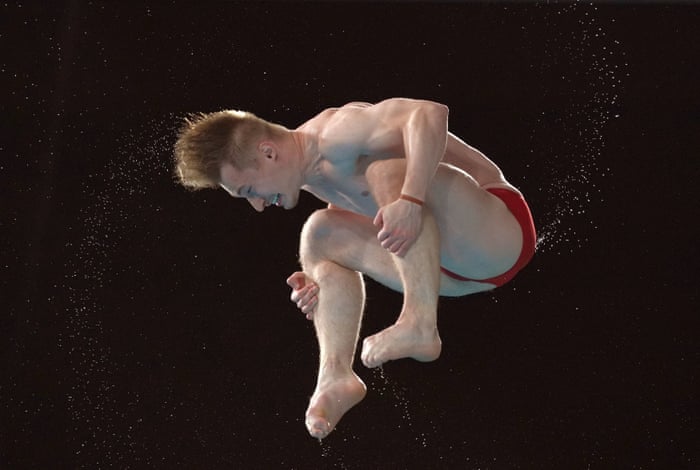 Cricket: At the halfway stage in the second semi-final New Zealand are ticking along quite nicely. They are currently 74-2 and haveSophie Devine and Amelia Kerr well set on 20 runs each. They'll need plenty on the board to keep the mighty Aussie's at bay though.
Diving: Jack Laugher comes to the party with a beauty of a dive, tightly coiled somersaults and a pencil straight entrance into the pool. The judges duly chuck him a score of 86.70 and that puts Laugher firmly back in the hunt for a third gold medal of these Games.
Bowls: Iain McLean of Scotland takes bronze in the men's singles! I think that could be the final medal to be decided in the bowls at this Games. I'll miss the calmness of the carpet-like grass and the particular bucolic competitiveness on show at Victoria Park in the past week or so.
ICYMI: Here's a really interesting interview with Tom Daley from today's paper:
The right wing is very good at making people fight with each other to create tension and division and fear. If you ask the younger generation, nobody cares what somebody's gender is or what their sexuality is. Everybody just wants to be a human being."
Diving: The 3m springboard final is underway at the aquatics centre. You wouldn't catch me up there! I get a fizzy tummy just looking at that board from the comfort of my own sofa.
After one round of six Australia's Shixin Li sits at the top of the standings on 76.50, yapping at his heels are the English trio of Jack Laugher (74.80) Jordan Houlden (73:10) and Daniel Goodfellow (73.10). Five rounds to go, keep an eye on those splashes. Big splash = bad.
Cricket: It's New Zealand against Australia in an antipodean battle to the

death
Commonwealth Games final over at Edgbaston. Another beautiful evening – the Aussies have called the coin correctly and stuck the Kiwis in.
Boxing: In the the men's light middleweight, Tiago Osorio Muxanga of Mozambique charges into the final with a unanimous victory over Tanzania's Kassim Mbundwike. He'll face off against Northern Ireland's Aiden Walsh in the final while Walsh's beaten semi-finalist, Garan Croft of Wales, will battle it out with Mbundwike for bronze. Got that? Good.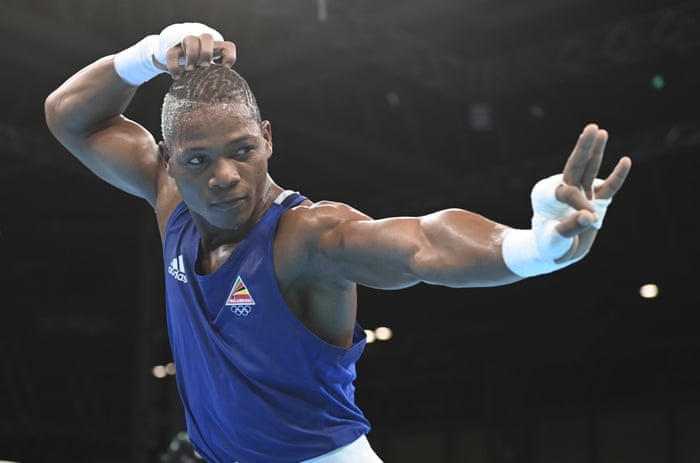 Aaron Wilson clinches gold in lawn bowls men's singles
The Australian confirms the inevitable, seeing off the so-called challenge of Gary Kelly by an eventual score of 21-3. And he celebrates in true Aussie style: noisily and without a shirt on.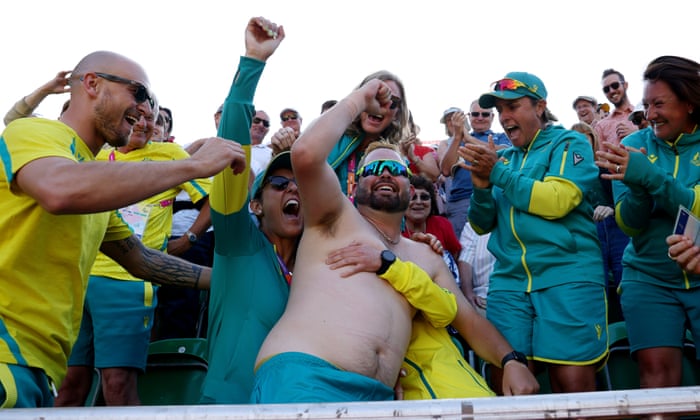 Miesinnei Mercy Genesis takes gold in women's 50kg freestyle wrestling
Genesis turns it on again. Canada's Madison Parks has no reply at all to the Nigerian, who knows this is never a time to show mercy and duly sends her opponent to the land of confusion, Parks throwing it all away after going into the break at 1-1. The Nigerian twists the knife to take it to 3-1 and is counting out time until she collects her gold. That's all.
Celebrity news: Middling TV personality Fred Sirieix is at the Sandwell Aquatics Centre to watch his daughter Andrea Spendolini-Sirieix in the women's synchronised 3m platform final later. Prodigiously talented 17-year-old Andrea is fresh from her heroic, dramatic victory in the 10m platform diving on Thursday night and will be looking for another gold, this time alongside Eden Cheng. Bonne chance, Andrea!
Lawn bowls: I'm not saying Aaron Wilson will definitely be going home with gold medal in the men's singles, but he is 12-1 up in the final against Gary Kelly of Northern Ireland after nine ends. Iain McLean, who Wilson beat in the previous round, is similarly enjoying himself against Malaysian Fairul Izwan Abd Muin, 12-2, eight ends in.
Wrestling: India's Pooja Gehlot has beaten Christelle Lemofack of Scotland in the women's freestyle 50kg bronze-medal match, 12-2. Canada's Madison Parks now takes on Miesinnei Mercy Genesis for gold.
Beach Volleyball: Canada beat England by two sets to one to go through to the final.
Hard lines to the Bello twins who went down in the deciding set 15-7. Canada showed their class when the pressure was on, blocking decisively and hitting the lines with their smashes. England will battle for bronze whilst Dearing and Schacter progress to the final to give Canada a shot at gold.
Beach volleyball: We're going to a deciding set. Canada take the second set 21-13. Canada's Daniel Dearing was an absolute monster at the net in that set, blocking smashes and putting away his own overheads spectacularly.
Hockey: England's men will take on Australia in the semi-final this evening. Not sure what is going on here, mind.
Beach volleyball: The sun beats down on Smithfield and the Bello twins came out onto the sands with a real intent, some amazing rallies and incredible blocks saw them take the first set against Canada. The Canadians have come back strongly in the second set though and currently lead 13-8.
Read all about it: MacDonald to go for gold in flyweight final:
So, defeats in the netball and cricket semi-finals for England today.
Can the beach volleyball provide some home nation succour? English

pair
twins Javier and Joquain Bello are about to line up against Canada's Sam Schachter and Daniel Dearing on the Smithfield sands.
Australia beat England to reach netball final
In truth, the Aussies were all over England like a cheap suit at times, also, the Diamonds' shooter Gretel Bueta had ice in her veins and didn't miss a shot. England had their moments and fought bravely to the end with the crowd roaring them on but too many mistakes and a lack of cohesion cost them dear in a 60-51 defeat. The Aussies celebrate and also get some sweet revenge for their dramatic loss on the Gold Coast four years ago. It'll be Australia against Jamaica to contest for the gold medal in tomorrow's final.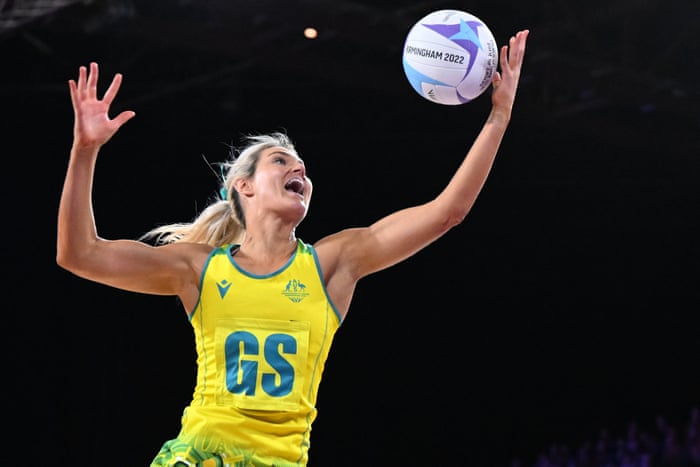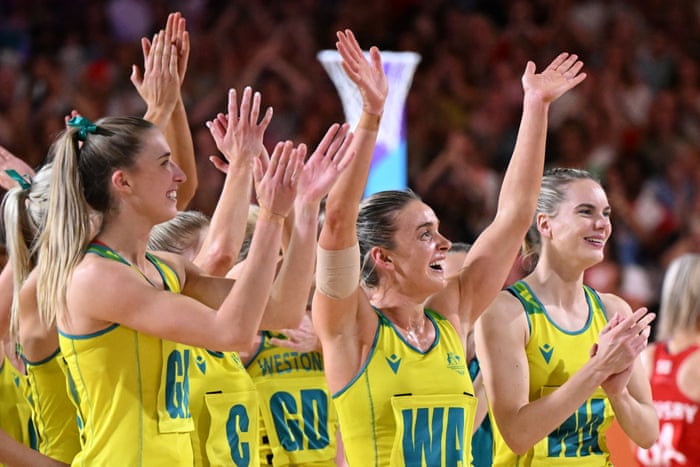 Track: Sean Ingle's in-stadium report from an exciting men's 1500m final is here for your delectation.


Commonwealth Games: Moraa beats Hodgkinson to 800m gold, plus hockey – live! | Commonwealth Games 2022 Source link Commonwealth Games: Moraa beats Hodgkinson to 800m gold, plus hockey – live! | Commonwealth Games 2022